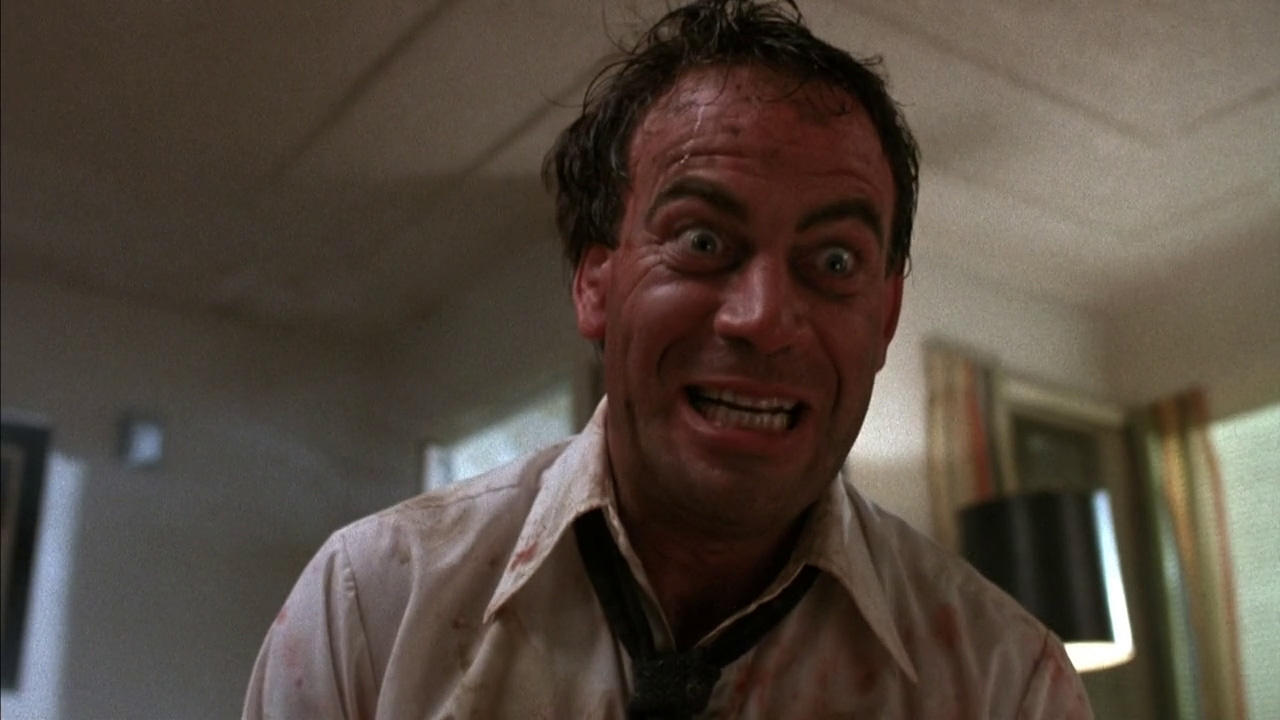 Podcast (horrorbusiness): Play in new window | Download
Subscribe: RSS
Greetings, and welcome back to Horror Business. We have one awesome episode in store for you guys. On this episode we're discussing two films directed by women: 1982's The Slumber Party Massacre and 1987's Blood Diner.
First and foremost we want to give a shoutout to our sponsors over at Lehigh Valley Apparel Creations, the premiere screen-printing company of the Lehigh Valley. Chris Reject and his merry band of miscreants are ready to work with you to bring to life your vision of a t-shirt for your business, band, project, or whatever else it is you need represented by a shirt, sweater, pin, or coozy. Head on over to www.xlvacx.com to check them out. Thanks!
We start by talking about what we've seen or done lately in the field of horror. We talk about watching 1990's Demon Wind. Justin talks about attending the Mahoning Drive In Theatre's fourth annual ZOMBIEFEST and seeing Re-Animator, Return Of The Living Dead II, Pet Semetary, and Tom Savini's remake of Night Of The Living Dead. Liam talks about the recent Cinepunx hosting of King Boxer at the Frank Banko Alehouse in Bethlehem. Justin briefly talks about the recent trailer for the upcoming Fox TV series The Passage, based on Justin Cronin's trilogy of novels.
Up first is The Slumber Party Massacre. We talk about how this movie might be the most parodied slasher film of all time, in that it was the first film to use the plot of women being attacked at a slumber party.
Liam discusses why he chose the film to watch as part of our 'women in horror' theme. There is a brief discussion on the theme of castration as the weakening of a male villain.
Justin talks about how, despite not being a fan of slasher films, SPM was still quite enjoyable. We talk about the book Men, Women, And Chainsaws: Gender In The Modern Horror Film, and how often times people who enjoy film, particularly men, don't empathize and identify with the killer but rather with the "final girl", and how it's possible that many young men learn to identify with "victims of masculinity" by watching horror films.
The unconventional portrayal of the killer in the film is discussed, as is the reversal of convention in making the killer sort of dull and boring and flat instead of the victims in slasher films who are usually women being the dull and boring and flat characters, whereas all of the female victims in the movie are fully formed and fleshed characters.
The portrayal of the slumber party as a rather dull and sexless event is discussed, as is the realistic portrayal of women's views on sex. The concept of "gaze" is dissected.
The use of phallic symbols as representations of power is discussed. The cinematography of the film is briefly touched upon.
Up next is Blood Diner. Liam talks about the films origins as a sequel to Blood Feast and how the movie began as a somewhat serious horror film but then was turned into something of a satire by director Jackie Kong. Liam describes the film as "beyond tongue in cheek" in contrast to the somewhat serious tone of Blood Feast.
The film's association with late night television is discussed. Justin's initial exposure to the film is discussed. There is a brief tangent on the somewhat problematic nature of villains in professional wrestling.
The concept of the movie as a "pastiche of 80s fads" is discussed, in that the film incorporates many things popular in LA in the 80s (cults, vegetarianism, nude aerobics, flashy chains, cop shows, pro wrestling).

Some of the feminist elements of the film are discussed, such as monstrous humans oftentimes being quite attractive people, the horrid nature of all of the male characters, the misplaced adoration of women, and the blatant misogyny of Uncle Anwar's "simpler times". The concept of two misogynists demeaning and objectifying women throughout the film in order to create the "ultimate woman" in the end creating a being (the personification of the feminine) that leads to their own destruction is touched upon.
The film not depoliticizing violence against women is discussed. Justin talks about his obsession with the idea of ancient entities being channeled into a created modern being in the fiction of Lovecraft, Belknap-Long, and Machen. The beautiful irony of two misogynists being consumed by something they themselves have spent their entire lives consuming is discussed. The weird creepy ventriloquist puppet in the one diner is talked about length.
Jackie Kong's wizardry at shooting a feature length film on a near non-existent budget is discussed. The dreamlike and surreal nature of the film, specifically the musical numbers, is examined. The deliberate absurdity of the film peaking in a "cannibal rockabilly party" is discussed. The film's legacy and cult status is talked about at length.
As always thanks to everyone and anyone who donated on Patreon, checked this episode out, or shared a tweet/shared a post on FB/gave us love by recommending us to someone. We love you forever for listening. Any questions, comments, suggestions for movies and guests, or if you yourself want to join us for a movie viewing or even an episode, can be sent to [email protected]. We would love to hear from you! Thanks always to Justin Miller and Doug Tilley for their technical contributions and fliers, Mike Smaczylo for the shirts and fliers (you can check more of his work out at here), and also thanks to Josh Alvarez for the theme song, Chris, Brad, Alexis, and LVAC for the support and buttons (check them out at www.xlvacx.com), and a HUGE thank you to anyone who retweeted us or shared something on Facebook that we posted. Follow us on Twitter at @thehorrorbiz666, like us on Facebook at facebook.com/thehorrorbiz66, and remember to rate, review, and subscribe to us on ITunes. In fact, if you write us a review, email us with your mailing address and we'll send you some free pins and stickers! Check out www.cinepunx.com for more info on some of our other podcasts, some ultra stylish Cinepunx related merchandise, and how you can donate to our Patreon! Until next time…thanks!