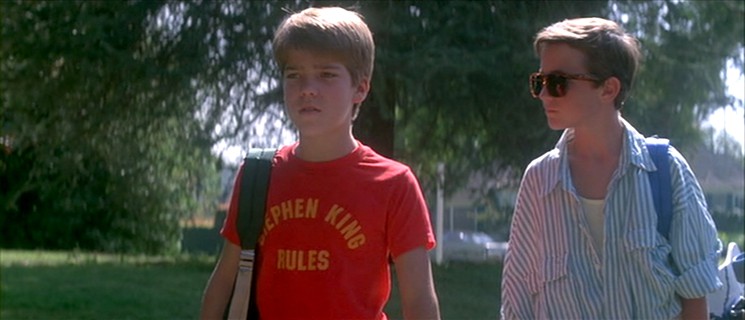 Podcast (horrorbusiness): Play in new window | Download
Subscribe: RSS
Greetings, and welcome back to Horror Business, the podcast that's in the goddamn club isn't it? In this episode we're talking the films of Fred Dekker, specifically Monster Squad and Night Of The Creeps. We're joined on this episode by fellow Cinepunk and longtime friend Evan Vellela.
First and foremost we want to give a shoutout to our sponsors over at Lehigh Valley Apparel Creations, the premiere screenprinting company of the Lehigh Valley. Chris Reject and his merry band of miscreants are ready to work with you to bring to life your vision of a tshirt for your business, band, project, or whatever else it is you need represented by a shirt, sweater, pin, or coozy. Head on over to www.xlvacx.com to check them out. Thanks!
We begin by talking about what horror related things we had done lately. Evan talks about working a Gogol Bordello show in Philly, which is followed by a brief discussion on Liam and Evan's understanding of Romany culture in South Philly. Evan also discusses watching a film in the Coffin Joe trilogy, as well as some recent purchases from Amoeba in LA and his fascination with the YouTube series Hot Ones. Liam discusses his recent viewings of Lips Of Blood, The Living Dead Girl, as well as needing to watch Fascination and rewatching Tourist Trap. Justin talks about watching The Other Side Of The Door, seeing The Texas Chainsaw Massacre 2 at the Mahoning Drive In, Monster Mania Con, and catching a George Romero triple feature in Philadelphia. Liam and Justin briefly discuss Darren Aranofsky's mother! and then discuss The Walking Dead with Evan. We then talk about our choices for the ideal Halloween movie marathons.
Up first is 1986's Night Of The Creeps. We open up by talking about the film was a financial disaster but ultimately ended gaining an actual cult following. We follow by giving a brief plot summary. We discuss the homoerotic undertones of the film, JC's glibness with women as compared to Chris' awkwardness with them, and the underlying darkness that is in stark contrast to the popular conception of the film as a horror comedy.
Shane Black's peripheral involvement in this film is touched upon, and John Carpenter's Elvis biopic is for some reason talked about. The heavy handedness of the films tribute to classic horror as a possible turn off for contemporary audiences is discussed. Liam talks about how this is his favorite of Dekker's work, and we gush about Tom Atkins for a minute.
The numerous endings of the movie are discussed and the similarities between Slither and Night Of The Creeps is touched upon. Justin talks about what he doesn't like about the movie, and we talk about this film is a great example of a 1980S HORROR FILM archetype.
Evan and Justin piss Liam off by talking about the way their college experience compares to JC and Chris'.
Up next we talk 1987's Monster Squad. We talk about how Liam Neeson was supposed to be in the film and how Shane Black's original script included a much bigger opening scene.
Evan talks about his first exposure to the film, and we discuss how weird it was that there as a period in time when this film was not very well known despite now being considered a cult classic. Justin talks about finding it when it came out on DVD for the first time, and how despite being scared of the Wolfman as a child he is now far more scared of the Gillman.
Justin tells a weird stupid story from his childhood about misunderstanding something from this movie. The creature design of the movie is touched upon, and Liam points out that this film, like The Goonies, is one that despite being very much about childhood is not necessarily a film one would want to show to a child due to examples of "80s style" misogyny and homophobia.
The subtle darkness of the film i.e. "Scary German Guy" being a Holocaust survivor, the discussion of divorce and how it impacts children, and Dracula's intent to kill children is examined. The need for a sequel to the film is discussed, as is how the film could be amazing if remade by the right filmmaker.
The phenomenon of '80s horror films being about children experiencing horrible things is touched upon, as are the similarities between this film and It, as well as similarities between it and Ghostbusters. The impact the film has had on the three of us is discussed, in that it shaped our taste in movies early on and inspired us to seek out other horror films.
Special thanks to Evan for joining us for this episode and being a good sport while we fucked with him.
As always thanks to everyone and anyone who checked this episode out, or shared a tweet/shared a post on FB/gave us love by recommending us to someone. We love you forever for listening. Any questions, comments, suggestions for movies and guests, or if you yourself want to join us for a movie viewing or even an episode, can be sent to [email protected]. We would love to hear from you! Thanks always to Justin Miller and Doug Tilley for their technical contributions and fliers, Mike Smaczylo for the shirts and fliers (you can check more of his work out at here), and also thanks to Josh "Dr. Do Big" Alvarez for the theme song, Chris and LVAC for the support and buttons (check them out at www.xlvacx.com), and a HUGE thank you to anyone who retweeted us or shared something on Facebook that we posted. Follow us on Twitter at @thehorrorbiz666, like us on Facebook at facebook.com/thehorrorbiz66, and remember to rate, review, and subscribe to us on ITunes. In fact, if you write us a review, email us with your mailing address and we'll send you some free pins and stickers! Check out www.cinepunx.com for more info on some of our other podcasts, some ultra stylish Cinepunx related merchandise, and how you can donate to our Patreon! Until next time…thanks!