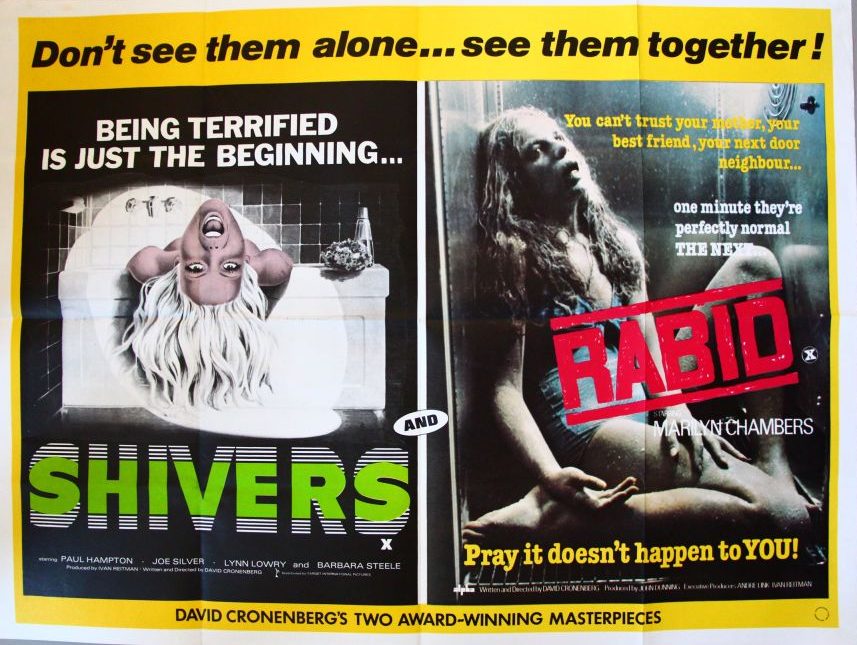 Podcast (horrorbusiness): Play in new window | Download
Subscribe: RSS
Greetings fiends, and welcome back to Horror Business! Thanks as always for listening, and we have a great episode for you!
First and foremost we want to give a shoutout to our sponsors over at Lehigh Valley Apparel Creations, the premiere screenprinting company of the Lehigh Valley. Chris Reject and his merry band of miscreants are ready to work with you to bring to life your vision of a tshirt for your business, band, project, or whatever else it is you need represented by a shirt, sweater, pin, or coozy. Head on over to www.xlvacx.com to check them out. Thanks!
This episode we are talking about the work of Canadian filmmaker David Cronenberg, specifically his earlier period of filmmaking in which he defined the subgenre of "body horror".
The films we're discussing are 1975's Shivers and 1977's Rabid. We were lucky enough to be joined by fellow Cinepunk Sean Bennis-Sine to help us wade through the weirdness of these films.
We begin by talking about what we've seen recently. Sean opens up the discussion by talking about his recent viewings of The Babadook and Burnt Offerings, and we briefly talk about viewing The Babadook through the lens of parenthood as opposed to seeing it as someone without children. Justin discusses his recent trip to LA and the horror related things he did out there, as well as his recent viewing of 47 Meters Down. Liam then discusses, amongst other things, Night Of The Demon, American Gods, and The Bad Batch.
First up is 1975's Shivers. We discuss the plot of the film and how it sets the stage for much of Cronenberg's career onward, as well as a brief discussion on the concept of "body horror".
We then discuss, amongst other things, the social message the film carries, how it relates Cronenberg's commentary on the sexual revolution of the 60s, Cronenberg's commentary on modern living, how the film compares to similar "zombie" style horror films both of that time period and in modern times, and the idea of Cronenberg as an "apocalyptic" filmmaker in that he seeks to show the possibility of a different social order than the one that currently exists.
We compare the film visually and tonally to some of Cronenberg's later works, and also how the films aesthetics perfectly capture the late 70s/early 80s look that we remember as children.
Up next is 1977's Rabid.
We talk about how Rabid is arguably the first definitive "Cronenberg" film in that it takes the imagery and ideas he first explored in Shivers into truly new territory, as well as it again revisits themes from Shivers (infection, the body/flesh transforming/rebelling against itself, the collapse of an old social order to make way for a new one, sexuality as an alien concept, people becoming less than human by subverting the mind to the will of the body, etc).
We talk about accusations of Cronenberg harboring misogynistic/sexist views and expressing those views in his work, and we talk about Rabid as a commentary on the competency of the government in times of crisis.
As always thanks to everyone and anyone who checked this episode out, or shared a tweet/shared a post on FB/gave us love by recommending us to someone. We love you forever for listening. Any questions, comments, suggestions for movies and guests, or if you yourself want to join us for a movie viewing or even an episode, can be sent to [email protected]. We would love to hear from you! Special thanks to Sean for joining us this episode. Thanks always to Justin Miller and Doug Tilley for their technical contributions and fliers, Mike Smaczylo for the awesome fliers, and also thanks to Josh "Pats And Ginos Is For Tourists" Alvarez for the theme song, Chris and LVAC for the support and buttons (check them out at www.xlvacx.com), and a HUGE thank you to anyone who retweeted us or shared something on Facebook that we posted. Follow us on Twitter at @thehorrorbiz666, like us on Facebook at facebook.com/thehorrorbiz66, and remember to rate, review, and subscribe to us on ITunes. In fact, if you write us a review, email us with your mailing address and we'll send you some free pins and stickers! Check out www.cinepunx.com for more info on some of our other podcasts and how you can donate to our Patreon! Until next time…thanks!