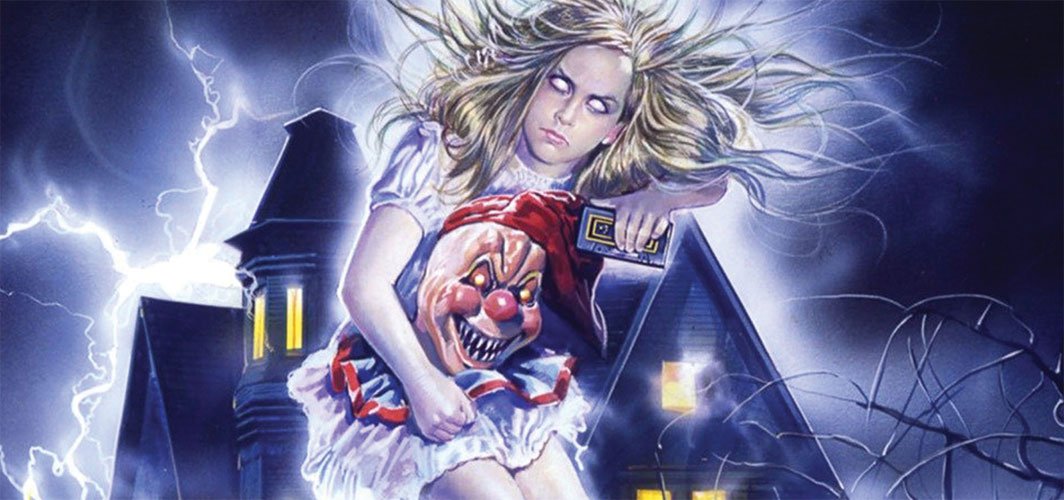 Podcast (horrorbusiness): Play in new window | Download
Subscribe: RSS
Greetings goofs and ghouls! Thank you as always for checking us out and we have got one heck of an episode for you guys. We are joined for this episode by our good friend Jeff Thibault from Monster Mania Con. This was a lot of fun to record and we're super excited for you guys to hear it.
First and foremost we want to give a shoutout to our sponsors over at Lehigh Valley Apparel Creations, the premiere screenprinting company of the Lehigh Valley. Chris Reject and his merry band of miscreants are ready to work with you to bring to life your vision of a tshirt for your business, band, project, or whatever else it is you need represented by a shirt, sweater, pin, or coozy. Head on over to www.xlvacx.com to check them out. Thanks!
This episode we are taking a look at two Italian haunted house films, 1981's HOUSE BY THE CEMETERY and 1988's LA CASA 3 AKA GHOST HOUSE.
We begin by talking about what we've seen recently. Jeff and Justin were lucky enough to catch a screening of the 2016 body horror/Lovecraftian horror/goopfest THE VOID and talk briefly about it. Justin and Liam briefly spar over the season 7 finale of THE WALKING DEAD.
First up is Lucio Fulci's HOUSE BY THE CEMETERY. We give a brief background on Fulci's 'Gates Of Hell Trilogy' and his distinct filmmaking style, his background, and a brief summation of the plot of HBTC. Liam talks about the vagueness of the characters being aware of certain plot elements and how the main characters son is the only character in the film that isn't suspect. Jeff points out the large number of red herrings in the movie and how this might be influenced by Hitchcock's tendency to do the same.
Justin and Jeff touch upon Fulci's tendency to unsettle with techniques both subtle and heavy handed, and Liam follows up with discussing Fulci's films often times choosing strange and violent imagery over substantial plots, and how Fulci was capable of taking a "cornball" premise and turning it into something more than it's parts. Justin talks about the similarities between this film and THE SHINING. Justin discusses the voyeuristic nature of Fulci's cinematography, there is discussion on whether not Fulci is actually good filmmaker, and then Liam ruthlessly attacks Justin for not being that into European horror. There is a brief discussion as to what genre this film is, and whether or not it should be counted as a 'gates of hell' movie as there is no actual gates of hell in the film.

Up next we talk about Umberto Lenzi's LA CASA 3 AKA GHOST HOUSE. We talk about the history of the LA CASA franchise and the European tradition of making unofficial sequels to American films and the story of Italian genre filmmaker Joe D'amato.
There is a brief summation of the plot of Ghost House, a discussion of how this is one of the rare films in which the 'scary children' trope is successful, and how this movie, despite lacking the finesse of someone like Fulci, is actually quite effective and while unrefined a lot of fun to watch due to the dedication and earnestness of the people involved in making it.
Huge thanks to Jeff Thibault for making the journey up to the valley to hang with us and talk about Italian horror movies! As always thanks to everyone and anyone who checked this episode out, or shared a tweet/shared a post on FB/gave us love by recommending us to someone. We love you forever for listening. Any questions, comments, suggestions for movies and guests, or if you yourself want to join us for a movie viewing or even an episode, can be sent to [email protected]. Thanks always to Justin Miller and Doug Tilley for their technical contributions and fliers, Mike Smaczylo for the awesome fliers, and also thanks to Josh "Badder Daddy" Alvarez for the theme song, Chris and LVAC for the support and buttons (check them out at www.xlvacx.com), and a HUGE thank you to anyone who retweeted us or shared something on Facebook that we posted. Follow us on Twitter at @thehorrorbiz666, like us on Facebook at facebook.com/thehorrorbiz66, and remember to rate, review, and subscribe to us on ITunes. In fact, if you write us a review, email us with your mailing address and we'll send you some free pins and stickers! Until next time…thanks!