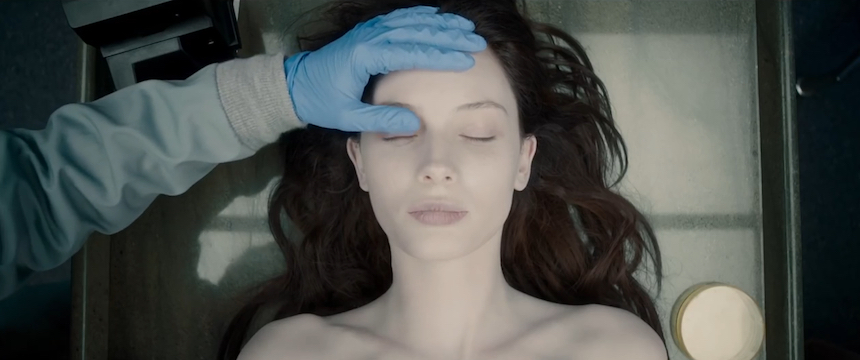 Podcast (horrorbusiness): Play in new window | Download
Subscribe: RSS
2016 In Horror Cinema
Greetings new yearlings, and welcome back to Horror Business, the podcast that will surely be one of the few things in the likely radioactive wasteland that will be 2017 to be bring you joy.
This episode we look back on 2016 and what we liked and disliked about the state of horror cinema and weirdly enough it looks like horror movies were the one thing from 2016 that weren't horrible!
We begin as always by talking about some of the recent horror films we've seen. While technically not a horror movie, we were lucky enough to catch Shin Godzilla. We discuss some of the more horrific aspects the franchise, what makes the new one stand out from the prior entries in the franchise, and Godzilla's increasing amounts of screen time despite claims to the contrary. We move on to Evolution, a movie that Liam enjoyed but Justin was confused by. But it's okay because Liam is soon confused by Justin's comparison of Evolution to not understanding Primus! Justin successfully argues that Liam has actual taste in film while he himself does not and then rambles about the size of his Criterion collection. We briefly talk about catching a screening of The Autopsy Of Jane Doe in New York City with a Q & A featuring Brian Cox, Emile Hirsch, and director Andre Ovredal. Justin discusses his viewing of Rob Zombie's 31 and the tragedy that is Rob Zombie's inability to make good movies despite his rich pedigree and Richard Brake's standout performance in the film. Liam briefly talks about his viewing of the Syfy series Channel Zero. Next we talk about how we were fortunate enough to be on a couple episodes of friend of the podcast Andrew Bergeron of Vincent Price's Laugh other podcast What Did We Just Watch? to talk about Mulholland Drive and Moon. There is a brief derailment as Justin is egged into talking about his fear and hatred of the 1992 alien abduction film Fire In The Sky before we get back on track to talk about Andrew's podcast and how it's so organized and focused that it makes us look like a mess. We love you Andrew, but you have shamed us! Liam briefly talks about the films Always Shine, Under The Shadow, and The Monster. Justin talks about the 2014 film Black Mountainside, and how while it is a heavy handed tribute to John Carpenter's The Thing nonetheless it was an enjoyable film that stands on it's own. We talk about our deal with having listeners print out five of our fliers that the wonderful Justin Miller made and put them up and if you take a picture and send us five pictures we'll send you a free Cinepunx t-shirt!!! We'll put the flier up on our FB page and our Twitter feed. We talk about the Cinepunx Patreon page which you can find here
Justin's top eleven list of horror films in 2016 is as follows. In no particular order after The Autopsy Of Jane Doe (which was Justin's favorite of the year) :
The Autopsy Of Jane Doe 
The Witch
Green Room
Train To Busan
Green Room
Trash Fire
The Monster
The Conjuring 2 (which Liam hated)
Clown
Baskin
They Look Like People
 Honorable mentions are, again in no particular order…
The Shallows
Gateway
Mind's Eye
Siren
Spectral
The Wailing
Beyond The Gates
Don't Breathe
Evolution
 And finally a giant fuck you to the following movies for being horrible…
Lights Out
The Darkness
The Blair Witch
(We don't talk about it fuuuuuuuck Phantasm: Ravager as well. No idea how that pile of shit slipped our minds this episode)
Here are some films that Liam had seen this year and was fond of…
Always Shine
Under The Shadow
We Are The Flesh
The Eyes Of My Mother
The Lovewench
      As always thanks to everyone and anyone who checked this episode out, or shared a tweet/shared a post on FB/gave us love by recommending us to someone. We love you forever for listening. Any questions, comments, suggestions for movies and guests, or if you yourself want to join us for a movie viewing or even an episode, can be sent to [email protected]. Thank you Andrew Bergeron for having us on his podcast! Thanks always to Justin Miller and Doug Tilley for their technical contributions and fliers, Mike Smaczylo for the awesome fliers, and also thanks to Josh "Dr. Zhivago" Alvarez for the theme song, and a HUGE thank you to anyone who sent in a best of 2016 list, retweeted us or shared something on Facebook that we posted. Follow us on Twitter at @thehorrorbiz666, like us on Facebook at facebook.com/thehorrorbiz66, and remember to rate, review, and subscribe to us on ITunes! Until next time…thanks!