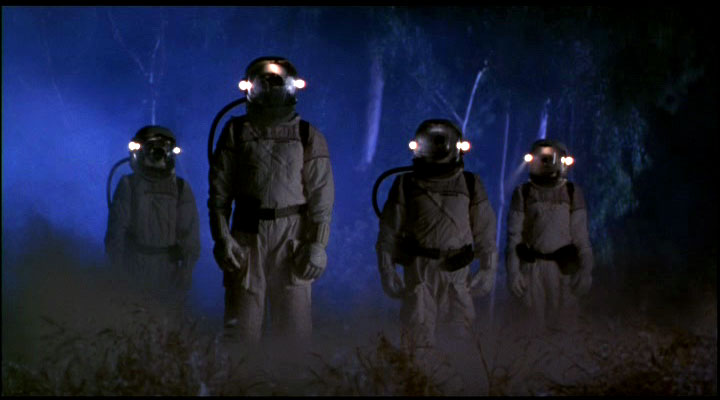 Podcast (horrorbusiness): Play in new window | Download
Subscribe: RSS
 Greetings, and welcome back to Horror Business. We have one awesome episode in store for you guys because we're talking about 1988's The Blob and 1998's Phantoms and we're (unfortunately) joined by the one and only Chris Reject of Lehigh Valley Apparel Creations.
First and as always thank you to our Patreon subscribers. Your support means the world to us and we are eternally thankful. If you would like to become a Patron, head to patreon.com/cinepunx. Thanks in advance! Also, a huge thank you to the fine folks over at Lehigh Valley Apparel Creations, the premiere screen-printing company of the Lehigh Valley. Chris Reject and his merry band of miscreants are ready to work with you to bring to life your vision of a t-shirt for your business, band, project, or whatever else it is you need represented by a shirt, sweater, pin, or coozy. Head on over to www.xlvacx.com to check them out. Thank you also to Essex Coffee Roasters, our newest sponsor. Head to www.essexcoffeeroasters.com to check out their fine assortment of coffee and enter CINEPUNX in the promo code for ten percent off your order!
We start by talking about what we've done involving horror recently. Chris talks the recent screening of Lost Highway at the Mahoning Drive In, as well as being so frightened by the The Boogeyman that he left the movie theatre. Liam talks about reading the novel Doctor Sleep, as well as Grady Hendrix's Final Girls Support Group. Justin talks about virtually attending the Popcorn Frights Film Festival, as well as the films The Pope's Exorcist, Beaten To Death, Watchdog, Swallowed, The Black Demon, The Lake, as well as the French film Astrakhan and the new Star Wars series Ahsoka and the novella Gemini Rising by friend of the podcast Justin Lutz (which can be ordered here).
Up first is The Blob. We talk about our introductions to the film, with Chris seeing the movie for the first time relatively recently during the COVID pandemic at an outdoor screening and being amazed that he went his entire life without seeing it, Liam seeing it in bits and pieces all throughout college, and Justin talking about seeing it as a little kid and how it was weirdly mesmerizing to him in how realistic and violent it is, as well as the bait and switch it pulls with the main character (for more of Justin's thoughts on the film head here).
We talk about some of the performances in the film, and how it's somewhat strange that the most interesting character in the film is killed almost first. We talk about how medium rare the original film with Steve McQueen is even for the era, and how the remake may have suffered just from being released during a time period when there were several other blockbuster films that could've drawn from the film.
Justin talks about how film may also have suffered from a perceived cynicism in its narrative of faceless government goons inflicting harm on small town America and then a crazed religious figure threatening to unleash the Blob on America again.
            Up next is Phantoms. We talk about how much of an utter failure the film is in execution despite having a rather interesting premise.
Justin talks about how disappointed he was with the movie he first time he watched it and how the filmmakers exercised a lot of the cooler things from the novel to streamline the film. We talk about how the movie drags and drags and is just so unenjoyable.
Justin talks about how the source material for the movie is some of Dean Koontz's most interesting material when it comes to commenting on human nature, evil, etc.
First and foremost, thanks to Chris for coming to hang and talk with us. As always thank you for listening and to everyone and anyone who donated on Patreon, checked this episode out, or shared a tweet/shared a post on FB/gave us love by recommending us to someone. We love you forever for listening and donating. Any questions, comments, suggestions for movies and guests, or if you yourself want to join us for a movie viewing or even an episode, can be sent to [email protected]. We would love to hear from you! Thanks always to Justin Miller, Jacob Roberts, Paul Sharkey, and Doug Tilley for their technical contributions and fliers, Mike Smaczylo for the shirts and fliers (you can check more of his work out at here), and also thanks to Josh Alvarez for the theme song, Chris, Brad, and LVAC for the support and buttons (check them out at www.xlvacx.com and on Twitter), Essex Coffee Roasters (www.essexcoffeeroasters.com) and a HUGE thank you to anyone who retweeted us or shared something on Facebook that we posted. Follow us on Twitter and Instagram at @thehorrorbiz666, like us on Facebook at facebook.com/thehorrorbiz66, check out our Spotify account at Cinepunx, and remember to rate, review, and subscribe to us on ITunes. In fact, if you write us a review, email us with your mailing address and we'll send you some free pins and stickers!  Check out www.cinepunx.com for more info on some of our other podcasts, some ultra stylish Cinepunx related merchandise, and how you can donate to our Patreon! Until next time…thanks!