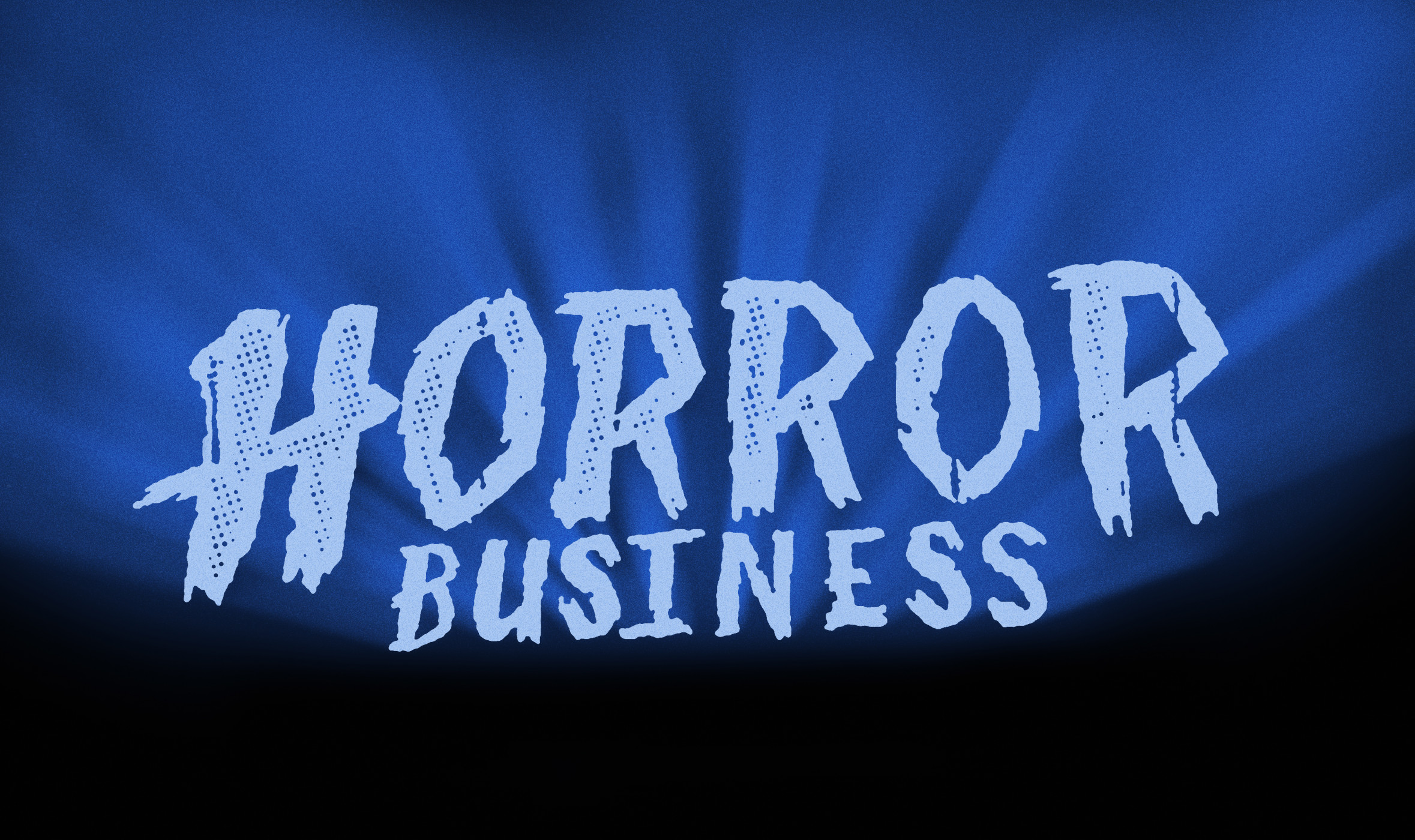 Podcast (horrorbusiness): Play in new window | Download
Subscribe: RSS
Greetings creepy people, and welcome back to Horror Business, the podcast that loves you no matter what. As always you are in for a treat!
This episode we're joined by the one and only Joe Yanick of the wonderful Small Screen Cinema podcast to help us unpack the annual Exhumed Films Horrorthon, a twenty four hour horror marathon the weekend before Halloween in Philadelphia. In addition to discussing the movies with Joe, we were also lucky enough to talk to some people at the Horrorthon on various things, including but not limited to Alice Cooper and the eternal question of 'Is Pumpkinhead actually any good?' (Spoiler: yes. It is). I, Justin, unfortunately had to bow out about halfway through the 'thon due to some personal issues, so there were some movies that played that I couldn't offer any input on, but Liam and Joe pick up the slack with the movies I hadn't seen. We apologize in advance for the rough sound quality and simply ask that you find it in yourselves to bear it out for us because we would do the same for you.
The theme for this year's horrorthon was the golden decade of horror: the 1980s. The movies shown were, in chronological order, Motel Hell, The Boogens, Visiting Hours, Cujo, Eyes Of Fire, Night Shadows aka Mutant, Monster Dog, Scream For Help, The Mutilator, The Hitcher, Child's Play, House, Rawhead Rex, and Society.
We were lucky enough to talk to some people at the Horrorthon about what they had seen so far and what they were excited to see the rest of the night, and at the end of the episode we have some of those short interviews for you guys.
As always thanks to everyone and anyone who checked this episode out, or shared a tweet/shared a post on FB/gave us love by recommending us to someone. We love you forever for listening. Massive thanks to the wonderful Joe Yanick for debasing himself enough to appear on this podcast and talk with us about the movies we saw. More of Joe's delightful insight can be found at the Small Screen Cinema podcast, which is available on iTunes and Stitcher. Thanks to Exhumed Films and everyone involved for putting on the Horrorthon. More information on Exhumed can be found at www.exhumedfilms.com. Thank you to anyone we hung out/shot the shit with there, you are all amazing and it was a blast talking to you. As always thanks to Justin Miller and Doug Tilley for their technical contributions, Mike Smaczylo for the awesome fliers, and always thanks to Josh "El Guapo" Alvarez for the theme song, Any questions, comments, suggestions for movies and guests, or if you yourself want to join us for a movie viewing or even an episode, can be sent to [email protected]. Follow us on Twitter at @thehorrorbiz666, like us on Facebook at facebook.com/thehorrorbiz66, if you're on Letterboxd check out Liam at www.letterboxd.com/liamface, and remember to rate, review, and subscribe to us on ITunes! Thanks!