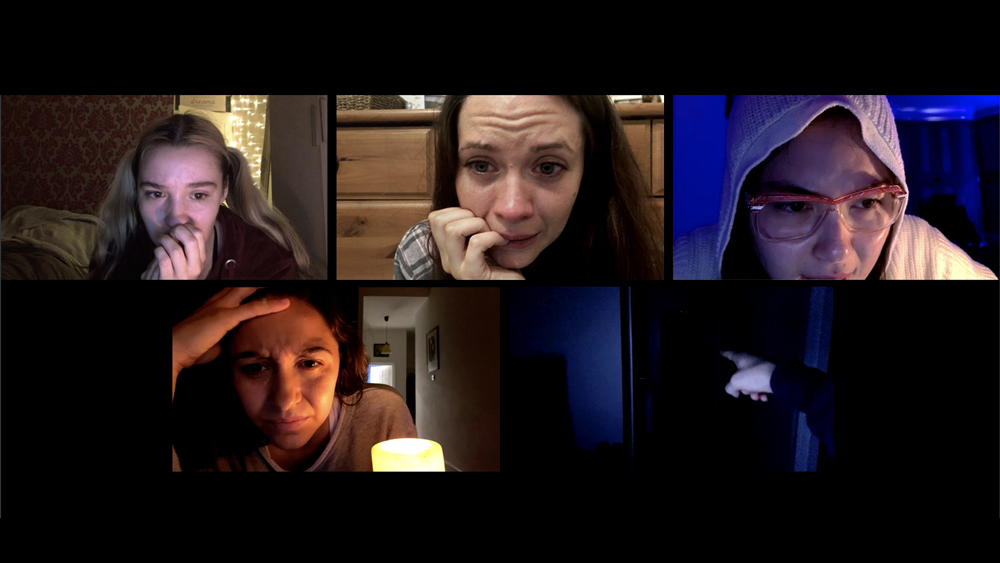 Podcast (horrorbusiness): Play in new window | Download
Subscribe: RSS
Greetings, and welcome back to Horror Business. We have one awesome episode in store for you guys because we're talking 2003's The Wicksboro Incident and 2020's Host, and even better we're joined by Anna and Marissa from the But What Do We Know? podcast.
First off thank you to the fine folks over at Lehigh Valley Apparel Creations, the premiere screen-printing company of the Lehigh Valley. Chris Reject and his merry band of miscreants are ready to work with you to bring to life your vision of a t-shirt for your business, band, project, or whatever else it is you need represented by a shirt, sweater, pin, or coozy. Head on over to www.xlvacx.com to check them out. Thank you also to Essex Coffee Roasters, our newest sponsor. Head to www.essexcoffeeroasters.com to check out their fine assortment of coffee, and enter CINEPUNX in the promo code for ten percent off your order! And as always thank you to our Patreon subscribers. Your support means the world to us and we are eternally thankful. If you would like to become a Patron, head to patreon.com/cinepunx. Thanks in advance!
We start by talking about some of the stuff involving horror recently. Anna and Marissa talk about the series Evil Lives Here and various horrific stories such as the phenomenon of haunted Appalachia and spooky caves. Liam talks about the Netflix trilogy of Fear Street films and the new Grady Hendrix book The Final Girl Support Group. We talk about the Mahoning Drive-In's recent brush with closure and how they came back from the brink. Justin talks about the book They Come With The Rain, the films False Positive, The Forever Purge, Violation, and Pig.
We start with The Wicksboro Incident. Marissa rather eloquently compares the film to bad sex in that you expect something to happen, but nothing does, and Anna talks about the film's resemblance to the spat of mermaid "documentaries" from a few years back.
Justin talks about his background with the movie and how he came to discover it. We talk about how the film has quite an effective opening but devolves quickly into cliched nonsense about halfway through. We briefly discuss the "rules" of found footage and how this film breaks many of them and not in a good way.
Anna talks about how impractical and unbelievable the film was, and Marissa talks about how the acting was subpar and the attempts at adding a "human" element fail miserably.
Up next is Host. Anna talks about how the film is the most recent entry in a relatively new trend in horror filmmaking and how it's super effective in its minimalism, and Liam talks about how the film is successful in its use of effective jump scares. Marissa talks about how the film seemed to hint at more character development that was in the film, and this leads to discussion about how this was a good move on the films part in that it fleshes out the characters.
We explore the idea that maybe the character of Hayley who organized the séance may have known more than she let on in that she may have been experiencing spooky activity in her apartment. We discuss the production value of the film and the way the credit sequence is framed as more people joining the Zoom session. The idea of the film as an exercise in format is touched upon. Justin talks about the primordial fear of seeing into someone's house and seeing something happening that they're unaware of.
First and foremost thanks to  Anna and Marissa for blessing us with their presence. You can find them on Apple and Spotify and follow them on IG at @butwhatdoweknowpodcast. Thank you everyone and anyone who donated on Patreon, checked this episode out, or shared a tweet/shared a post on FB/gave us love by recommending us to someone. We love you forever for listening and donating. Any questions, comments, suggestions for movies and guests, or if you yourself want to join us for a movie viewing or even an episode, can be sent to [email protected]. We would love to hear from you! Thanks always to Justin Miller, Jacob Roberts, Paul Sharkey, and Doug Tilley for their technical contributions and fliers, Mike Smaczylo for the shirts and fliers (you can check more of his work out at here), and also thanks to Josh Alvarez for the theme song, Chris, Brad, and LVAC for the support and buttons (check them out at www.xlvacx.com and on Twitter), Essex Coffee Roasters (www.essexcoffeeroasters.com) and a HUGE thank you to anyone who retweeted us or shared something on Facebook that we posted. Follow us on Twitter and Instagram at @thehorrorbiz666, like us on Facebook at facebook.com/thehorrorbiz66, check out our Spotify account at Cinepunx, and remember to rate, review, and subscribe to us on ITunes. In fact, if you write us a review, email us with your mailing address and we'll send you some free pins and stickers!  Check out www.cinepunx.com for more info on some of our other podcasts, some ultra stylish Cinepunx related merchandise, and how you can donate to our Patreon! Until next time…thanks!