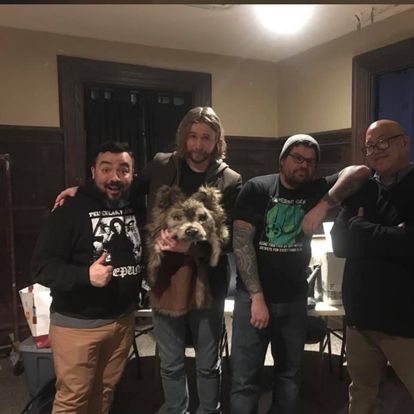 Podcast (horrorbusiness): Play in new window | Download
Subscribe: RSS
Greetings, and welcome back to Horror Business. We have a BANGER of an episode in store for you guys: it's our 100th episode and we're joined by Al White and Josh Alvarez to help usher it in!  We're talking about four of our favorite (and not so favorite) remakes: Cat People, Night Of The Living Dead, Dawn Of The Dead, and Evil Dead.
First off, thank you to the fine folks over at Lehigh Valley Apparel Creations, the premiere screen-printing company of the Lehigh Valley. Chris Reject and his merry band of miscreants are ready to work with you to bring to life your vision of a t-shirt for your business, band, project, or whatever else it is you need represented by a shirt, sweater, pin, or coozy. Head on over to www.xlvacx.com to check them out. Thank you also to Essex Coffee Roasters, our newest sponsor. Head to www.essexcoffeeroasters.com to check out their fine assortment of coffee, and enter CINEPUNX in the promo code for ten percent off your order! And as always thank you to our Patreon subscribers. Your support means the world to us and we are eternally thankful. If you would like to become a Patron, head to patreon.com/cinepunx. Thanks in advance!
Up first is Cat People. We discuss the history of the production of the film and how Paul Schreider wishes he had made the film as an original story instead of a loose remake. We talk about the symbolism present in the film of devotion and worship of something dangerous. We discuss some of the shortcomings of the film, including the underwhelming use of actor Annette O'Toole and the lackluster somewhat misogynistic ending. Al brings up how the film opens up a lot of neat ideas and narrative threads but doesn't follow up on a lot of them. The rules of the werecat and how confusing they are is brough up. The film as an archetypical '80s horror film is discussed, and Justin talks about how the film strikes him as similar to The Wolfen.
Up next is Night Of The Living Dead. We talk about our backgrounds with the film, and how it successfully updates the effects of the original as well as some of the character. Al eviscerates the film and discusses how he loves the original, and how he feels that this film falls short in realizing the vision of the original. The idea of a remake walking a fine line between a faithful adaption and a creative re-imagining is discussed. We talk about Tom Towles' over the top cartoonish performance as well as Tom Savini's troubled history with the film.
Up next is the Dawn Of The Dead. We talk about our histories with the film. Justin talks about how the film embodies some of the things he dislikes about Zack Snyder's directing style. The film's opening sequence is discussed, as is the films tone and lack of cruelty. The pointlessness of the zombie baby scene is talked about. Al talks about this film successfully reinterprets the vision of the original but how it suffers from the recent cultural zombie overkill in that every zombie movie/show takes something from it. Liam discusses what he doesn't like about the film, including the bland "ugliness" of the film palate.
Lastly we have Evil Dead. Al talks about how the film is everything he loves about modern horror, in that it doesn't wink and nod at the audience, it has genuine emotion to it, and it has some truly "mean" moments in it. The effects of the film are touched upon. We talk about how the film doesn't hold back in its treatment of its characters, in that no one is too precious to be spared absolute horror. We talk about how many people find the film genuinely frightening and briefly touch upon the creative decision to not continue the film's storyline in a sequel. Justin talks about his pet peeve of having simple classic Judeo-Christian spookies in the film instead of weird pagan demons like the first one. We talk about Fede Alvarez's scenes involving unwelcome and forced penetration in his films.
Thank you so much to Al and Josh for being amazing homies and joining us to celebrate 100 episodes of nonsense. Thank you everyone and anyone who donated on Patreon, checked this episode out, or shared a tweet/shared a post on FB/gave us love by recommending us to someone. We love you forever for listening and donating. Any questions, comments, suggestions for movies and guests, or if you yourself want to join us for a movie viewing or even an episode, can be sent to [email protected]. We would love to hear from you! Thanks always to Justin Miller, Jacob Roberts, and Doug Tilley for their technical contributions and fliers, Mike Smaczylo for the shirts and fliers (you can check more of his work out at here), and also thanks to Josh Alvarez for the theme song, Chris, Brad, and LVAC for the support and buttons (check them out at www.xlvacx.com and on Twitter), Essex Coffee Roasters (www.essexcoffeeroasters.com) and a HUGE thank you to anyone who retweeted us or shared something on Facebook that we posted. Follow us on Twitter and Instagram at @thehorrorbiz666, like us on Facebook at facebook.com/thehorrorbiz666, check out our Spotify account at Cinepunx, and remember to rate, review, and subscribe to us on iTunes. In fact, if you write us a review, email us with your mailing address and we'll send you some free pins and stickers!  Check out www.cinepunx.com for more info on some of our other podcasts, some ultra-stylish Cinepunx related merchandise, and how you can donate to our Patreon! Until next time…thanks!