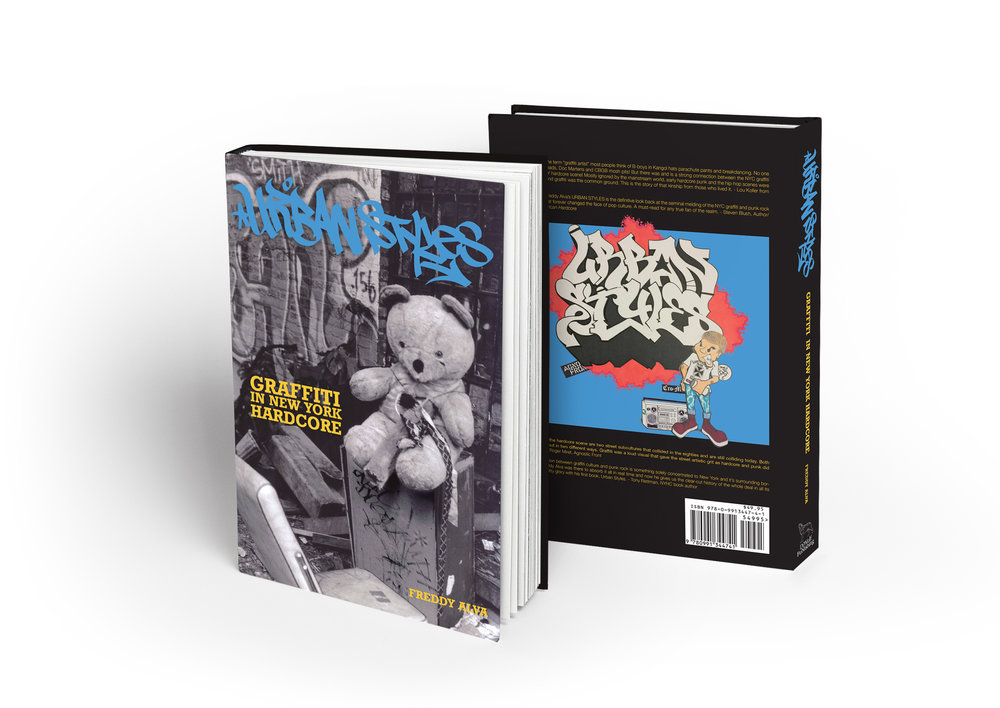 New York City's celebrated status as a major cultural epicenter where all voices and cultures converge has long been cemented. Its reputation as a haven for underground art and music is particularly hallowed, given its role in the birth of American punk rock.
When it comes to hardcore, however, New York City is often eclipsed by San Francisco and Washington, DC in the minds of the masses. After all, it wasn't until Bad Brains relocated to the city in the early 80s that a hardcore scene even began to emerge. By mid-decade, however, New York City hardcore was alive and thriving, and with it a distinctive visual aesthetic; graffiti art, like hardcore, rose from the city's mean streets, and was informed by a similar DIY ethos and impulse for expression. It quickly became a crucial part of New York hardcore's visual language, decorating event posters and demo tapes and uniting two of the city's most creative and urgent subcultures.
Author Freddy Alva is no stranger to this union, having been involved in the New York hardcore scene since the 1980s. His new book, Urban Styles: Graffiti In New York Hardcore (DiWulf Publishing), chronicles the history of the relationship between graffiti writers and the New York Hardcore scene through first-hand accounts from the artists who lived it.  With Urban Styles, Alva has crafted a rich and vivid visual timeline of a vibrant movement often overlooked.
Cinepunx has teamed up with DiWulf Publishing House and Amalgam Comics and Coffeeshop to celebrate the release of Urban Styles: Graffiti in New York Hardcore. Alva will be on-hand to sign copies of the book at Amalgam Comics on Friday, November 17 from 6-8 p.m. The event is free and open to the public.
Ahead of the signing, we spoke with Alva about the book, the intersection of hardcore and art, and more.
---
Your book is an interesting intersection of worlds. How did it come about?
The book basically came out of me doing online articles for the past couple of years and having a desire to do something more in-depth and real than just words on the virtual realm. I took someone's advice about writing what I know about — which is how hardcore and graffiti intersected as well as fed off one another in NYC during the last two decades of the 20th century — and wrote up an outline that became a book proposal.
I sent it out to a couple I knew and next thing I knew, Steven DiLodovico from DiWulf publishing enthusiastically contacted me saying that they loved the idea and would like to publish it. I was floored, and that really kickstarted the project as far as having backing and making me go full-tilt on reaching out to people for interviews and collecting as much ephemera as possible related to this fusion which has been a huge of my upbringing. I feel really fortunate to be able to tell the story.
What was your process for writing this book, as far as the preparation and research involved?
I did a couple of fanzines back in my formative years in the NYHC scene, so I approached the book the same way as far as conducting interviews and gathering as many photos related to the subject as possible. I also wanted to put a sociological angle to the project and talk about the economic reality that NYC went through during the 1970s. This significant factor directly contributed to the rise and spread of subcultures like graffiti and hardcore, so I wrote a lead essay that addresses these unique circumstances that made such a unique synthesis possible.
My prep work consisted of digging into my memory banks and writing everything down that I noticed when getting into the scene in 1985. For any information prior to that time frame, I deferred to old-timers that were there in the first wave and picked their brains on what went on during the first wave of NYHC and its relationship to graffiti. I am grateful to each and every one of them, as the book is more of a collaboration with the people who provided me with crucial information in order to pinpoint exactly who were the pioneers of this movement and the ones that carried the torch onto subsequent generations.
Considering this project was such an in-depth undertaking, from its earliest stages to publication, did you come across anything surprising or unexpected in the process of bringing it to life?
From talking to old-timers, what really opened my eyes is a band called Frontline.  They rarely get mentioned in the history of NYHC, and to be honest, I really didn't know much about them either. But through the course of researching the book, I came to the conclusion that these guys were really the forefathers of graffiti in NYHC. Forming in 1981 and inspired by the Bad Brains, all the members of Frontline had been graffiti writers in the 1970s. This realization led to them having a prominent place in the book — they are literally one of the first interviews you read. It's tidbits like these from the early days and other info from the later periods that really impressed on me the depth of the subject at hand. During the course of research for the book, I amassed an immense number of data that chronicles this singular cultural phenomenon. I look forward to the reader being as enlightened as I was when putting it all together and ultimately turning the pages.
What are you most looking forward to about the Amalgam in-store event and visiting Philadelphia?
I'm really looking forward to having two of the writers featured in the book present, namely SHOE and NOW. They both happen to live in Philly and are psyched to come down and tell their side of the story. The book is, at its heart, about them. There's no one more capable to discuss it. They both played in NYHC bands, wrote graffiti, and, whether they know it or not, had a huge role in promoting the mingling of these subcultures. And, they happen to be decades-long friends of mine. I also really want people to finally see the book and would love to get any feedback positive or negative regarding its content. The topic at hand is very New York-centric, but I believe you don't necessarily have to be from NY to appreciate it. Looking forward to having this theory proved right!
A comic book shop is an interesting choice of venue. Given that graffiti and comics are both misunderstood artforms, it seems like a good fit.
My earliest memories of graffiti growing up relate to comics, as the best writers and artists I remember were huge comic book fans, and a lot of their work referenced that. A lot of the writers I admired in 1982 were larger than life figures whose work looked like it jumped out a comic book page, so to do this signing at a place like Amalgam is entirely apropos and makes the whole connection come full circle. I know several graffiti writers that went on to careers in illustration, so it comes as no surprise that the common denominator is artistic expression; whether it be through spray paint or illustrated comic book panels. There's a whole 'nother story to be written about illustrious comic artists like Frank Frazetta and Vaughn Bode being a huge inspiration to NYC Graffiti, but I'll leave that for someone else to cover.
Thank you for the interview and see you guys in Philly!