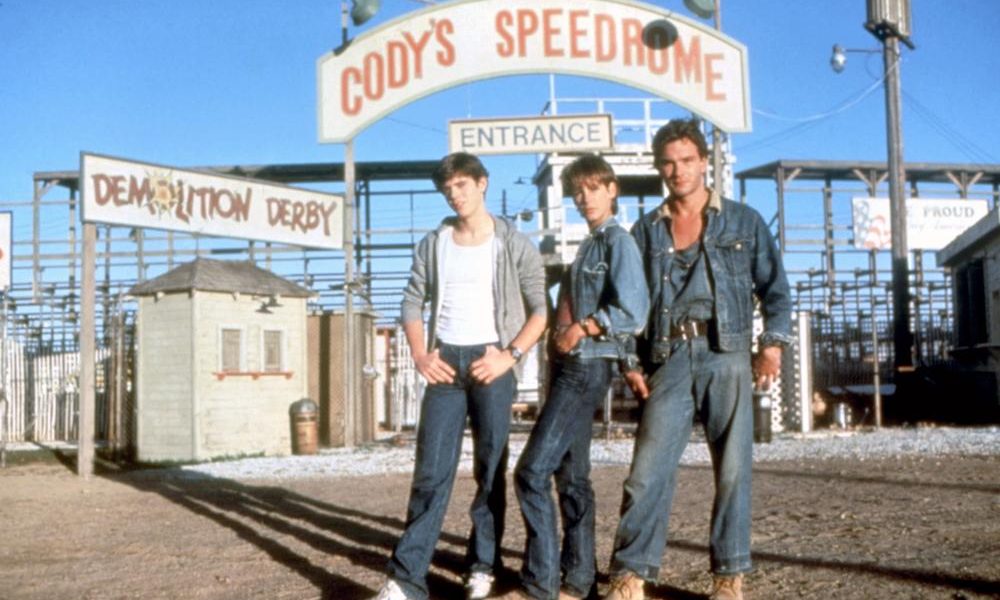 This is REKT, the column where each month one Cinepunx staffer recommends films to the rest of the fam. We may be stoked, or we may be wrecked. This month, it's Justin Harlan's turn to do the damage. Here are Nick Spacek's thoughts on Grandview, U.S.A.
They shot Grandview, U.S.A., in Pontiac, Illinois, right down the road from where my wife grew up in Belvidere. Several folks she knew were extras in the movie, and she was more excited than anything when the movie was finally released on DVD back in 2011. I'd not seen it nor heard of it, ever, and so it's kind of sat on the movie shelving since it showed up at the house.
I'm kind of wishing I'd pulled it off the shelf sooner. Grandview, U.S.A. might not rank up at the top of the pantheon of dramatic comedies from the time, but it has its moments. All in all, it's a weird one, but somewhat right in line with so many other coming of age movies in the early '80s. Arguably, C. Thomas Howell as Tim is the protagonist — he's the axle around which much of the plot revolves — but like so many '80s movies which are about a young man trying to find himself, it really ends up being more of an ensemble piece.
Just as much of Grandview, U.S.A. revolves around Jamie Lee Curtis' Mike, and her attempt to save the demolition derby track started by her father, as it falls into disrepair and financial troubles, as it does Tim's post-graduation waffling as to what he wants to do.Two more '80s tropes: the little guy (or, in this case, gal) attempting to save something which they love from ruthless developers, and the kid torn between what their family wants and their heart's desire.
For those trying to keep up — Grandview, U.S.A.:Demolition derby track::One Crazy Summer:Cassandra's grandma's house. Coolies?
The film's plot is basically as I've laid it out, and it's fine. Frankly, though, it's the little details which really make Grandview, U.S.A. worth tracking down. The opening title sequence features a titular song by Air Supply, and it's kind of terrible but I also kind of love it. It's relentlessly mediocre, but the way it soundtracks a series of Midwestern scenes tugs at my nostalgia and memories of being a little kid pretty relentlessly.
It also kind of leads into the visual aesthetic of the movie, which is one that seems to have gone out of style. For some reason, there was this era wherein movies were cast with people who looked like people. You had your movie stars, sure, and Grandview, U.S.A. is no different in that aspect. When Patrick Swayze's Slam is married to a woman named Candy, and she's played by a 22 year-old Jennifer Jason Leigh, that's movie magic, not upstate Illinois.
However, back to my point — the extras, the majority of the characters (I mean, c'mon — M. Emmet Walsh), and so on look like regular people. Like, there are the folks who, despite different clothes and hairstyles are still shopping at the Walmart at the south end of the town where I live. Even the C- and D-level characters in most studio films these days look like they have an agent and a publicist, as opposed to having taken a shower after changing a tire on their Pontiac.
I believe that this is small town, U.S.A. That's cool as hell, but the downside is that the normalcy of Pontiac seems to invade the film far too much. The movie could stand to be far more bizarre. There's a dichotomy in Grandview, U.S.A. which doesn't quite ever resolve. Half of the film is heartfelt and honest, all about the trials and tribulations of small-town life and trying to make the most of yourself despite the small-minded folks around you. The other half of the movie has dance sequences, dream sequences, and Patrick Swayze jumping up and down on top of a Camero, along with such lines as "If puberty were a terminal disease, you'd be the poster child."
The sidebars are what makes the film have legs, though. Tim's sister, Susan, and an extended bit of business regarding boobs at the breakfast table is delightfully deadpan, and there's the scene where Tim and his prom date lose the Cadillac in the stream, which is pretty slapsticky, but the absolute highlight of the film is a scene which has to be viewed to truly comprehend.
Thanks, YouTube. And that's not the only musical sequence, either. It also has to be seen to be understood.
The song sounds off, but it's actually the Falco original, as opposed to the After the Fire cover which hit big a year later. Anyhow, the musical sidebars and teen angst seem like director Randal Kleiser is attempting to capture the magic of his smash hit, Grease. Sadly, Kleiser never really commits to the weird half of the film, making scenes feel like they've been jammed against each other with no regard for narrative flow.
A perfect case in point: Mike sells all the used cars by the deby, and there's a hugely emotional reaction from Cowboy, the special-needs guy who works at the track. It's a realization that things are coming to an end, and quite a bit of a downer. It is, of course, followed up by a demolition derby with a bunch of crazy patter from the track announcer, played by the one and only Michael Winslow.
It's all over the map, and it kind of doesn't work overall, but it's so entertainingly of its time that Grandview, U.S.A. is like a time capsule of character actors, '80s stars, and up-and-comers locked into a strange mishmash of Savage Steve Holland and the serious edge of any movie starring Matt Dillon with a steely look in his eye.
As far as how this works for this set of recommendations: if I hadn't been meaning to see it already, I'd be super-bummed as it being recommended as a John Cusack movie. He's in Grandview for like, 60 seconds, tops, and even listing him as a featured performer as part of the plot summary on the back of the DVD seems like cheating:
Grandview, U.S.A. joins together unforgettable stars in a quirky romantic comedy set in a town like no other. Jamie Lee Curtis (Halloween) is Michelle "Mike" Cody, proprietor of a demolition derby. Patrick Swayze (Road House) is her star driver "Slam" Webster, who's just as fast as he is reckless. Everything changes when high school graduate Tim Pearson (C. Thomas Howell, The Hitcher) crashes into their lives, leading to an unlikely romantic triangle with hilarious and heart-wrenching consequences. Randal Kleiser, the director of Grease and The Blue Lagoon, unties a brilliant cast of familiar faces including Jennifer Jason Leigh (Rush), M. Emmet Walsh (Blood Simple) Troy Donahue (Cry-Baby), John Cusack (Better off Dead…) and Joan Cusack (My Bodyguard). Together, they make Grandview, U.S.A. the kind of place you never want to leave.
Still, while mostly forgettable, and kind of a mess, those sidebars are worth seeing.