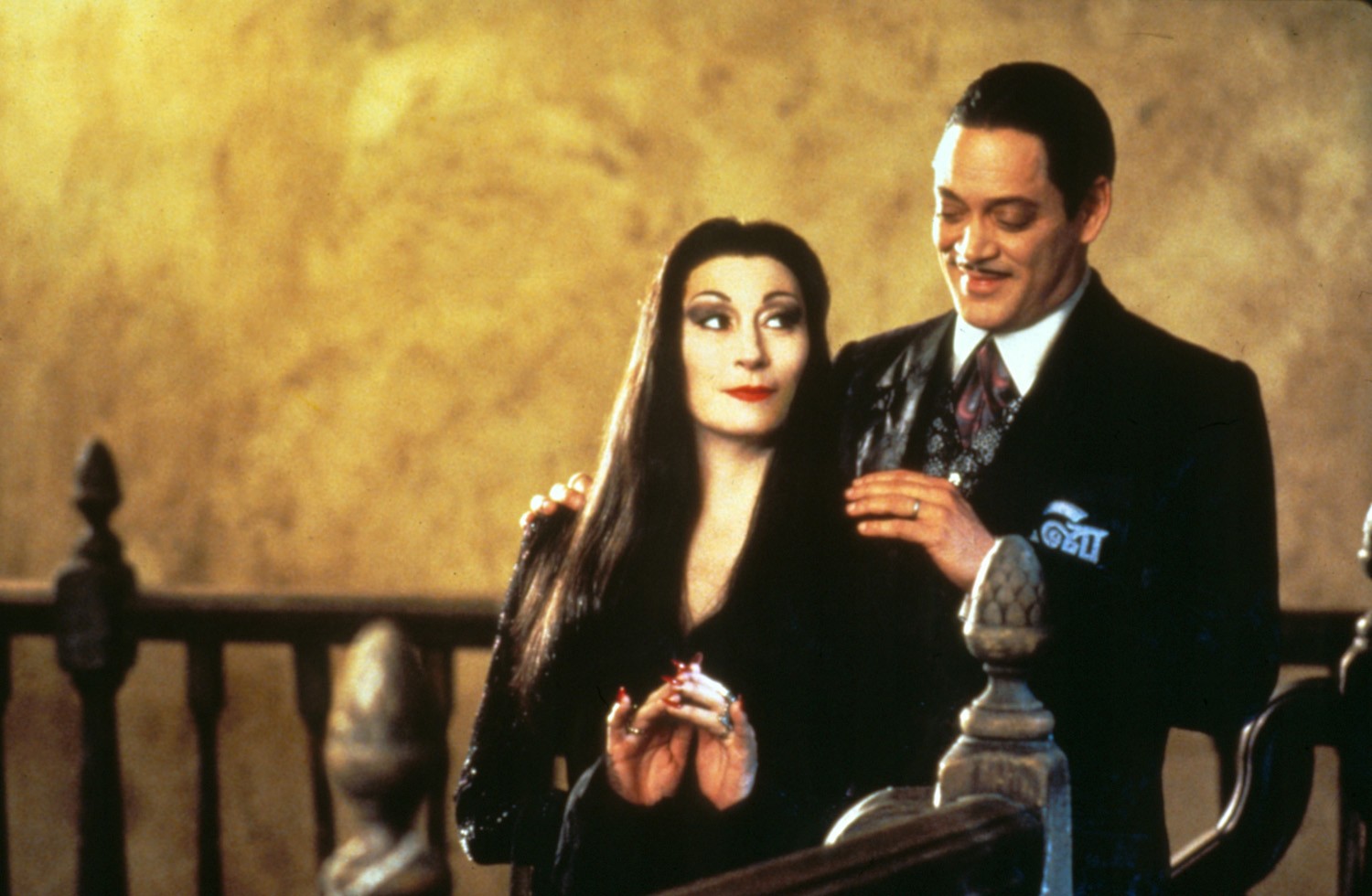 Addams Groove by MC Hammer from The Addams Family
The brightest stars burn briefest, as the saying goes. MC Hammer's Please Hammer, Don't Hurt 'Em and Too Legit to Quit were released back-to-back in 1990 and 1991, and by the time The Funky Headhunter dropped three years later, hip-hop had moved from the pop-friendly jams of Hammer, Young MC, and Vanilla Ice to the likes of Dr. Dre, Snoop Dogg, and Tupac.
In the brief period where MC Hammer sold millions of records, he was tapped to record an original song to promote The Addams Family. His song for that film, Addams Groove, is notable for many things, not the least of which is that it was Hammer's last top ten single. The song also received the Golden Raspberry Award for Worst Original Song that year, even going so far as to beat out Vanilla Ice's titular song from Cool As Ice. That being said, the song was successful enough to see inclusion on Too Legit to Quit as a bonus track.
All that being said, what of the video?
The entire cast of The Addams Family – with one exception – makes an appearance in the funky graveyard, making one wonder what kind of contract Christopher Lloyd, Raul Julia, and Anjelica Houston signed. I mean: I totally would've understood Christina Ricci appearing in an MC Hammer video, circa 1990. She was ten at the time, and this was her second big role after Mermaids the year prior.
But, c'mon: Christopher Lloyd? In a cheesy pop-rap video? By this point, he'd been in all three Back to the Future films, as well as Who Framed Roger Rabbit? and Clue. He was a bankable star. Even though he's only in this video briefly – nothing quite like the rather extensive dancing done by Julia and Houston – it still smacks of contractual obligation rather than any sense of wanting to. Everyone else seems to be having fun, though.
Addams Groove has some pretty high production values, including a very early example of CGI in the form of a bodiless Hammer head bouncing around a room after being decapitated by Wednesday and Pugsley. There's also a pretty epic soundstage graveyard, filled with dancers. The "follow the bouncing Thing" with song lyrics kind of ruins any sense of cool this video might've had, however.
All said, it's one of those things that, if you heard it as a kid, works as an instant nostalgia trip upon hearing it, but I can imagine that hearing it for the first time in 2015 must be a nightmarish experience. Watching Raul Julia move in this, however, makes me really regret his passing in 1994. That man could do so much with a raise eyebrow. It's a shame he's gone.
The song 2 Legit 2 Quit was also featured in The Addams Family (it's the song playing when Cousin It pulls up in his weird little car), so when you factor in the inclusion of the "too legit" line from the song, it makes one wonder as to whether or not the song was promoting the movie or the movie was promoting Hammer's new LP.
Fun fact: A recent episode of Spike's Lip Sync Battle reminded me that I can do the "too legit to quit" hand motion without even having to think about it, a full two decades later. That shit's sinister.