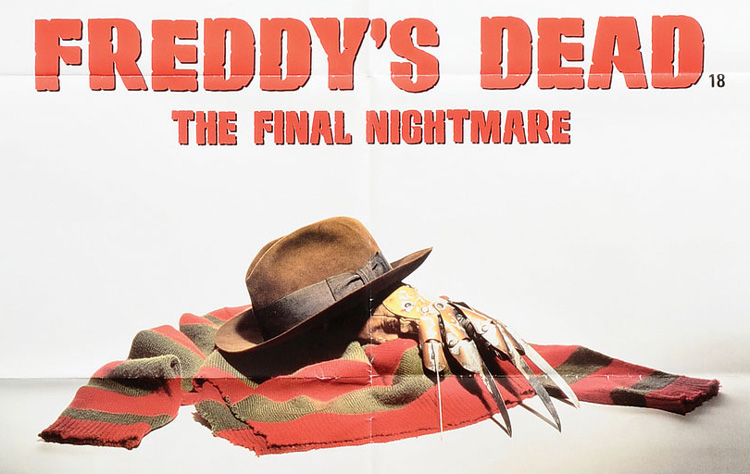 "I'm Awake Now," by Goo Goo Dolls, from Freddy's Dead: The Final Nightmare
Back when I discussed Phunk Junkeez and their contribution to the Tommy Boy soundtrack, I mentioned offhand that Goo Goo Dolls' cover of The Damned's "Wait for the Blackout" wasn't bad. Being as how I'm always trying to track down weird-ass music videos for this column as well as look for bands to come on my soundtrack podcast and talk about how weird it was to have their song in a movie, I come across quite a few surprises.
Thus, we come to the fact that Goo Goo Dolls' first soundtrack contribution was all the way back in 1991, when they had not one, not two, but three songs on the soundtrack to Freddy's Dead: The Final Nightmare. And they were alongside songs by Chubb Rock and Iggy Pop. And and Fates Warning. And, and, and the soundtrack was on Metal Blade.
My memory of Freddy's Dead is pretty hazy. I've seen the movie a couple of times and own it on DVD, and I can probably point out a couple of the scenic highlights ("Great graphics!" – Johnny Depp getting smashed with a frying pan), but most of my memories are actually centered around the official movie magazine that Fangoria released for the movie, which actually came with 3D glasses and had 3D images. Totally baller.
Anyhow, so I'd pretty much forgotten most of the music from the film because I was eleven when the movie came out, and I still cannot believe that my parents let me buy the magazine. I think the only Nightmare on Elm Street film I'd seen at that point was The Dream Master, because it played fairly regularly on the local syndication station.
So, Goo Goo Dolls. They're best-known for cuts like "Name," from their smash album, A Boy Named Goo, as well as "Iris," from the City of Angels soundtrack. Now, as many of my older music-nerd friends insists on telling me whenever the band gets mentioned, Goo Goo Dolls were once a different kind of band than as they're regarded today. Pre-"Name," the band was a Replacements-esque scrappy rock 'n' roll combo.
You can actually hear echoes of the band's earlier work (five albums on Metal Blade) in the A Boy Named Goo track included on the soundtrack for 1995's Twister, "Long Way Down." It's very much the sort of thing you might've heard on Pleased to Meet Me, and I remember enjoying the hell out of it at the time. But, by the time their follow-up was released in 1998, they were best known for the sappy, prom-theme type cuts which made up the bulk of Dizzy Up the Girl's singles, such as "Slide" and the aforementioned "Iris."
But back to Freddy's Dead, and the single released from the film, "I'm Awake Now." In addition to that single, also included were "You Know What I Mean" and "Two Days in February," both of which had been on Goo Goo Dolls' 1990 album, Hold Me Up. However, "I'm Awake Now" was exclusively on the Freddy's Dead soundtrack, although there was a promo single released on CD.
In the film, the song plays over the opening crawl, which features quotes from both Nietzsche and Krueger, before the title slams into place. Singer Johnny Rzeznik doesn't even get to the titular line before it fades out and we're in the opening scene. No wonder I didn't remember hearing it before – even knowing what I was listening for upon a re-watch of the film, I barely noticed it. The other two cuts from the band get a little more airtime during the scene where the teens from the institution are stuck driving in circles around Springwood.
"Home shopping. Home shopping. Home shopping. Freddy Krueger."
Is there anything better than a music video which sees the band in sort of a short film related to the movie which they're soundtracking? Much like the Fat Boys' "Are You Ready For Freddy?", the video for "I'm Awake Now" sees Goo Goo Dolls getting chased by Freddy Krueger – in this case, after they fall asleep watching the slasher on TV while hanging out and drinking beer.
As sort of a perfect mix of rock and horror, the band's getting stalked in an abandoned theater – which is just so cool. And it allows for there to be a solid mix of the band looking cool while sitting in the balcony lip-syncing the track, while also being hunted down in what seems like miles of backstage corridors.
The song's got the refrain of "Don't fall asleep to dream," which is the best musical summation of the Nightmare franchise which I can think of. I've frequently mentioned that I love songs which sum up plot elements of the movies they're attached to, and Goo Goo Dolls manage to put together a mid-tempo rocker which might be about a relationship. Or, it might be about a murderous pedophile haunting the dreams of the youth of Springwood. It works pretty well either way.
The video has a really nice use of the song's instrumental bridge to show a highlight reel of Freddy's Dead major set pieces, almost as if they've inserted a trailer within the video itself. The band's even shown sitting and eating popcorn as the scenes play out, ostensibly on the screen of the abandoned theater.
The downside is that the Freddy shown in the video isn't really shown in close-up. There's lots of glimpses of him from a distance, or walking in shadow, or from behind, or just focusing on that iconic glove, but we never really get a solid look at his face, which means that there is no Robert Englund up in this piece, unfortunately.
Not a bad video, but definitely not a big-budget affair, either. The other two Goo Goo Dolls cuts are arguably the superior songs – "You Know What I Mean," especially – but for an opening title song, it's pretty good. The Iggy Pop song which plays over the end credits, soundtracking a compilation of all of Freddy's franchise kills, is also pretty damn good, but again – Iggy did way better with another soundtrack song, "Repo Man." You can snag the Freddy's Dead soundtrack for pennies on compact disc, but the vinyl will take an arm and a leg, and surprisingly, "I'm Awake Now" even made Goo Goo Dolls' second greatest hits compilation, so that's a pleasant acknowledgment.