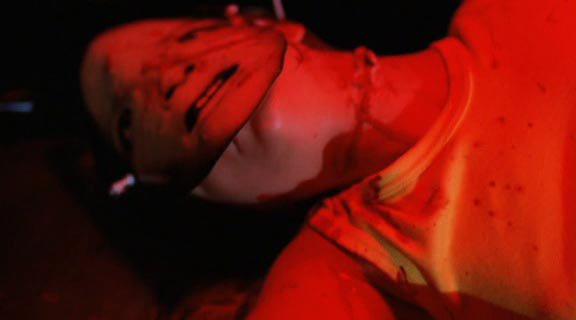 FILMS FROM THE VOID is a journey through junk bins, late night revivals, under seen recesses and reject piles as we try to find forgotten gems and lesser known classics. Join us as we lose our minds sorting through the strange, the sleazy, the sincere and the slop from the past and try to make sense of it all.
When I can talk about a movie that not many people know about, it gives me this drug-high rush. Now, when I can talk about a movie that not many people know about that was directed by someone that a lot of cult movie fans know and love: crack cocaine.
1972's Private Parts is the first feature from the man who brought us Death Race 2000 and Eating Raoul (now on Criterion blu-ray), but a lot of you might know him from his zany acting roles in such films as  Rock n Roll High School, Piranha, Chopping Mall, and even National Lampoon's European Vacation. Please….there are too many more. Let's not even mention that he was known to show up in his own directorial works, even uncredited like in the movie I'm talking to you about right now.
I discovered this diamond in the rough with the same title as the famous Howard Stern film from the 90s approximately 10 years ago when it was recommended to me on Amazon. I saw a cover of a girl and a blow up doll and I saw the title and then noticed that it was made in 1972… and that it had something to do with something sexual… and I was sold.
The first time I watched this film, I believe I was actually watching it with a blow up doll that was already in my living room at the time. I sat there on the couch with my doll and entered into a world of 70s California hotel o' sleaze adventure.
I'm a huge fan of movies that take place in hotels or motels maybe because I was raised in an apartment building myself. What stories are in each living space? What hidden worlds lay behind their various numbered small homes? I love the mystery of the hallways and the musty smell of the mix of different TV dinners being cooked with random cigarette smoke and pet dander. I love the cracked walls and loud carpeting. Private Parts introduces me to the "actual still in existence but you will get mugged if you go"  King Edwards Hotel.
Not only is the King Edwards Hotel sleazy and dirty, but it also is located in an area complete with adult bookstores, key shops, and hookers (all of which you will see in the film). This is the real deal and Private Parts is your key to unlocking the authentically "off kilter" characters who live in this hotel and the bizarre stories of rats, a runaway teen embracing her erotic feelings of sex, homosexual priests, decapitation, blow up dolls, peepholes, drunks, needles,a basement dark room, and even a vaseline-faced old woman who talks about masturbation.
I've always been more interested in films where the lead is female and this film has the very unknown actress, Ayn Ruymen, as your runaway teen who leads you with her curiosity to the places you might not normally frequent; namely, a room in the King Edwards Hotel. She is 70s attractive, physically, and in her openness to experimentation and danger. It's amazing to be with her as she reads naughty books, explores rooms of dark sleaze like Alice in Wonderland, and ultimately is vulnerable to a particular room in the hotel that will both disturb and fascinate you with its psychotic erotic darkness. I'm serious.
Tons of movies are grimy and sleazy and tons of movies deal with coming of age stories of young innocents encountering their sexuality, but Private Parts is the only one to me that has a vibe that confuses me pleasurably. When I watch this movie (because I watch it a lot), it doesn't seem like it was trying to be sleazy or grimy or shocking or disturbing or mysterious or fun, but it is all of those things. It just is. Like it has some magic attributed to it and I'm left bewildered and excited because I have no idea what the intention for vibe was for the film. It's horror, it's sexploitation, it's psycho-sexual, it's darkly humorous, it's totally 70s, but most of all, it's sincerely done as a "movie."
Paul Bartel's Private Parts is an untold treasure. I've watched it with people who never watch films that aren't Hollywood, I've watched it with straight horror fans, I've watched it with exploitation fans, and I've watched it with people that don't care in general about movies as much as I do. The general consensus with all those groups was… entertaining bewilderment.
I now invite you to explore the many smelly and sexy rooms of the King Edwards Hotel inside of Paul Bartel's Private Parts.
*Here is the video review of this film from my 10 Room Bizarro page as well