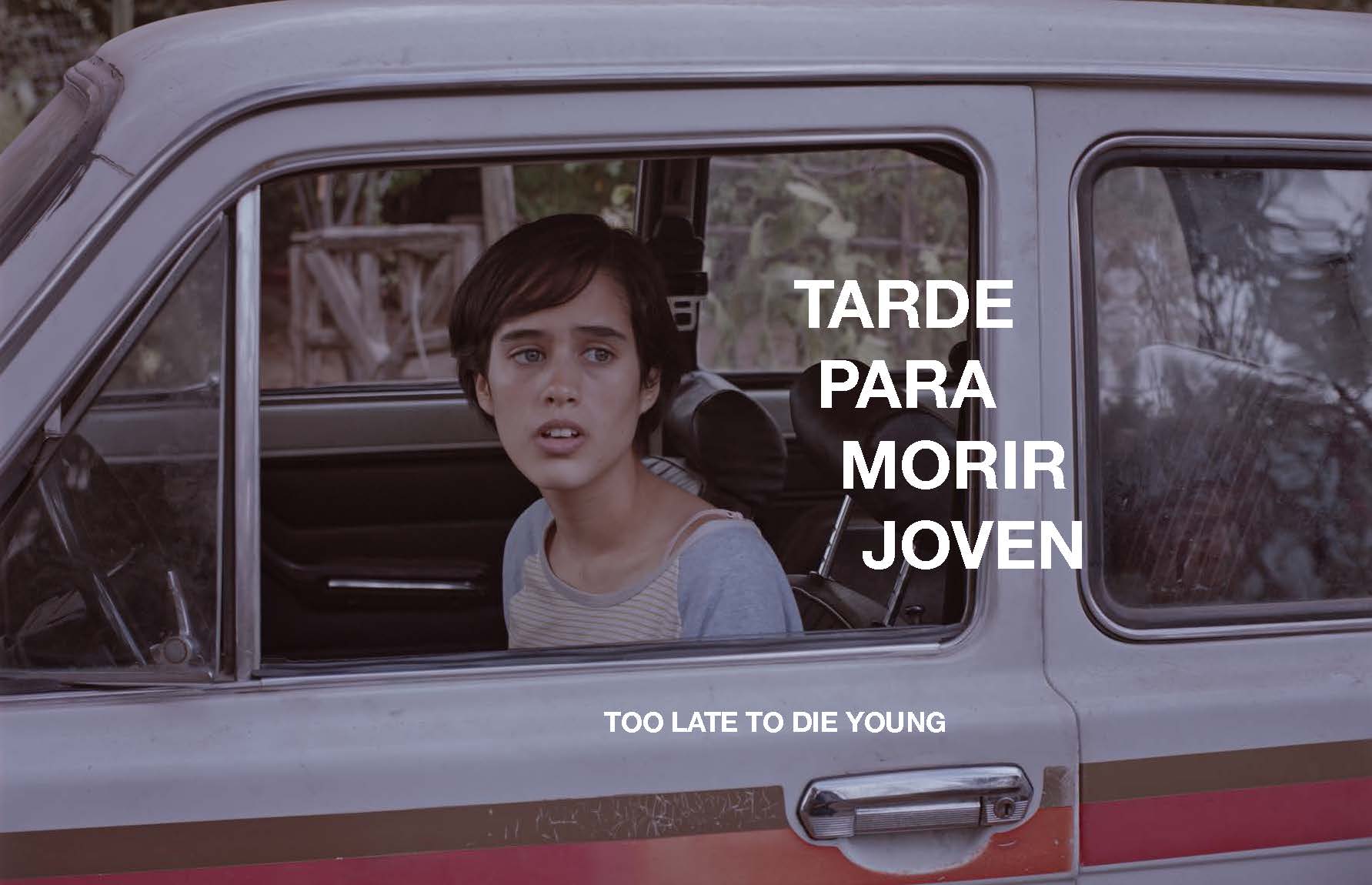 This series highlights films that have played and will be playing at film festivals around the world, from Berlinale in Germany or Venice International Film Festival in Italy to Toronto International Film Festival in Canada or New York Film Festival in the USA. The latest film I am turning my attention to saw its director win the Leopard for Best Direction at Locarno and debuts in Canada at TIFF on September 12 and the US at NYFF on September 29 and 30.
Chile's rising directorial talent Dominga Sotomayor Castillo is a filmmaker who, from the earliest days in her career, has displayed a deep interest in intergenerational relationships and the effects of the antagonisms that reside therein. It is a theme that has developed throughout Sotomayor's short film work (La Montaña, Videojuego, Los Barcos) and is now crystallizing vividly in the feature length efforts of Thursday Till Sunday (2012) and Too Late to Die Young (2018). It is no surprise that the filmmaker was awarded the prize for best direction at Locarno this year, for if one gives some time to charting Sotomayor's work, one sees the development of a supremely keen compositional talent and organizer of cinematic space; for example: the bold static shot long take of Videojuego (a technique revisited in the opening moments of Thursday Till Sunday) to the startling immediacy of romance establishing and flirtation ending cuts between close-up shots in this second feature film entry.
Too Late to Die Young is a collective coming-of-age tale set in a newly formed commune in the hills surrounding Santiago that focuses particular attention on the lives of children and teenagers following the end of the Pinochet dictatorship. It examines the fraught ties between these groups and their parents, along with those each group has among themselves, as the scars of an intentionally omitted political atmosphere and the interpersonal damage encouraged by it make themselves felt in the frustrated emotions and fear of our myriad protagonists: the adults trying to build new lives without knowing how to assemble them, a young woman who desires love and intimacy after being abandoned by a parent, a young man who wants the attention of a crush, and the children who suspect all is not what it seems among the adults. In this way, the feature is a highly particular coming-of-age story, one afraid for the new beginning this communal life represents as it senses the weight of the past and the fragility of the present moment, even as the longing to celebrate and express happiness toward this novel time can't be repressed.
Indeed, among the rather remarkable features of Too Late to Die Young is its attention to music as a mode of self-expression for both individuals and the community, a means of narrating and articulating those emotions and thoughts one is too unsure of to verbalize independently. This aspect combines with the film's assured editing, as I mentioned earlier, to produce a particularly strong moment involving an accordion cover of The Bangles' "Eternal Flame" and a love triangle that progresses through masterful cuts between character perspectives and incredibly exact blocking.
Beyond the role of music, it's refreshing to see a film that represents the awkwardness of teenage life so well. A trend among popular coming-of-age dramas is to provide an idealized image of youth, imbuing characters with impossible confidence, bravado, and intelligence. Sotomayor, however, has chosen to emphasize the incapacity of the teenager to speak, to express, to comprehend those feelings that course through them. It's a notable decision that provides the film a deftness that often goes unseen in popular narratives of this sort, and is further complimented by the themes of mistrust and dissatisfaction surrounding parental figures who are themselves so incapable of speech. Throughout her work, Sotomayor has demonstrated herself as a precise observer of human behavior and interpersonal relationships, and not just that which is expressed in speech but with the body, a glance, a shrug of the shoulders. In Too Late to Die Young she widens the scope of her interests to the problems and connections of generations in community, not just those within a home.
With this in mind, communication has seemingly been an ongoing theme in Sotomayor's work from the early days of a boy standing back-turned to his parents' divorce, in an almost desperate attempt to shut reality out, to the children of this latest feature negotiating whether their parents can be believed; their reliance upon them tested in the contradiction of being spectator to so much that seems hidden or disguised. Sotomayor impresses these ideas repeatedly through a visual literalization of the theme of distance, as she places children and adults in separate frames within frames, intentionally marks a distinction between foreground and background, or cuts to perspective to emphasize separation. On this matter the film is by no means didactic, lacking any sort of declarative or authoritative speech, instead positing in images that the wounds and mistrust that exist within one's self and in relation to others may never truly be dispelled. One feels deeply the possibility that these may be facts intrinsic to history and the natural and social disasters that generate this pain.
Further, the importance of disaster to the film cannot be understated, for among these themes of communication and expression is the awareness that one is in a world that is not at all understanding of one's fictions of order or freedom. There is a movement between life after man-made horror and the threat of nature's ambivalence, and it is in this movement that the cinematography works so well over the course of the film to impress on the viewer the colours and life of this community, the reflections and diffractions of the sun, and the momentary liberation motion brings and how calamity brings an end to it.
In this way, a consideration of motion and rest become central concepts of the film, for as the characters often display their worries and their fears, as if they are terribly aware nothing is certain or right, it is in motion and situation that various forms of liberation and confrontation are found. Motorcycles and cars are in use throughout the film — as well as Sotomayor's previous feature film — with the road they use perhaps offering a sense of purpose or progress beyond the dimensions and problems of rest and residence in the commune, before it is violently thrown into question in the film's final act. If in Thursday Till Sunday there is movement to delay the inevitable divorce that comes as rest resolves in the home, so it is that in Too Late to Die Young there are multiple intersecting movements that are modulated by the idea that even while rest brings confrontation it may also be that the place of rest is wholly insecure. As such, when the film begins to culminate and negotiate its characters' movements, the images resolve ideas of motion, rest, and place and the bravery and cowardice that are intermingled in this affective milieu as each and all search for a way forward — with some ceasing movement to confront themselves with the help of another and others releasing to movement that which does not desire it, even as a world meets an end all around them.
It is in all of this this that, on a conclusory note, Too Late to Die Young knows a deep melancholy, being inspired by and representative of struggles from a definite community in 1990s Chile. It draws together observations of the experiencing and even enacting of loss in order to move on, even if nothing better awaits; and the attempts to make it through endings, beginnings, and the slightest of transitions as the world moves on a scale that threatens to flatten each and every one. In all of this the film moves with a subtlety toward the everyday so often missing in popular cinema, finding in all of this a coming-of-ages that is simultaneously individual and collective; weaving among its concepts, characters, narrative tropes, and visual ideas a thematic maturity and sophistication in inconclusiveness and its embrace that firmly mark Dominga Sotomayor as a talent worthy of further attention and commend the film as one of the year's richest.
A screener of the film was provided courtesy of Ciné-Sud Promotion