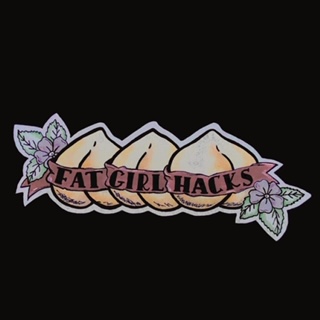 Podcast (fatgirlhacks): Play in new window | Download
Subscribe: Apple Podcasts | RSS
It's New Years Eve…The New Year, New You crap is OUT! We're pushing New Year, New Attitude about how you're wonderful regardless of size for the second roaring 20's!! Nina refuses to watch 90 Day Fiancé no matter how hard Jaime and Meghan try. Who's this new rebellious Nina!?!? I like, I like. The holiday blues bring up a Mr. Boogedy-relapse for Jaime.  The FGH Crew talk about why all or nothing resolution mentality is a stumbling block and a big reason why they fail. We get lots of feline visits during this episode.
Jillian and Bill sitting in a tree… S-H-A-M-I-N-G. 
Fat Girl Hacks is a bi-weekly, body-positive podcast. FGH discusses living life as a fat chick –  the strengths, the struggles and the good times that come along with living the fat life. The Hackers take an opinionated, unapologetic, and funny look at fat current events and pop culture. Jaime, Meghan, and Nina will share honest stories about their own trials, tribulations and triumphs while navigating life in a larger body.
Hosted by: Jaime Frost, Meghan Peters, and Nina Vento
Produced by: Kevin Frost
Music by: Kevin Frost