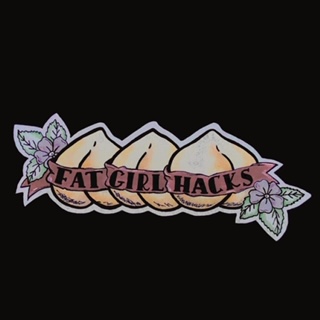 Podcast (fatgirlhacks): Play in new window | Download
Subscribe: Apple Podcasts | RSS
Meghan's feeling some sorta way… which is par for the course living in a bigger body. Stuff gets real and we all have to remind ourselves that we're amazing and deserve all the same great things in life. 
This episode takes place in the midst of a real moment. 
Real life questions about why it has to be so effin hard to be fat! It can be a constant battle with your mind to go against what society shoves down our throats on the daily. 
As always, Jaime and Nina are there to pepper in lighter moments, because our goal is to always come out laughing. That's what friends are for!
In the end we all agree, Zack Morris is trash. Oh yeah, tentacle porn is a real thing!
Fat Girl Hacks is a bi-weekly, body-positive podcast. FGH discusses living life as a fat chick –  the strengths, the struggles, and the good times that come along with living the fat life. The Hackers take an opinionated, unapologetic, and funny look at fat current events and pop culture. Jaime, Meghan, and Nina, will share honest stories about their own trials, tribulations, and triumphs while navigating life in a larger body.
Hosted by: Jaime Frost, Meghan Peters, and Nina Vento
Produced by: Kevin Frost
Music by: Kevin Frost