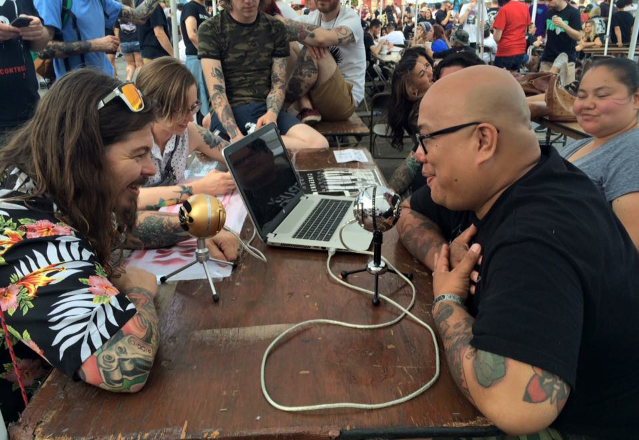 Podcast: Play in new window | Download
Subscribe: Apple Podcasts | RSS
IT IS THAT TIME OF YEAR AGAIN!!!
What time of year is that you ask? Well, time for our very special THIS IS HARDCORE FEST EDITION!!
We are hoping to make this our running tradition of setting up a table at the fest and asking folks to sit down for one to two questions and editing that into an episode for you all to enjoy!
SOUND NOTES TO THE FRONT!
Usually we address any and all sound issues at the end of the show notes, but we wanted to get at them first thing for a number of reasons. Recording at the fest is a LOT of fun, but it is a rough and tumble affair and it is easier to make mistakes then in a more controlled environment. So, the first thing you will notice is that our intro cuts short. That was a mistake of saving improperly, so we lose the meat of what Liam was saying, which of course doesn't matter AT ALL, but we also missed out on all the thank you's
THANK YOU TO JOE AND CHRIS AND ALL THE STAFF OF THIS IS HARDCORE FEST FOR MAKING THIS HAPPEN AND ALLOWING US TO BE A PART OF IT
LIAM SAYS THANK YOU TO JOSH FOR DOING THIS BY HIMSELF MOSTLY WHILE LIAM WORKS FOR THE FEST
AND WE BOTH HAVE TO SAY THANK YOU TO OFFICIAL AFFILIATED CINEPUNK JUSTIN LORE FOR EVEN HOSTING SOME OF THE INTERVIEWS, YOU ARE ON THE TEAM MAN
Basically, Justin stepped in when Josh needed a break (WUSS) and helped out so we owe him, and he is a part of the podcast now, forever.
The second reason we wanted to address sound issues immediately was to apologize to some of the guests on the show. We had issues this year with wind sheer on the mics, and some of you had significant portions of your interviews cut for just noise levels. Sorry!
Anyone who would like to come BACK on the show and address something you said which got cut off, we are totally open to that. Hit us up!
We also want to say THANK YOU to anyone and everyone who stopped by the table to talk to us! Below is a list of the folks who participated!
PLEASE KEEP IN MIND-The following version of your name was patiently discerned by Josh from your handwriting, so if we spelled it wrong just let us know, but many of you do not seem to have full control of your limbs, based upon your handwriting abilities!
Please share this episode with your friends and family, subscribe to us in Itunes, and rate us as well!
1. Erkka Korpi (of FORESEEN)
2. Corey Carpentier
3. Chris Pigaro
4. Ian Weidner
5. Loren Lepre (of AVERAGE SUPERSTAR FILMS)
6. Justin Lore (vape apologist)
7. Drew Stotts
8. $KAM DU$T (um, come on, you know!)
9. Evan Vellela
10. Michael Kennedy – (of PULLING PUNCHES)
11. Stephen Welch
12. Chris X –
13. Eric Weiss (of RUMPSHAKER)
14. Kitty Mulv
15. Mike Smaczylo
16. Tony Erba (of FUCK YOU, PAY ME as well as like a million great Cleveland bands)
17. Donny Mutt (of VENGEANCE and NATION OF WOLVES and other bands you may dig)
18. Jake Barbaril
19. Christian Litus
20. Matt McGroarty (of THE HARDCORE KIDS CORNER podcast)
21. Grace Ryung Kim
22. Bruce Park
23. Joe Gough
24. Aaron Heard (of JESUS PIECE)
25. Jackson D. Green ( of EYES IN THE NIGHT)
26. Brian Yan
27. John Wren
28. Brian Yan
29. Ishibashi Kenjiro (of SAND)
30. Evan Miller
31. CPM (of H20 and NONE MORE BLACK)
32. Jeremy "Bubba" Braddock (formerly of 100 DEMONS currently runs HARDCORE SWEET CUPCAKES)
33. Aaron "Raza"
34. Tom McCaferty
35. Rambo Choe
36. Ki Seok Seo – (of THE GEEKS)
OK THANKS EVERYONE, SHARE WITH YOUR FRIENDS, ORDER A T-SHIRT, POST ABOUT US ON REDDIT, RATE US ON ITUNES, SEND A LINK TO THIS IN A SNAIL MAIL TO YOUR GRAND PARENTS, BE AMAZING!