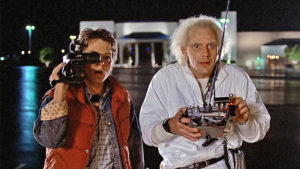 Podcast: Play in new window | Download
Subscribe: Apple Podcasts | RSS
MOVIEJAWN AND SUMMER MOVIES ON THIS DELIGHTFULLY COY EPISODE!
Rosalie Kicks!, Old Sport-
Chief Creative Officer, contributor, all-around old sport.
Ben Leonard, Best Boy-
Chief Multitasking Officer, contributor, foreman.
Two of the many folks whose insights and efforts bring MOVIEJAWN to life each month!
MOVIEJAWN is a print zine and website dedicated to what really matters: MOVIES!
I have been a fan of the zine for quite some time, which I do not YET subscribe to but I have been able to pick up regularly at South Philly Comics!
Rosalie suggested we discuss "Summer Movies", specifically Back to the Future and The Burbs! This created some confusion as Josh took the term to refer to movies which OCCUR during the summer while others took it to mean movies which are RELEASED during the summer. Regardless, we discuss it during the episode and MUCH DELIGHT OCCURS!!!
Our intro music is from a small independent act you could never find anyway so just don't worry about it, the break music is from Radioactivity who Josh discusses during the show.
We also discuss a lot of different things during the episode like:
Please please please do the following:
Subscribe, Rate, and Review on iTunes. This is, for some reason, the only measure of podcasts that matters. Please do it for us.
DOWNLOAD THIS AND ANY OTHER EPISODE YOU ENJOY! We can track downloads and let advertisers know, but not streaming plays.
CHECK OUT MOVIEJAWN, THE GREATEST MOVIE ZINE EVER MADE