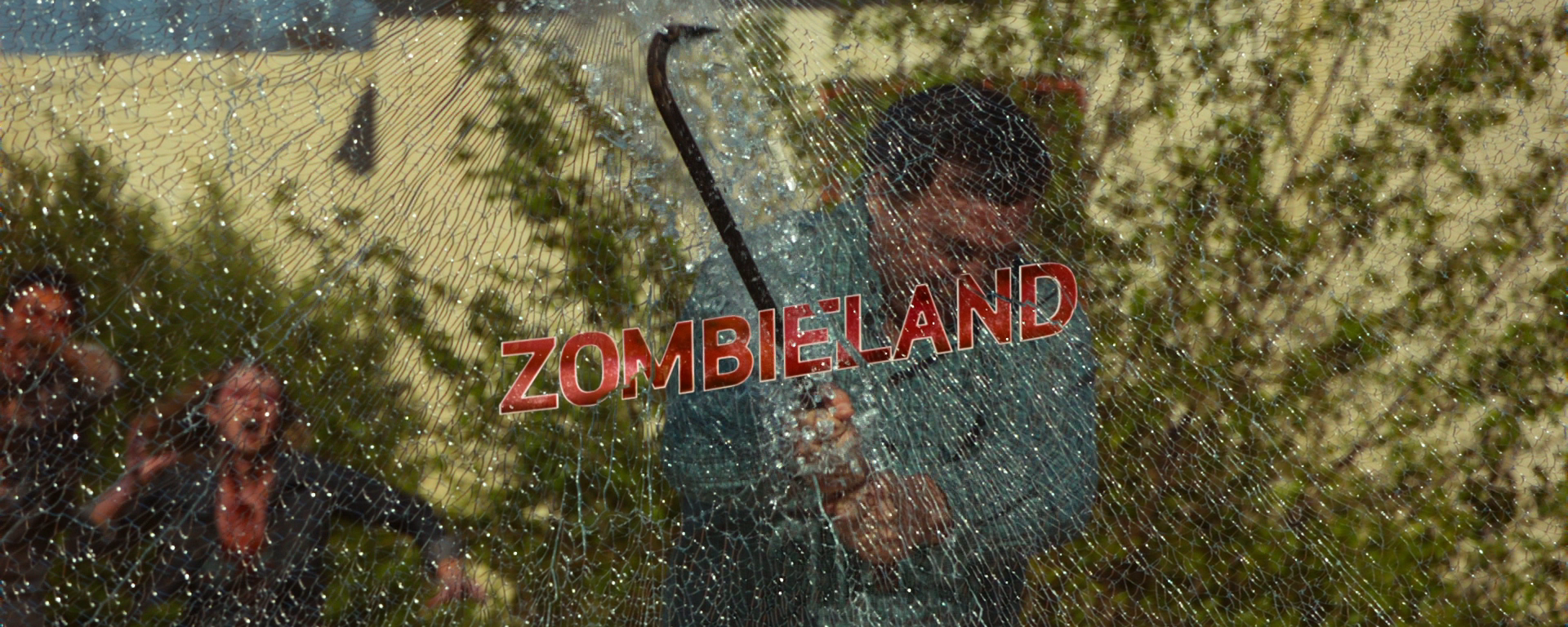 Its young leads became stars, its writers and director went on to huge Marvel hits, and even its genre ascended to pop culture mainstream.  Despite being kind of a low-key success (while being very well received, you'd be hard pressed to find many who'd count it among their favorites), it's had a pretty big impact. And now, a decade after its release, it's surprising us again with a sequel.
This is Zombieland at ten.
(I'll avoid direct spoilers, including the secret cameo, but for the most part this article assumes you've seen the film).
The generally unassuming film became a substantial hit in October of 2009, straddling the twin resurgences of both zombies and R-rated comedies. The film's plot, dealing with surviving in a zombie apocalypse, was hardly new. However, its endearing characters, comedic approach, adoptive family dynamic, and appropriately large scope were afforded by a studio budget and a hungry creative team, and helped it hit a sweet spot with audiences. From its carnage filled, slow-motion title sequence set to Metallica's For Whom The Bell Tolls, to a Ghostbusters-referencing surprise cameo, to its climactic amusement park finale, Zombieland is, above all, an absolute blast.
For a bit of perspective, just a year later, a television series based on the acclaimed The Walking Dead comic books would debut on AMC, becoming a surprise runaway hit, and solidifying the place of zombies at the very forefront of popular culture with t-shirts available at every Walmart in the country.
One of Zombieland's key strengths is its impressive cast, and the chemistry therein. Jesse Eisenberg leads the way as "Columbus" (the characters take their names from their cities of origin), an awkward loner who improbably meets and opens up to a handful of new friends. Eisenberg's narration sets the stage by attributing his survival to his strict adherence to an ever-growing list of rules which are humorously peppered throughout the film. While it's essentially setting the stage for future gags, it plays as oddly authentic. And there's a reason for that – these rules are a reflection of the actor's own real-life OCD and social anxieties.
His odd-coupled partner Tallahassee (Woody Harrelson) is a stark contrast, the alpha male to his meek demeanor. Under that surface, however, is a man who harbors a deep, hidden loss… and an obsessive quest for Twinkies in a world that no longer produces them. (In a bizarre case of life imitating art, this came true as the snack's maker Hostess went out of business in 2012 – but thankfully returned after a brief hiatus). Like Columbus, Tallahassee is a man in need of a family, and it's this hole in his heart that convinces him to take three younger people under his wing, particularly the youngest of the squad who needs the most guidance – Little Rock (Abigail Breslin).
For Little Rock and her big sister Wichita (Emma Stone), their need isn't strictly for family — they have each other — but for stability. Longtime con artists, they've harbored a "you and me against the world" mentality for so long that they can't trust anyone else, and would sooner betray others than be  disappointed by them later.
Like Tallahassee, the girls are freer spirits than Columbus, and their combined influence helps him loosen up and enjoy life despite living in a world that's gone to hell. Conversely, his more methodical approach to things helps bring some sense of order to a world ruled by chaos. It's also the catalyst in the mutual attraction that Columbus and Wichita share (though thankfully the film treats her character as a human being with her own desires and neuroses, rather than merely a love interest served up as a prize for the gangly hero). Opposites attract, and in this case, help complement each other's strengths and weaknesses.
The conceit of a "found family" wasn't a new idea by a long shot, but Zombieland did it particularly well, especially for an R-rated action-horror-comedy. Five years later, Guardians of the Galaxy would drop the horror but take a similar approach with loosely parallel characters: a dorky male protagonist, a female love interest with trust issues, a tough guy who harbors the pain of his lost family, and a pair of petty criminals.
Eisenberg and Stone weren't complete unknowns at the time, each having a few solid roles under their belts, but Zombieland was their star-making hit. The following year, Eisenberg would pick up an Academy Award nomination for his portrayal of Mark Zuckerberg in The Social Network, and in 2016 he'd join the DC Universe as Superman's arch-villain Lex Luthor in Batman v Superman: Dawn of Justice. Arguably, though, the biggest breakout was Stone. She had made an impression in smaller roles in films such as Superbad, Paper Man, and The House Bunny, but her profile would enjoy a meteoric rise with this film and the "Scarlet Letter in high school" comedy Easy A. Over the next few years, Stone went on to critical acclaim in films like The Help, Birdman, La La Land, and The Favourite, for which she also picked up a pair of Supporting nominations and a Best Actress win for herself.
Harrelson was already a well-recognized Hollywood presence  and clearly the veteran of the ensemble, but even so, he hadn't been in an acclaimed hit for a while, save a supporting role in the Coen Brothers' Best Picture winner No Country for Old Men. Like his zombie-fighting cohorts, he's also been enjoying an upward trajectory since the mid-2000s with major roles in True Detective, LBJ, and Three Billboards Outside Ebbing, MO, as well as blockbuster appearances in the Star Wars, Planet of the Apes, Hunger Games and Now You See Me franchises.
Behind the cameras, the creative team has been busy as well. Writer-creators Rhett Reese and Paul Wernick followed with GI JOE: Retaliation, and went on to the massively successful and record-breaking Deadpool films for Fox. Director Ruben Fleischer's followups were not as impressive, but his action-comedy chops similarly found a match with Marvel with the dopey but hugely entertaining smash hit Venom.
None of which has been overlooked in the sequels' marketing campaign.
For a weird horror comedy, Zombieland has had a hell of an impact, not so much directly as a narrative as from taking a team of up-and-comers and setting them loose on Hollywood to help shape the future. We'll get to see if the long-gestating sequel Zombieland: Double Tap can live up to the original when it opens on October 18th.