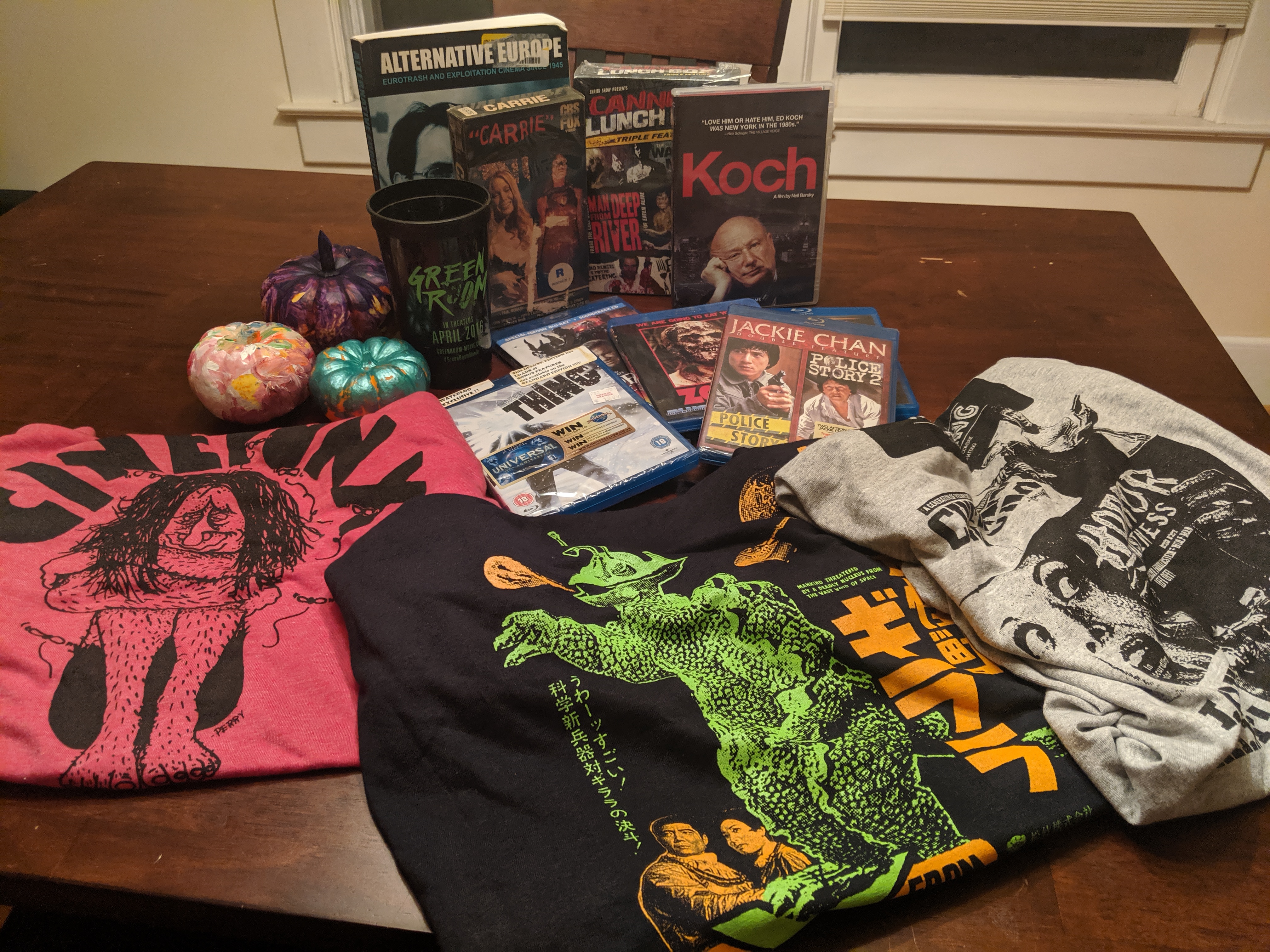 HAPPY HALLOWEEN ALL YOU CINEPHILES, FILM GEEKS, MOVIE PUNKS, AND ART THUGS OUT THERE!
Thanks yo each and every one of you who has been keeping up with our many guest posts for the season, and thanks of course to all those who have lent us their voice as part of our celebration of the greatest time of the year!
WITHOUT YOU ALL WE DO NOT EXIST!
Now, if any of you have seen the amazing videos Jacob did to help promote Cine-Ween then you know that we have not delivered on all of our promises for the season. The special episodes? Well all the podcasts I am not on did that, but none of mine. The blood sacrifices? Well there was a lot of that, but only behind the scenes. So ok, that is everything tho right?
NO OF COURSE NOT, WE OWE YOU A GIVE AWAY AND WE NEVER DID IT AND IT FILLS ME WITH INTENSE SHAME!
So, I decided, at this the literal last minute, to put one together
BEHOLD
Ok so, what is this? Well we have Blu-Rays, we have film books, we have a VHS of Carrie, we have a box set of cannibal films, we have some Cinepunx and Rough/Cut shirts, and we have a random Green Room promotional cup.
One quick note: I just needed a good image for you all, this is not the whole take.
Basically we will have three prize packs, each will have
Movies
shirts
other film related stuff
and, if you win and request it, a "punk" record of some kind
Ok so, some cool stuff.
So how do you win?
Well we will be posting this contest to all three of our social media profiles, Facebook and Instagram and Twitter, and we will be picking ONE winner from each platform.
To qualify to be chosen you must
Follow our account
Repost the post with the contest
Explain to people why YOU think they should check out the site or one of our shows!
That is it! We will pick a winner by November 6th, 2019!
I really wanted to wrap up this whole Cine-Ween 2019 experience with a thoughtful reflection on community, horror, and the hope that you see this site less as something you consume and more as a place you participate in.
Then I thought, ah fuck it, lets give away some free shit.
HEY THANKS AGAIN, WE LOVE YOU VERY MUCH, PLEASE TELL EVERYONE YOU CAN ABOUT US!