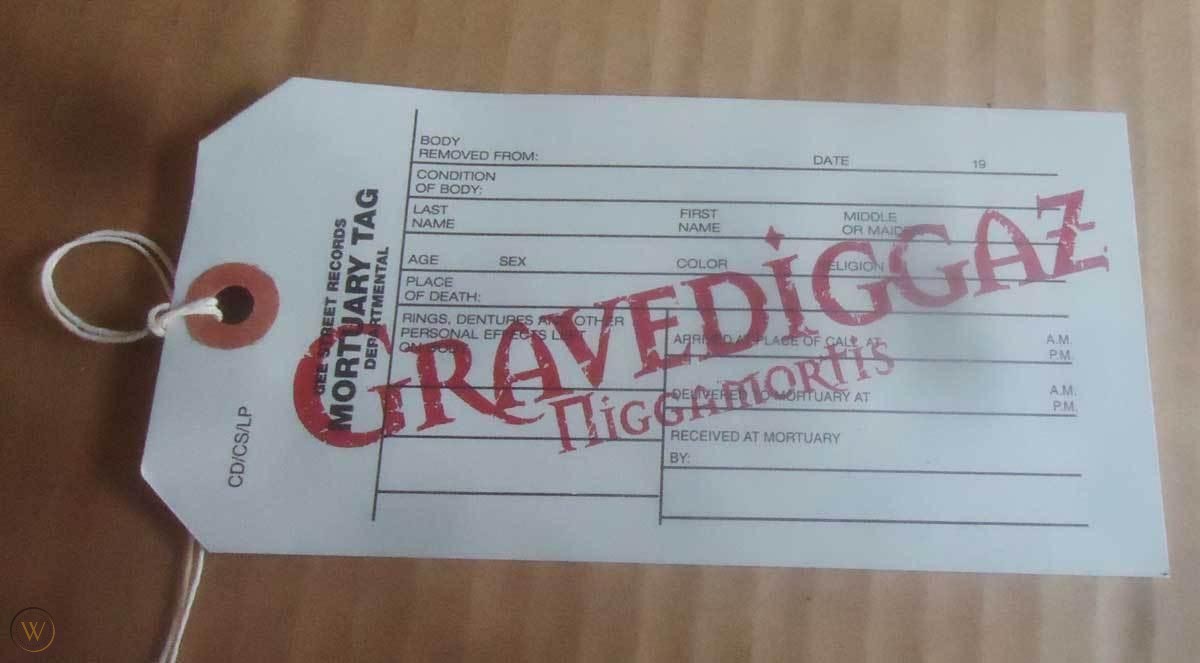 This year Halloween fell on a weekend
Me and Geto Boys are trick-or-treating
Robbing little kids for bags
Till a old man got behind our ass
When I first heard these lyrics, little did I know where it would lead. Somehow the fact my first taste of rap's horrorcore subgenre came through a goofy Jewish punk rocker from Philly who performed with nothing other than a synthesizer that he lovingly called his "package" feels fitting. Philadelphia's Adam Goren aka Atom and His Package had a habit of covering random 80s new wave and 90s hip hop songs at his shows and on his albums, so I figured that when he crooned "Hey, it's Halloween and my mind is playing tricks on me" that it was from another song. However, in my pre-Internet days, it was often a bit more of a task to hunt down songs and inspirations. Nonetheless, some liner note research lead me to get me hands on a Geto Boys CD at the local record store. While the Geto Boys didn't necessarily get me to dive head first into horrorcore, I was primed for future forays into the music that would eventually become some of my favorite hip hop ever recorded.
To this day, the group that exemplifies what horror rap and horrorcore is to me is Gravediggaz. Growing up in the Greater NYC area, I heard Wu-Tang everywhere in the 90s. They were huge in the cities and suburbs in North Jersey, whether you were into the rap scene or not. In between acts at punk shows at the Wayne Firehouse or Skater's World, Wu-Tang and other great NYC hip hop would regularly pump through the speakers. Thus, it's not a surprise that anything involving RZA always feels like a welcome treat for me. The in-your-face style and horror film inspired lyrics of Gravediggaz was always a special kind of awesome, though. While years later, Wugazi would blend my favorite Gravediggaz tracks with Fugazi's punk rock stylings, it was the original recordings of "Nowhere to Run, Nowhere to Hide" and "1-800-SUICIDE" that would become favorite songs of mine before I left for college. A few years after their release, somewhere around '98 or '99, these songs got recorded off of a friend's copy of 6 Feet Deep onto a couple of mixtapes, wedged between local pop punk and ska acts, songs from Snapcase's Progression Through Unlearning, and the latest alternative tracks I taped off of Z100.
By the time I left for college, I found myself listening to 6 Feet Deep and the occasional track or two from Geto Boys. As an avid film fan who always dug horror films, I went heavy into the horror movie rabbit hole by renting everything at the Blockbuster near my college, progressing to trip to the video store at the farmer's market in one of my friend's hometown, and eventually started spending a nice little chunk of my shitty campus food services "salary" on eBay for movies like Killer Condom. Along with this, I began writing more about music by launching my own website and writing for sites like Decapolis. This music writing landed me some really cool indie music and led me down some really interesting paths in film and music discovery, in general.
Forays in nerdcore rap in the later part of last decade landed me on the more novelty track, YTCracker and MC Lars's "Do the Bruce Campbell". Despite its somewhat gimmicky feel, the track really does bump… and, it has verses referencing great horror films and serial killers, landing it firmly in the horrorcore camp. Around that same time, I got heavily into a group called Mob Zombie, whose only LP was entitled Join the Mob. While it seems to have been eradicated from the Internet, the album featured appearances from some great underground MCs, as well as Akil of Jurrassic 5. CookBook – of LA Symphony fame – put out a great mixtape homage to the '80s that featured a song called "Lost Boys (Still Believe)" that features clips from and lyrics about the classic '80s vampire flick. So many tracks, so little time, it seems… but this goes to show that the underground scenes all over the country and world felt the influence of horror and horrorcore into their style, as well. While some acts large and small embraced horror so much that their entire sound and style could be labeled horrorcore, others simply dip their toe in from time to time.
Of course, no look at horrorcore and horror in hip hop would ever be complete with discussion of ICP and the Juggalo scene. While I can't say this is an area I've spent much time, acts like Blaze Ya Dead Homie embrace an undead persona and artist like KidCrusher are so involved in their local horror scenes that they score horror films and have local exploitation directors do their videos. The entire Juggalo scene embraces horror to such an extent that other horrorcore and horror influenced artists are often brought into the fold as honorary Juggalos, like hardcore rapper and chopper Tech N9ne.
While this isn't so much a primer on horrorcore and horror rap as it is my personal journey and exploration of the subgenre through the years, it feels most important to leave everyone with a playlist of sorts to get themselves acquainted with some of the subgenre's important figures and some fun and obscure tracks worth checking out. So, as I wrap up my ramblings, here's a short list of 10 tracks you should check out, including artists who you simply need to know if you don't already:
1. Gravediggaz "Diary of a Madman"
This is kind of the most important track on the list, as far as most people would be concerned. Wu-Tang affiliates Shabazz and Killah Priest made their debuts on this track and it was actually the group's highest charting track. With a dope music video, this is a great place to start. I'm still partial to a few other tracks on this album, so you should probably just go listen to the entire album now.
2. Geto Boys "Assassins"
But all was in my head was "kill the bitch like Freddy"
I dug between the chair, and whipped out the machete
Even in 1988, Geto Boys were infusing hardcore, maniacal themes into their music. With references to Freddy Krueger and as much blood, guts, and viscera as you could shake a stick at, Geto Boys were doing this horror shit before anyone… well unless you count the novelty work of folks like this old timer below…
3. Jimmy Spicer "Adventures Of Super Rhyme"
Jimmy Spicer encounters both Dracula and Frankenstein in this old school track from 1980. It's surely not horrorcore in a pure sense, but Spicer's work is influential to many and this track shows that horror found its way into rhymes even in the early days of hip hop. While this track is vastly different than the rest of the dark and gritty tracks in this list, it plays a role in how this subgenre came to be. Besides, it's hard not to enjoy this one.
4. Ice Cube & Dr. Dre "Natural Born Killaz"
There's a lot of overlap in the horrorcore and gangsta rap subgenres and this is a iconic example of this. While Dr. Dre and Ice Cube don't need much introduction, it's important to highlight just how much horrorcore and gangsta rap owe to each other. The way hardcore gangsta rap depicts the horrors of the game and inner city life often is a graphic and dark as anything you'll see in a gory slasher flick.
5. Dr. Octagon "Earth People"
Dating back to his days as a founding member of Ultramagnetic MCs, Kool Keith has always made reference to horror and science fiction. His Dr. Octagon alter ego was heavily cemented in both genres, with monsters and aliens at the center. The ominous tones and genre-inspired beats of this track give backdrop to this important entry into Octagon's backstory and origin.
6. Esham "Helterskkkelter"
Perhaps known more for his long term beefs with Insane Clown Posse and Eminem, Esham is a big influence on both of these Detroit acts. He's since worked with ICP and his Eminem beef doesn't seem to still be much of a thing. Born in NY, he relocated to Detroit at a young age and became an important figure in their scene. His entire discography is filled with the horrorcore staples.
7. Three 6 Mafia "Favorite Scary Movie"
Opening up with the infamous Scream phone call, the well known gangsta rap crew fills this song with references to horror films and demons. They surely always had a penchant for this, as even their name is a reference to the number of the beast.
8. Brotha Lynch Hung "Meat Clever"
Blood, guts, cannibalism, necrophilia, and more… Brotha Lynch Hung is dark and twisted, clearly obsessed with horror. This music video is pretty damn gory and violent, resembling a gory horror film itself. If you haven't caught the fact that this subgenre of rap seems to amplify the problems with violent, sexist, and homophobic references within its lyrical content, it may be worth noting here. This song is a bit off the charts in some of those areas.
9. KidCrusher "In Your Nightmares"
I referenced KidCrusher above in my brief mention of the Juggalo scene. On the industrial/metal influenced end of the horrorcore spectrum, KidCrusher is a regular collaborator with neo-ozploitation director Daniel Armstrong, whose films (Murderdrome, From Parts Unknown: Fight Like a Girl) are always a fucking blast. This music video from Armstrong's Strongman Pictures has more in common with a nu-metal video than most hip hop videos, but it is certainly fitting when you hear the sound and watch the aesthetics. KidCrusher is one of very few in the Juggalo scene that I find myself coming back to somewhat regularly.
10. Flatlinerz "Satanic Verses"
I somehow made it all the way to the end of this list without including the group that's likely the most iconic in the subgenre outside of Gravediggaz. Horror imagery and aggressive rhymes over dope '90s beats, this is a recipe for a great staple for the genre. Even the horror uninitiated among us should find a lot to love in this classic hip hop sound. A great track to end this list with, this is one of Flatlinerz most recognizable tracks.
All said and done, this list could go on with artists like Ill Bill, Big Lurch, Big L, Suicide Boys, City Morgue, and many more. Suffice it to say, that despite finding my way into these artists through a weird synth punk act I saw a bunch in high school, it's great that I found my way here. It marries music I love with stories inspired by films I love, a perfect soundtrack to October for the hip hop fan in us all.