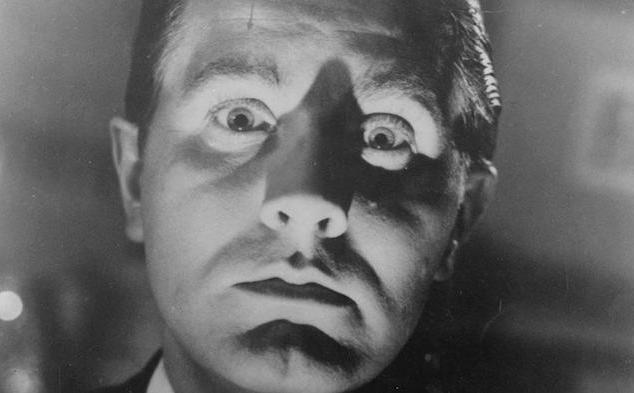 For many, the curious career of Edward D. Wood, Jr. begins and ends with the small selection of films that landed him the dubious title of Worst Director of All Time. Works like Glen or Glenda, Bride of the Monster and Plan 9 From Outer Space; all genre curiosities that made his name synonymous with noble failure, eventually earning him a dedicated, if somewhat derisively ironic cult following. Public interest in Wood reached its peak with the acclaimed 1994 biopic starring Johnny Depp, before its subject and his work gradually faded back into the pop culture abyss.
For the adventurous few willing to dig past "bad movie" snobbery, a much more complex and fascinating picture emerges, enough to spawn a subgroup of a subculture; cult film fans for whom Wood's story and work deeply resonate, making him a figure worth more than a raised brow and a riff track.
And, as it turns out, there's arguably never been a better time than now to join their ranks.
The niche market of boutique Blu-ray discs has spoiled Wood collectors in recent years, with a number of his films receiving notable restorations and re-releases, reaching an unprecedented level of availability. In 2018, Vinegar Syndrome brought us Orgy of the Dead and Fugitive Girls, beautifully packaged and loaded with supplementary material. A collaboration between genre champions Something Weird Video and the American Genre Film Archive produced even more tantalizing releases, including girl gang riot The Violent Years and the long thought lost Take It Out In Trade.
By far the most fascinating development, however, has been the excavation of Wood's long-buried prose fiction.
By the late '60s, Wood's dodgy filmmaking prospects had all but dried up and his stint as scriptwriter-for-hire brought him ever diminishing returns. He drank heavily, haunted by the reality of his Hollywood dream slipping further out of grasp. With the bills pilling up and booze-money dwindling, Wood turned to the adult paperback market, churning out hundreds of short stories and articles under his own name as well as a slew of pseudonyms. Wood landed a gig as a staff writer for Bernie Bloom's Pendulum Publishing and affiliated magazines, where his speed with the typewriter, tenacity and adaptability quickly earned him the reputation as the most prolific and versatile writer on the roster. No assignment proved too intimidating for Wood, and his unmistakable prose graced the pages of both straight and gay magazines, from Ecstasy and Young Beavers to Boy Play and Man to Man, and many more besides.
But ordinary smut this wasn't. Much like his films, there is something deeply, nakedly personal about Wood's prose, and for all the bizarre and lurid twists and turns, there's a disarmingly poignant, human element to many of these stories, suffused with a heavy melancholy; the product of a man embattled. As much as Wood might have been writing to facilitate the one-handed page-turns of anonymous sleaze seekers, there is undoubtedly an element of personal expurgation at play. Even when his heart wasn't completely in it, Wood couldn't help but imprint his own sensibility onto his work, and between swigs of the bottle, he hammered out his passions, fears, neuroses, and fetishes across the page like some desperate, ritualistic purge. Booze, death, angora, and issues of gender and sexual identity converge with his singularly odd syntax to open a window directly into his psyche. It's a shame, then, that so much of this writing fell off into obscurity, lost to time.
Enter Bob Blackburn.
Blackburn, a Hollywood-based radio and broadcasting professional, befriended the late Kathy Wood, Ed's Widow, in the early '90s after seeing her in a documentary about Wood and recognizing her as his neighbor.
"I learned that Tim Burton was going to make a film about her husband and I approached her with the news and offered my help," Blackburn recalls. "I did help her get an entertainment lawyer, and she and I became friends. I took her shopping every week, we even went to see movies. She loved films. Through her, I learned more about Ed and her life with him, so by the time she passed away in 2006, I felt a little like I knew him through her."
Kathy Wood appointed Blackburn as an heir to her estate, which gave him more reason than ever to pay attention to the world of Ed Wood. As a tribute to their friendship and her memory, Blackburn has tirelessly committed himself to preserving Wood's legacy.
Part of that commitment means ensuring Wood's most neglected work reaches as wide an audience as possible. In 2014, Blackburn collaborated with OR Books to publish Blood Splatters Quickly, a collection of 32 of Wood's short stories. The publication of Blood Splatters Quickly marked the first time much of this work had been widely available, heralding a major turning point for Wood's legacy and a cause for celebration among dedicated Woodologists.
Fortunately, there's more on the way. Following the publication of Blood Splatters Quickly, Blackburn has completed work on a second volume of Wood stories, the aptly titled Angora Fever.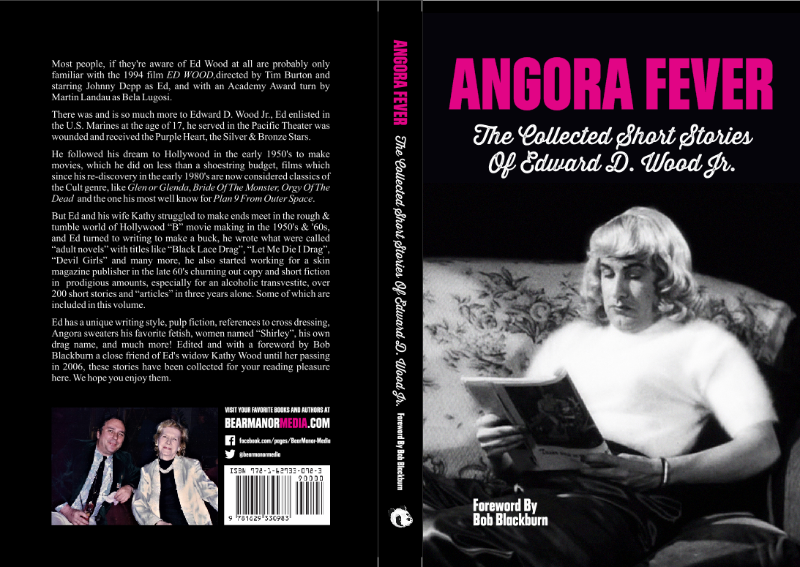 "Ed wrote a lot as 'Shirley' wearing an angora sweater, and the image of him feverishly typing away, sweat dripping off his brow, taking swigs of booze and puffing on a cigarette just seemed appropriate," Blackburn explains.
Angora Fever collects 60 additional Wood short stories, and, like Blood Splatters Quickly, features a forward by Blackburn himself. Though many of the pieces were pulled from porno publications — "Kiss the Pain Away," "Hooker By Choice" and "Captain Fellatio Hornblower" are just three stupendous sample titles — a smattering of horror, western and hard-boiled detective narratives fill the pages as well. There's a lot to dig into, especially for Wood scholars eager to discover any new revelations or insights it might potentially provide.
"In some instances, the titles are better than the stories," jokes Blackburn, "but I'll let readers discover which ones."
Angora Fever is available for pre-order now from Bear Manor Bare.