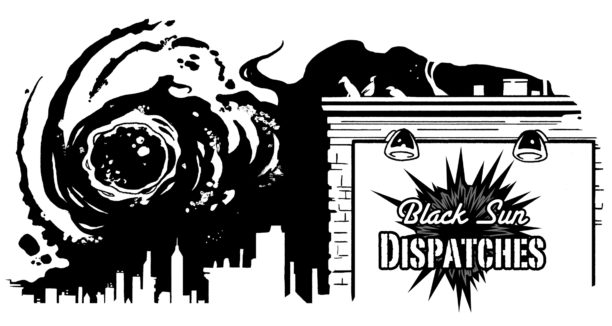 Podcast (blacksundispatches): Play in new window | Download
Subscribe: RSS
Welcome to the city beneath the black sun. Lost in a dark world, surrounded by an endless desert filled with countless threats, the citizens still standing are forced to make a life for themselves in a strange and hostile land where terror and wonder wait behind every corner.
If you've been with before now, you maybe remember a pair of fellows who tend to skulk around the edges of major happenings in the city beneath the black sun. Mr. Oaks and Mr. Mayhew are their names; one large and loud, and the other small and mostly silent. Mr. Oaks keeps the hospital running, while Mr. Mayhew keeps tabs on the strange beings that seem to grow so quick and so wild.
It seems the time has come to give these two their own spotlight. As the cold comes calling, as the snow starts falling, our fellows head out into the night in the hopes of speaking with a newly-minted deity to learn what secrets they can glean.
But there are stranger truths awaiting them, truths that shatter everything either man thought they knew about their world, and their lives.
Black Sun Dispatches is now available via iTunes! Please rate and review the show to help spread the word!
For news, updates, and other weirdness, you can follow us on Twitter at @BlackSunShow. And a huge thank you to the entire Cinepunx team for making the show possible!