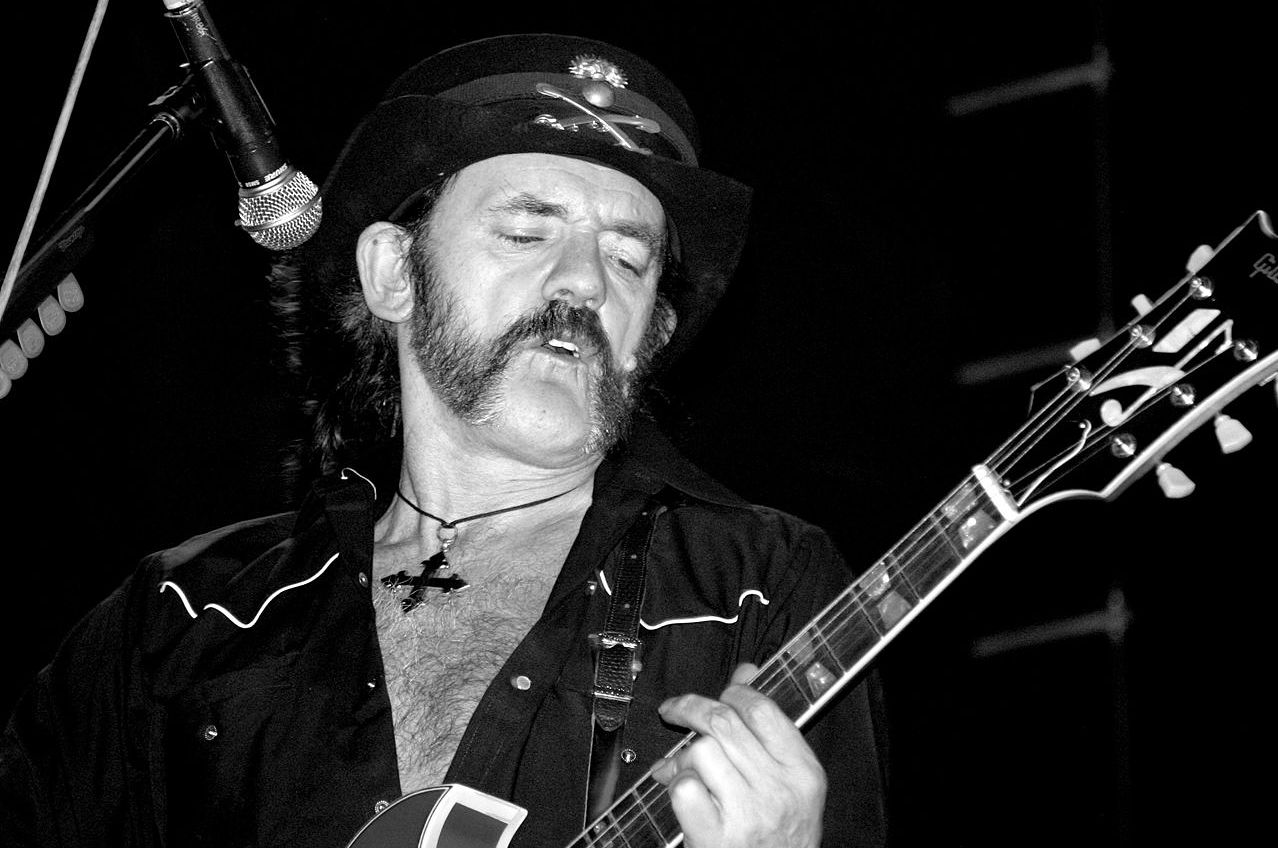 Only 4 days after he celebrated his 70th birthday at the Whiskey, surrounded by many of the people who loved him most, Ian "Lemmy" Kilmister passed away on the couch of his Los Angeles apartment. Just before heading over to his party, one of the few men who is revered as a demigod by both punks and metalheads was sitting with my uncle Scott at his favorite stool at the Rainbow having what he didn't know would be one of the last of their frequent discussions. Lemmy was a good man; he was not only a rock legend, but also a great and caring friend.
I was lucky enough to share a Jack and Coke with Lemmy, a beverage he drank like it was water. When I first met him, he immediately poured me a drink while asking if I drink Jack Daniels. By the time I answered yes, the drink was poured and he was all smiles. He was the most cordial and down to earth rockstar I'd ever met. Hell, I even got a wedding gift from the man before we met just because Scott spoke about going to the wedding.
I think I learned the most about Lemmy through his autobiography and his several documentary appearances. When I heard he passed, I spent time looking for something to watch with him in it and it got me thinking about Lemmy's appearances in films. Below is a list of 6 films you should watch in Lemmy's honor:
Decline of Western Civilization II: The Metal Years
In Penelope Spheeris's exploration of the excess, gaudiness, and empty lives of the LA metal scene, Lemmy comes off as a wise cracking Buddha. His age and wisdom are a stark contrast to the youth and brash stupidity of the fledging rockers in the scene. Lemmy lives hard and yet has a good head on his shoulders to talk about it with insight and intelligence.
Anvil: The Story of Anvil
In the second documentary on this list, Lemmy is prominently featured as a voice on a band that very few people know much about despite being revered by the artists in the metal world. Lemmy actually recruited their lead guitarist, Lips, to join MOTORHEAD, but Lips declined. This is a must watch for anyone who even dabbles in the metal world.
The Curse of El Charro
I admit I snuck this one in. I have not seen it and only ordered my copy hours prior to writing this piece… however, how can it not be amazing? An anonymously written summary of the plot on IMDB reads:
Plagued by nightmares and her sister's suicide, Maria joins her friends on a road trip to a vacation home in a remote desert town. Once there, she finds herself hunted by El Charro – an ancient evil driven to exact a brutal revenge on Maria's lineage. The Curse of El Charro creates a world where 70's exploitation, 80's character based horror, and German Expressionist silent films can coexist against a backdrop of religious portends, bizarre dreamscapes, and chicks covered in blood.
It stars (the voice of) Danny Trejo and it features Lemmy playing a priest. Like I asked before, how can it not be amazing?
Airheads
This goofy comedy is about a mediocre band forcing their way into the spotlight, quite literally. There are multiple references to Lemmy in the film, but his brief cameo steals the screen late in the film:
Lemmy: 49% Motherfucker, 51% Son of a Bitch
The 3rd and final documentary on this list is 2010's Lemmy: 49% Motherfucker, 51% Son of a Bitch, the most recent of several documentaries about the rock legend. The film shows an intimate look into the Lemmy's life, showing him with his friends, his son, and in his apartment. This one is a personal favorite, as the maniac riding his motorcycle with the ornate costume helmet is the aforementioned Uncle Scott.
Eat the Rich
Lemmy's first film credit is the wacky British satire from 1987. He plays a henchman of sorts. The plot of the film is ridiculous, the humor is dark and dry, and no group of people is safe from the satirical jabs. Lemmy looks exactly like Lemmy, even dressed the same as any fan would expect. His performance is enjoyable, albeit not groundbreaking; but, the film is worth a watch, both for Lemmy and the commentary on society in Thatcher-era Great Britain.
If none of these flicks interest you, Lemmy had roles or cameos in several Troma films, notably his cameo in Tromeo & Juliet and his role as the President in the latest Nuke Em' High installment. He also plays the taxi driver in Richard Stanley's 1990 Sci-Fi excursion Hardware. And, of course if you are too busy to watch Lemmy in one of his big screen appearances right now, there's always the option of enjoying the classic "Hellraiser" video featuring Pinhead himself: