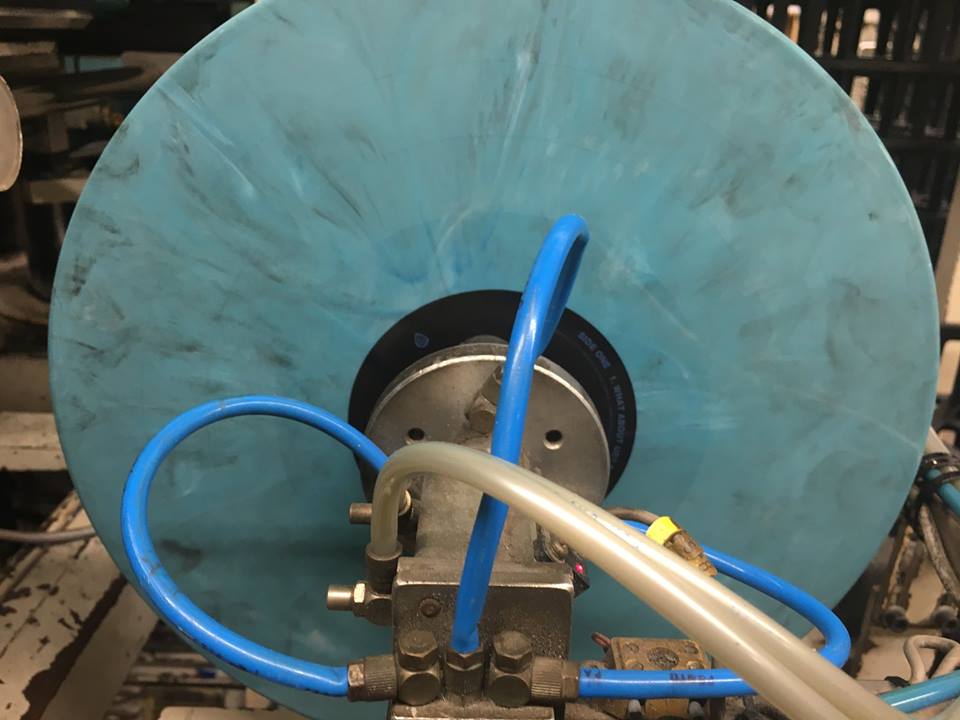 I get a lot of random records, tapes, and books in the mail, because publicists forget that outlets for which I used to work aren't around anymore, or someone finds the address hidden on my website, or… whatever. This is a way to keep them from piling up uselessly in the corner of the office.
Run Out Groove is a cool company who sends me everything they press, and since the site I used to write for is now no longer operational in that capacity, there has been a huge pile of their last few (half-dozen) releases piling up on my office floor. So, this installment is devoted to their stuff. Kind of.
The label works like this: each month, they provide a list of titles that could go to press —  usually mix of unreleased albums, expanded editions, live records, or best-of collections — and then people vote. The winner gets a 30-day pre-order and they press that many, then you get it about 2-3 months later. It's a pretty good variety of stuff, and the records are always amazingly detailed.
Like, all six records laying around here come in tip-on jackets from Stoughton, which are exceptionally cool. You probably know what they are, even if you don't know what to call them. Per the folks at Gotta Groove:
"For folks unfamiliar with the term 'Tip-On jackets', these are jackets where the print is done on a separate sheet of text-stock paper, and then wrapped/glued to a thick corrugated core.  Conversely – most modern record jackets are called "direct-to-board" print, where the printing is done directly onto the cardstock itself."
They are slick-looking as hell, and really give these records — which are also pressed on 180-gram vinyl — an impressive visual heft that matches the weight of the vinyl. A box of records from Run Out Groove lands onto my kitchen table with a satisfying thump unlike any other packages that show up at the house. Add in the Japanese-style foldover sleeves into which the albums go, and these are record geek products. Any repress Run Out Groove does is, essentially, the definitive version of that title.
Now, do I like all of the titles? No. There's an unreleased Atco Betty LaVette record, Child of the Seventies, released on compact disc as Souvenirs back in 2000, and presented by Run Out Groove as The 1972 Muscle Shoals Sessions, and I like maybe one song on it. It's the first track — a banging, soulful cover of David Bowie's "It Ain't Easy" — but aside from another cover, Neil Young's "Heart of Gold" (which was surpassed by Charles Bradley on his posthumous Black Velvet last year), I haven't spun it past the first listen.
Then there's Ministry's Greatest Fits. I think my problem with Ministry is that I think I like Ministry, but then I listen to them, and I'm like, "Meh." But then I say to myself, "But you like 'Jesus Built My Hotrod,'" and then go listen to that, then realize that what I really like about is the fact that it reminds me of two songs which came in its wake: "Who Was In My Room Last Night?" by the Butthole Surfers, whose Gibby Haynes does guest vocals on "Hotrod"; and White Zombie's "Black Sunshine," which rips off the intro idea and does it one better by using Iggy Pop.
Then, I'm like, "Well, what about 'Thieves,' Nick?" and I got to listen to that, and realize that I actually like Big D & The Kids Table cover from their split with Melt Banana. So, evidently, I don't like Ministry at all.
Same thing goes for the Jayhawks. Like, I think I'm a huge Jayhawks' fan, but what I actually am is a huge fan of their sophomore album, Tomorrow the Green Grass, and could maybe tell you one song from the rest of their entire career, and I'd probably just refer to that song as "the single off Sound of Lies." So, I knew that Gary Louris was in the Jayhawks, but had no idea what to expect from his solo album, Vagabonds, and it ends up being kind of bluesy, and kind of reminds me of a John Mellencamp record.
Now, do I like the releases? Oh, goodness, yes. Morphine's Yes got an expanded edition which not only sounds amazing, but comes with all of these amazing b-sides and rarities, and Jesus fucking Christ, I could listen to "Honey White" enough times to wear out the grooves on the first LP. It's the first installment of the label's Cornerstones series, which are "records that [they] believe should be a foundational part of everyone's music collection."
The second installment of the Cornerstones series was Bill Frisell's Nashville, which is this perfect collection of throwback guitar-picking, a la vintage Chet Atkins. There are a few tracks with vocals in which I'm not particularly invested, but the instrumental cuts, such as the Ry Cooder-y "Brothers," are the sort of music that make you want to grab a pair of headphones and puzzle out just how the guitarist is making these sounds. Greg Calbi at Sterling Sound's vinyl mastering job is just stellar, and represents just why it's such a big deal that some of these titles are getting their vinyl debuts.
Another album which is an invaluable to any fan's library is the double LP of Judee Sill's Songs of Rapture and Redemption: Rarities & Live, which made me fall in love with a singer I was only tangentially aware of. The liner notes which accompany it explain just what her career was like and, more importantly, explain the context in which the live tracks were recorded.
Live tracks are cool and all, but I want to know as many details behind the time and place and whys and wherefores of the recordings, in order for me to understand just why they're being included. Run Out Groove's live releases over the tenure of the label have excelled in that department, and really represent the pinnacle of what the company does. The liner notes for their live recordings would be must-read pieces if they popped up on Paste's website or something like that, but being able to hear the songs being explained in the best possible fidelity and presentation really makes these releases essential.
This is all a roundabout way of getting to my final point, which is this: there's something about the quality of the presentation made by Run Out Groove that makes their releases seem like something to which you should give a certain amount of consideration. A perfect case in point is their release of Golden Smog's Down by the Old Mainstream. I would like to point out that I own this album on compact disc, as well as the band's Blood on the Slacks, and have been familiar with Golden Smog since I heard their cover of Bad Company's "Shooting Star" on the Clerks soundtrack.
All of that said, the number of times I've played both albums over the last decade or so doesn't add up to the number of times I've played the double LP since it showed up before Thanksgiving. There's something about having the album on transparent yellow base mixed with red and black swirl that makes it look more appealing. I can't quite put my finger on it, but the record sat next to my turntable for ages, and I found myself picking it up and putting one of the LPs on the turntable fairly regularly.
Off and on for a month or two, I'd throw Down by the Old Mainstream on to play a side or a couple of tracks, and found myself falling back in love with an album that I'd really adored when it first came out, but didn't connect with when I purchased on compact disc. While a track like "Pecan Pie" has always found its way onto alt-country mixes here and there, the likes of the laconic, tongue-in-cheek "He's a Dick" have become new favorites, courtesy of this pressing.
Run Out Groove's next slate of titles on which you can vote include L7's Best of the Slash Years, The Meters' Rejuvenation, and Kiko by Los Lobos. You can vote for which you'd prefer to see pressed (*cough*Kiko*cough*) here.