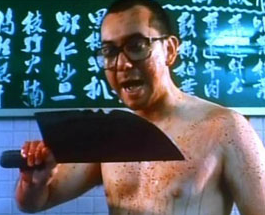 Podcast (twitchofthedeathnerve): Play in new window | Download
Subscribe: Apple Podcasts | RSS
Not for the faint of heart, this episode is all about one of Charles, Jon, and Samm's favorite films — Herman Yau's The Untold Story (1993). Based on the true story of a massacre at the Eight Immortals Restaurant, this is the grim tale of Wong Chi-hang (Anthony Wong), who murdered an entire family, took over their restaurant, and served them up to the customers. Rated "category III" for its use of explicit violence, the episode also explores how category III (or CAT III) is more of a genre than just a rating system, its use of extreme violence and jarring tonal shifts, as well as political connections to the state of Hong Kong in the '90s, and more. And of course, the episode is a big love letter to one of the world's greatest living actors, Anthony Wong.
Thanks to everyone for the support for our new show. Please subscribe, rate, and review our show and share (share, share) on social media.
Follow us on Instagram and check out Essex Coffee Roasters (enter code CINEPUNX for 10% off).