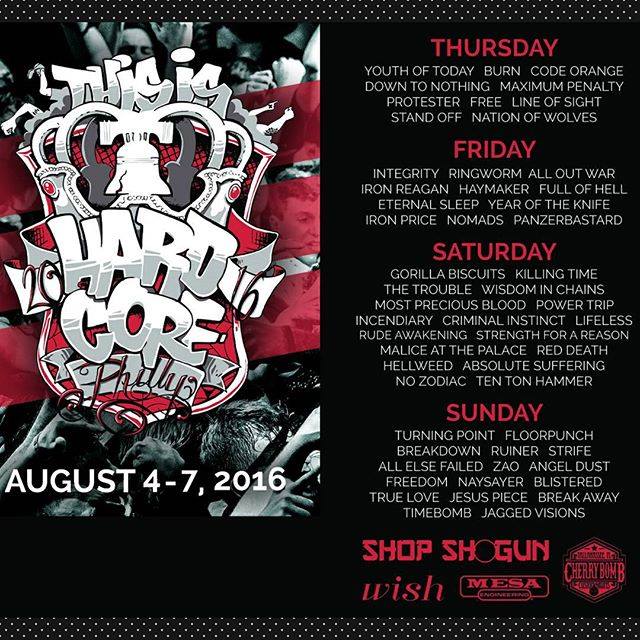 So you decided to spend your summer vacation in the pit. Personally, there are few places I'd rather be. Everyone's your best friend (even though they're throwing punches at you and might even land one), you're having a monster sing-along, and you're getting a great workout to boot. The trouble with all those windmills, however, is that each one burns a few calories. Picking up change? More calories. Spin kicks? The most calories.
Thankfully, This Is Hardcore Fest planned ahead and lined up an excellent roster of food trucks so you don't have to wander too far away from the stage. And they were thoughtful enough to provide something for everyone. So, whether you've maintained your vegan status after all these years or you've succumbed to the siren song of a cheeseburger, you're all set. There's also coffee for when you're stuck in line at the merch table, ice cream to cool off after a long set of finger pointing, and cupcakes if you've got room for dessert. The only problem is that unless you can eat as much as the lead singer of Floorpunch, it's going to be hard to sample everything, so here's a list of what not to miss when you're ready to take a dance break.
SpOt Burger: For those of us who eat meat, this is a must. Owner Josh Kim, who won this year's Best of Philly award for "Best Menu Item with Jawn In It," is taking the cart out of retirement (the cart has been catering only since opening a brick and mortar in Brewerytown), which is a real treat for fest-goers. Kim's "Jawn" is a sandwich consisting of sloppy joe meat, shaved rib-eye (really adding insult to injury here with the vegans. Sorry), Cheeez Whiz, french fries, and onions. Eat this and you'll have plenty of fuel for the entire fifty-plus band lineup. If you're feeling less adventurous, opt for the eponymous burger, topped with bacon, cheddar, pickles, cole slaw, and SpOt sauce.
Kung Fu Hoagies
: I'm sure there will be plenty of you who don't dig on animal protein, which is totally cool (I guess). Even if you're not vegetarian, you should grab a tofu meatball banh mi from these guys, especially if you filled your meat quota by eating the SpOt Jawn.
Weckerly's Ice Cream
: I don't know what sorcery the folks at Weckerly's have gotten into, but whatever it is, it makes for excellent ice cream. My go-to is whatever ice cream sandwich is on offer. It's a perfect little cuboid constructed of two cookies and a healthy dose of ice cream. Try the Black & White if you can, made with vanilla ice cream and chocolate chip cookies.
Hardcore Sweet Cupcakes
: Full disclosure, these guys are from Connecticut and I've never sampled their wares. However, they did win Food Network's Cupcake Wars, so they must be doing something right. Plus, they've got both vegan and gluten free options available, because community is one of the pillars of the hardcore scene. And just look at how STOKED this dude is from TIHC 2014. Can't wait to try these 'cakes.
There's plenty more to choose from, including Mom Mom's Pierogies, Taco Mondo, Chewy's Empanadas, and Hub Bub Coffee. No matter where you go, stay fed, stay hydrated, and most of all, stay posi. See you in the pit, brothers and sisters!