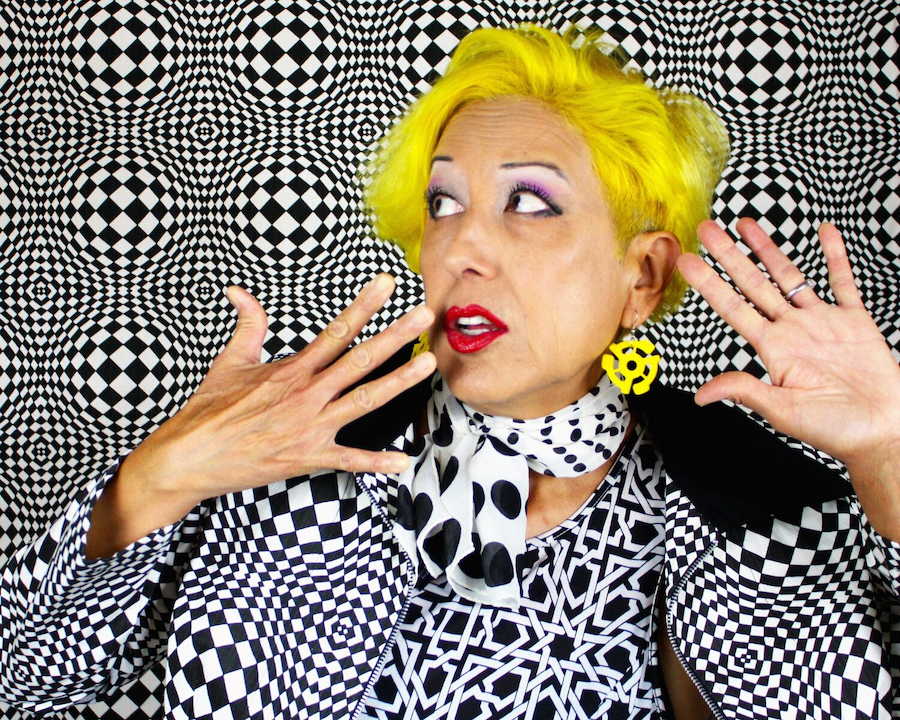 It was 2006 and my older sister had left half of her stuff behind in her old room at my dad's house; boxes of stuff I had every intention of rummaging through. Buried in a box of scratched CDs, DVDs, and VHS tapes was a copy of Penelope Sepheeris' legendary documentary, The Decline of Western Civilization. Decline is legendary for capturing the LA punk scene of the late 70s early 80s in its prime, featuring: X, Black Flag, Catholic Discipline, FEAR, Circle Jerks, Germs, and Alice Bag Band. Upon each viewing, I was always floored with Alice Bag's strong stage presence and bold vocals; it was no surprise that she would become an L.A. icon. She has been an inspiration for me because of her command of the stage and fierceness in the Decline but also her strong presence within the community. A few years back some of my friends even got her to perform at East Los Angeles College. She came back again when her first book, Violence Girl, came out. I always found it humbling when she would come back to talk with the community about her experiences in the music scene, as well as her Chicana identity and feminism. East L.A.'s flourishing art scene spans across different mediums. Alice Bag is part of the legacy of countless artists who grew up during a historic time when there was a booming Chicano movement. Like many of her contemporaries, Bag was undoubtedly changed by the events of the Chicano Moratorium on August 29, 1970. Her identity and influences are apparent in every part of her art, through her literary work and music.
Since her appearance in Decline, she has gone on to publish two biographical books, Violence Girl: East LA Rage to Hollywood Stage, A Chicana Punk Story and Pipe Bomb for the Soul. Apart from Alice Bag Band, she has been a part of Castration Squad, Cholita, Las Tres, and has launched a thriving solo career. In 2016, she released her first self-titled solo album, Alice Bag, followed by her second album Blueprint in 2018. Back in May before the national uprising, I was able to interview Alice Bag, who released her new album Sister Dynamite (which features the work of another L.A. icon, Chicano artist Gronk), a bold feminist album that serves as a defiance against strict gender roles and patriarchy.
Sister Dynamite battles with as much complexity as many women, especially queer women of color, struggle with everyday. We are at a constant tug of war between vulnerability while also having to maintain our hard exterior to fend off sexism, racism etc. What was your process while making this album and what did you draw from your own experience?
I see women gaining momentum. We've endured a lot of setbacks in our struggle for equality but our strength, commitment and numbers are growing. I feel it with the rise of female representation in the House of Representatives, with the #MeToo movement and when "Un Violador en tu Camino" by Las Tesis was picked up by women across the globe, translated and performed in various public spaces on multiple continents. Change comes with a long fuse — but that fuse is burning.
"Sister Dynamite" is one of my favorite tracks on the album as well as the video which is an homage to the fierce women of cult films like Faster, Pussycat! Kill! Kill! and Kill Bill. Where does the title of the song/album originate from?
I remember watching a Mexican movie called "Hermanita Dinamita" (it's fun to say) when I was a kid. The song "Sister Dynamite" has nothing to do with that movie, which from my memory was equal parts Singing Nun (the movie) and Julia (from the TV series Julia) but I always thought the title was cool. There is definitely a Varla influence to our Sister Dynamite. When I first spoke to the director about making the music video, she asked me about my vision for the character. My references included Varla (Faster Pussycat, Kill Kill), Gogo Yubari (Kill Bill), She (Machete), and Foxy Brown, with a little AOC to keep it real.
The album as a whole deals with this shield of confidence against society and patriarchy, but there are also moments of vulnerability like in "Identified." This song in particular is a song that channels into the vulnerability women of any background face at some points in their lives. When you are in a similar moment like in "Identified," what is it that eventually pulls you back to a safe place?
I wrote that song about ethnic identity and about a specific person, and in that sense I don't relate to it because I've always felt connected to my Mexican heritage while understanding that I'm American by birth. However, there was a time in my life where I remember being told that I didn't behave like a "normal girl." At that time, I took it as a compliment, which is how it was meant: the person was equating masculinity with power. I was in my teens and going through a phase where I didn't want to be like my mother, who was a domestic abuse survivor. My father dominated and beat her. Their relationship defined it all for me. I saw life as a series of binary choices: kill or be killed, eat or be eaten, jodes o te joden. I didn't understand that there is no true power in domination, coercion, and subjugation, so I felt complimented when somebody saw the traits of the oppressor in me.
The frustration described in "Sender Is Blocked" and "Even" is a frustration many activists feel especially now when it seems like progress is at a halt, leaving us sometimes jaded. What is it that keeps you in the fight, especially now when the world seems so unstable?
There is no choice but to fight. The way I see it, we're either working to make the world a better place or we're complicit in maintaining the status quo, which at this point is on course towards extinction.
The community, meaning Los Angeles, has changed in so many ways since the days of The Decline of Western Civilization; the proceeding generations have made some radical changes in community spaces. Yet the struggle against patriarchy still exists. What experiences inspired you to write Lucky, which is calling out privilege? What experiences have you had in the past while on tour?
The idea of privilege can be complicated because it is qualitative as well as quantitative. It can be invisible to those who have it and frustratingly obvious to those who don't. In many cases it's supported by societal, political, economic, and religious structures which benefit from maintaining existing inequalities. My frustration is with people who have power and don't use it unless they think it benefits them directly. I can't think of an example from touring, but I see it prominently on display by all those American-flag-waving patriots who value their freedom so much that they refuse to wear a mask in a public place, risking the lives of others while professing to value a higher principle.
This song was inspired by someone who told me she refused to vote unless her candidate of choice won the nomination. Now that's a lot of privilege! Instead of opting out, why not say, "I'll work tirelessly for the next few years to change the things I want to see changed and in the interim I'll take the best options available to me?" You know why? Because not voting is easier than actively working to steer the political discourse and perhaps the result of the election wouldn't affect her directly. The repercussions of not voting impacts the people with the least amount privilege the most — so if you have privilege, please don't squander it. Use it to help others.
You are an LA icon who has been an inspiration to many young girls, especially young women of color like myself. What advice or lessons you have learned in your life, would you give to those who are just finding their voice in music?
Your voice is important, your experiences are important. Expressing your unique point of view not only benefits you but can help others who need to know they aren't alone. Don't worry about perfection, don't edit your thoughts and ideas before they have a chance to make it onto the page or out of your mouth. You can fine tune later (if you really want to). Learn to embrace the honesty of imperfection and you will be unstoppable.
---
Sister Dynamite is available on Spotify, Youtube, Apple Music and available for purchase on Alice Bag's website.