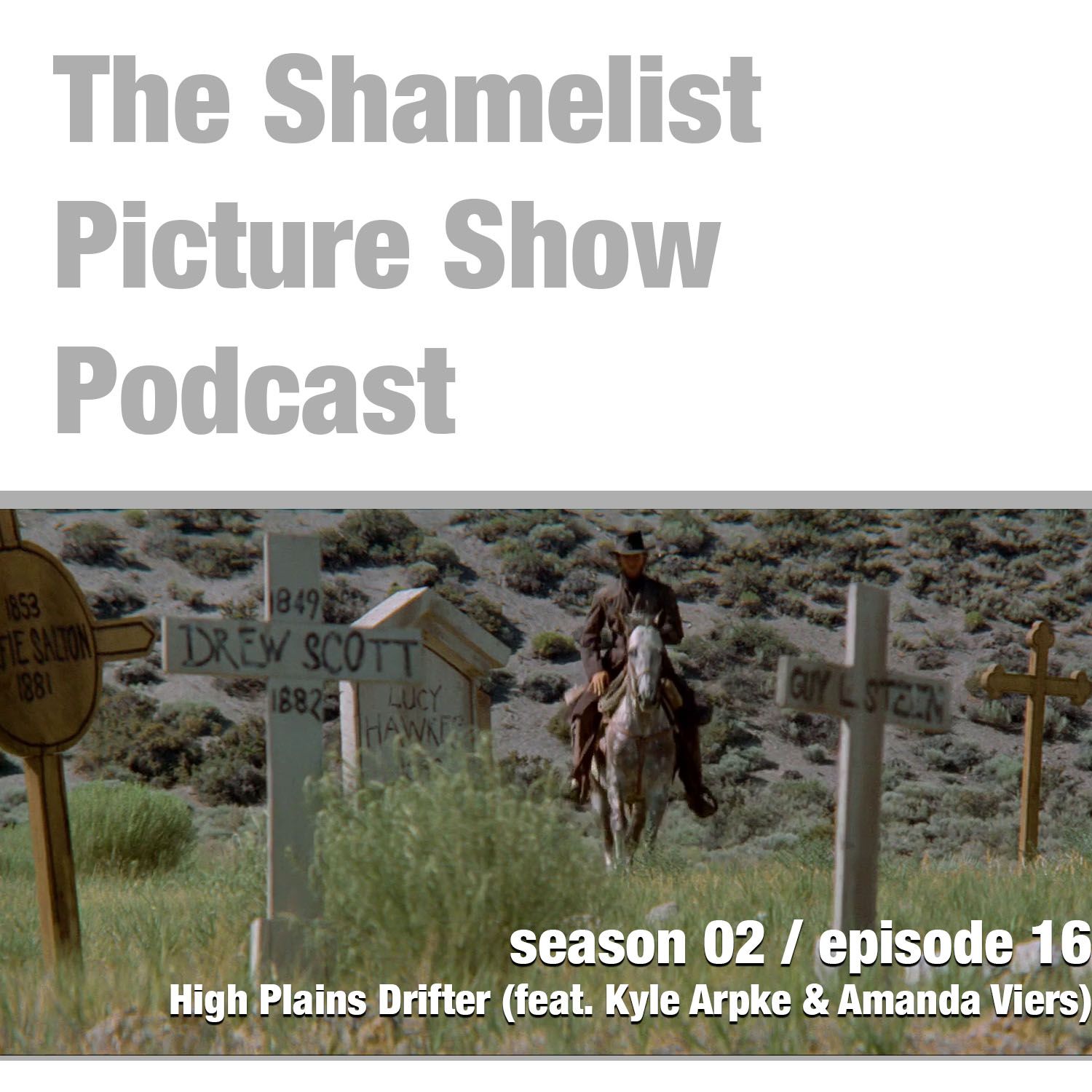 Podcast (shamelistpicture): Play in new window | Download
Subscribe: RSS
Season 2, Episode 15 (originally released on October 5th, 2018)
Michael isn't alone on this special western themed episode of the Shame List Picture Show, he's joined by his beautiful and talented wife Amanda and filmmaker Kyle Arpke!
HIGH PLAINS DRIFTER is directed by Clint Eastwood from a screenplay by Oscar Winner Ernest Tidyman, HIGH PLAINS DRIFTER is about a stranger with no name, in search of a bottle of Whiskey and a pillow to lay his head. The town the stranger finds is a small lake side mining town called Lago. The Stranger is barely in the town a couple of minutes before a drunken gang of hoodlums pick a fight their mouths can't cash as they're all picked off in a quick gun fight. While in Lago the Stranger learns this town is in dire need of a quick hand to help them take out three outlaws that are plotting revenge against them. The Stranger has no interest in helping, until the Sheriff and Mayor offer him anything he wants from the town free of charge. All pretty standard Western fodder, that is, until we learn about Lago's dirty secret that they'd do anything to keep private. Will the Stranger help them, or will he just use them. Even the citizens of Lago aren't sure. HIGH PLAINS DRIFTER is Eastwood's second directorial effort and the first Western he had directed followed by PALE RIDER, OUTLAW JOSEY WALES and UNFORGIVEN. Many consider Eastwood's gruesome yet haunting HIGH PLAINS DRIFTER to be one of his best and the film still holds a staggering 96% on Rotten Tomatoes. That being said, the film isn't universally loved, some considered the film to be more derivative than visionary. One such detractor was John Wayne who thought Eastwood's vision of the West was a cesspool filled with murderers and immoral jerks. Regardless, the film is considered a classic and is worth discussion.
HIGH PLAINS DRIFTER stars Clint Eastwood, Verna Bloom, Mariana Hill, Billy Curtis and Buddy Van Horn amongst a slew of other character actors and features a beautiful score by Dee Barton and cinematography by Bruce Surtees.
As always please rate, review and subscribe to the Shame List Picture Show on your podcast app of choice. We're currently on iTunes, SoundCloud, Google Play and Stitcher Radio. Also follow us on Instagram @shamelistpictureshow Michael Viers (@michael_viers) Amanda Viers (@amandarviers) Kyle Arpke (@thekarp14)

As always, please rate, review, and subscribe.
Be sure to check out our Patreon at www.patreon.com/shamelistpictureshow
Edited by: Michael Viers
Produced by: Nick Richards & Michael Viers
Theme Music by: The Directionals
Opening Narration by: Zach McClain
Credits Music by: Ten-Speed
Logo Design by: Amanda Viers