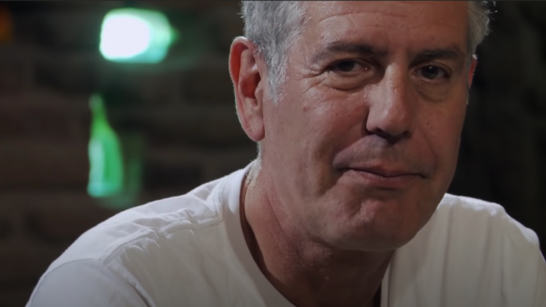 Roadrunner, a film directed by Morgan Neville (20 Feet From Stardom),  opens with shots of the ocean crashing and a voiceover of Bourdain casually musing about death. The water is alluding to Bourdain's early years of cooking on the beaches of Provincetown, MA and his first love affair with food: the oyster. The beginning of the film gives the viewer a disturbing sense of tranquility. The audience is cradled by the voiceover of Bourdain almost forgetting that he is gone. Hearing his wistful laughter and his insightful philosophizing as if he is an omniscient presence among us. There are only a few words spoken by director Morgan Neville. Neville speaks to an interviewee explaining he wants the film to explore Bourdain, who he was, why he was, and what he was.
Roadrunner does an incredible job at displaying Bourdain's addictive personality and the reason his fans, his closest-knit circle of friends and his romantic lovers felt so attached to him. The film portrays Bourdain's enchanting charisma and his ability to seamlessly connect with others as he sojourned across the globe. There is a running theme of infatuation throughout the film; the infatuation Bourdain had with heroin, smoking, writing, cooking, travelling, love, Jiu Jitsu and the infatuation the audience and his friends have with him in reverse. The documentary also exposes the underbelly and emptiness of this infatuation: the display of how Bourdain jumped from one experience to the next, looking for salvation and how, as viewers, this insatiable drive kept us wanting more until his untimely demise.
The documentary stays relatively insular in the interviews, giving the audience a deeper sense of intimacy. However, this comes along with a troubling side as we see the impacts of what it meant to be close to Bourdain. This sense of alienation runs through every interviewee, as many are shown at some point crying over the hole they are left with given Bourdain's absence. The film is split into three acts that are discernable by Bourdain's career points, but also his major romantic relationships. The film begins in 1999 with at-home footage of Bourdain chain-smoking and in his long-term marriage with his first wife and college sweetheart, Nancy. This act sees the dissolution of Bourdain's marriage as Kitchen Confidential becomes a New York Times bestseller and Bourdain begins to film his first show, A Cook's Tour. Bourdain's marriage falls apart as he begins his first foray into travel and begins his path into celebrity and fame. Neville notably chooses to begin the documentary at the point of Bourdain's tumultuous relationship to fame and when he begins to become a recognizable face. This timeline portrays the yo-yoing of Bourdain's romantic life and his affair with his audience; at the beginning of his celebrity, he is jovial with fans and at the end of his life, he is found to be agoraphobic and overwhelmed by his own presence in society.
The second act of the film finds Bourdain in love with travel and falling in love with his second wife, Ottavia Busia (his only romantic partner interviewed in the film). This act of Roadrunner is filled with the most contradictions, as Bourdain attempts to have a "normal" life with a wife and a child but in contrast travels 250 days a year and becomes a household name. This act ignites my own guilt as a long-time fan of Bourdain's. Bourdain is split between two selves and two worlds: trying to enjoy his life as a husband and father and serve his audience and the citizens of the world he tries to illuminate. The normalcy Bourdain attempts to have is unsustainable and his fame and work win out.
Bourdain's internal dissonance is the most present in the final act of the film, where he is at the peak of his fame and discomfort with his own existence. Neville and the interviewees express deep concern about Bourdain and specifically his relationship with the actor, Asia Argento. The final act has an ominous air as the audience knows the tragic fate of Bourdain's life. This act oscillates as Neville portrays Bourdain's downward spiral from the perspective of his "Parts Unknown" team, behind the scenes footage and through snippets of Bourdain's personal Instagram stories. Neville attempts to put the puzzle pieces together of showing Bourdain's life for the human condition it was: tragic, joyous and manic.
There is a scene in the film where famed chef, David Chang (Momofuko, Ugly Delicious), says that Bourdain would lie to people about his favorite musicians. Chang says that Bourdain's favorite song was "Anemone" by Brian Jonestown Massacre. The song is originally played over audio on Chang's phone and then edited in over shots of Bourdain at the water. The song begins with slow rattling and then breaks into lyrics such as, "you should be picking me up, instead you're dragging me down." Chang says that this is heroin music. This moment washes over as the feeling sinks in at the realization that Bourdain was always an addict. Roadrunner asserts that throughout Bourdain's entire life, he was weighed down by the emptiness of how he is not picked up and was instead dragged down by himself.
Roadrunner does a beautiful job at showing the light and darkness of such an omnipresent figure in the world of cuisine, travel and political awareness. The film portrays the weight that Bourdain felt bestowed on him and gives some clarity into the devastation of his suicide, but at the end leaves us all with the heaviness of his decision. Bourdain was one of the greatest storytellers of our time and the most unsatisfying part of the film is that his ending feels guileless, manic and unprepared. It's up to us as the viewers to accept this conclusion and continue to remember his stories and embrace our own inspirations from him.
Roadrunner: A Film about Anthony Bourdain opens in theaters on July 16th.