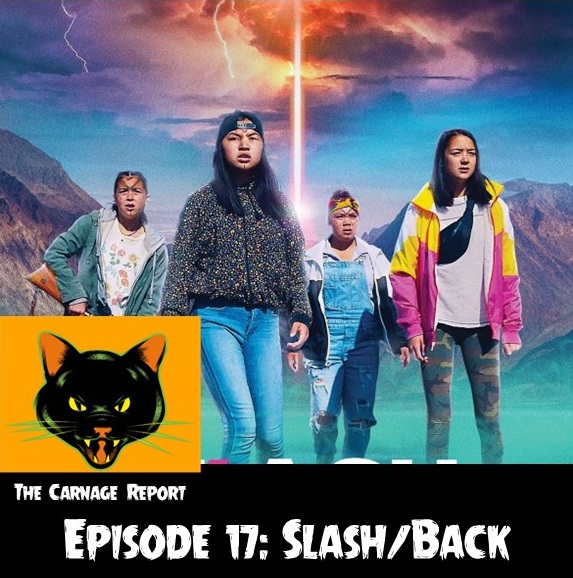 Podcast (carnagereport): Play in new window | Download
Subscribe: RSS
Hello and welcome to The Carnage Report, where we bring you the latest on all things horror-related, keeping you up to date with news you can use. Hosted by Julie Holland and Nick Spacek, this part of the Cinepunx family looks to fill a hole in your podcast feed by looking at new releases in the theaters, on-demand, and streaming, and featuring an in-depth discussion of a new release each episode.
On this episode of the podcast, Julie and Nick discuss director Nyla Innuksuk's debut feature, Slash/Back, out now on Shudder. In addition to what we think about the film, we recommend other Indigenous and kid-starring features you might enjoy, along with news about the Monkeypaw Productions podcast Quiet Part Loud and Guillermo del Toro's test footage for At the Mountains of Madness, plus trailers galore for Christmas Bloody Christmas, Enys Men, Lullaby, and more. There's also a bonus discussion of another feature out now in theaters! All this and A Wounded Fawn director Travis Stevens comes on to discuss his gateway to horror? Happy holidays.
Music by Steve Spacek, who you can find on Instagram @starlingwoodworks and on Bandcamp.
You can follow The Carnage Report on Instagram @ReportCarnage, as well as on Twitter @ReportCarnage. Shoot us an email to carnagereportpod at gmail dot com to share your thoughts on the show, as well.