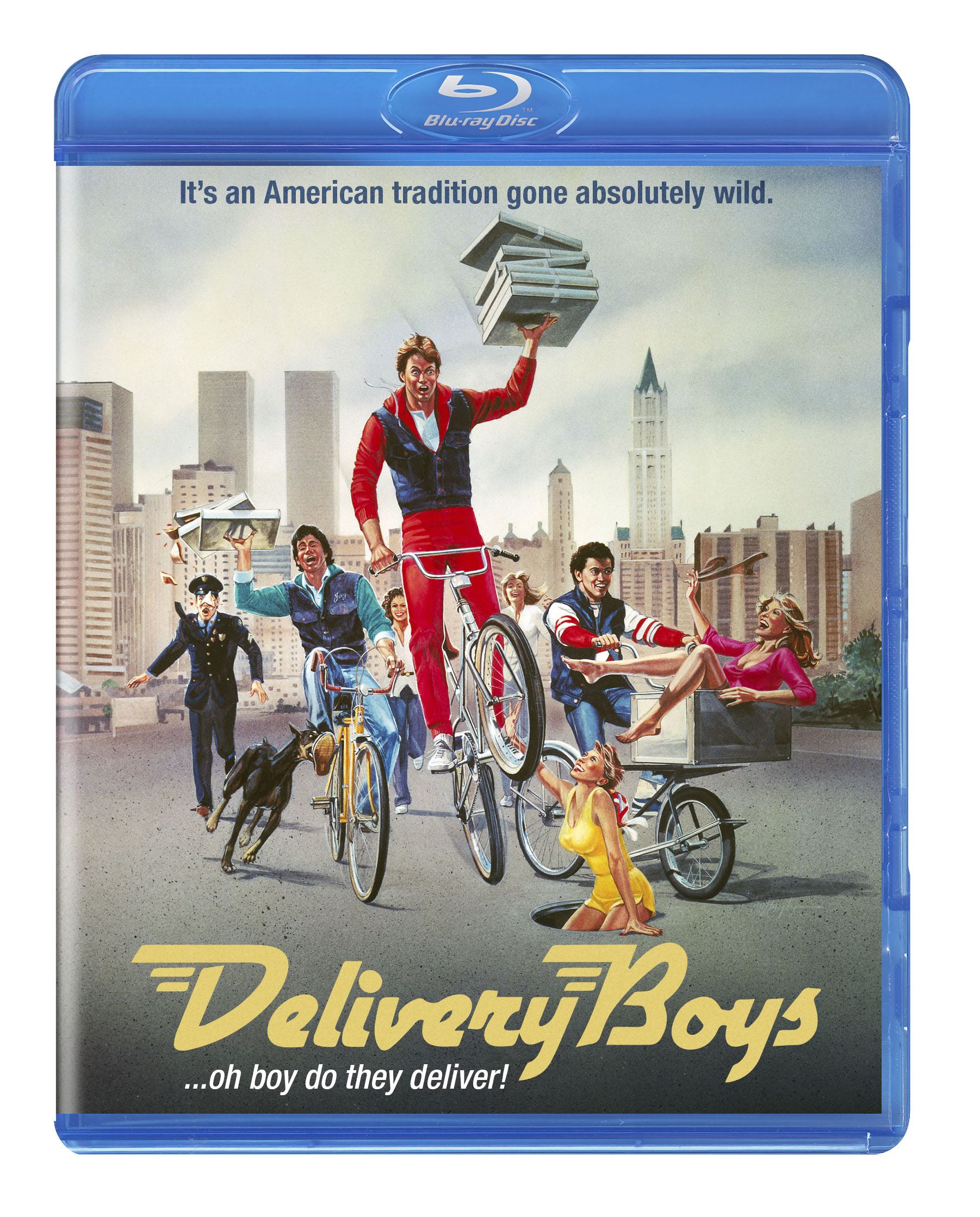 What do you get when Chuck Vincent produces, Larry Revene shoots and the guy who inspired the Ken doll directs an 80s sex comedy? You end up with the type of movie that features breakdancing musical numbers, boner gags and Mario Van Peebles grill wearing, shrunken head carrying, voodoo baddie. I'm not quite sure who this was made for back in 1985, but thirty years later, I can safely say that it's for me.
Delivery Boys was released just a year after Breakin' and Beat Street took breakdancing to the big screen and, like those films, it is also set in the city that is the home of breakdance, New York City. Not that you're going to watch a breakdancing sex comedy for plot, but Delivery Boys takes place around a break dancing competition that is being hosted a woman's underwear company – why not? – and has our titular Delivery Boys facing off against some unsavory characters, with plenty of absurd antics to go around.  Why are they Delivery Boys? Because they deliver pizza when they aren't dancing, of course!
What a strange beast of a movie this is. Tonally, it's completely inconsistent and nobody on screen seems to know what they're doing or what movie they're in. Comedy gags stop for songs; songs stop for no reason at all and it mostly feels like an assemblage of vignettes. Don't get me wrong, this movie is great! It's ripe for re-discovery as an 80s NYC relic, features cameos from some of Chuck Vincent's adult industry friends like Veronica Hart and Samantha Fox, it's unapologetically homoerotic and the songs are infectious. It's one of my favorite discoveries of 2019 and I'm pretty sure the world is finally ready for it 35 years later.
Delivery Boys comes to blu-ray for the first time from Scorpion Releasing and it lists a new 2K master as the video source. This is pretty clearly a cheap movie and the photography isn't a great selling point, even if Larry Revene is behind it. That said, its gritty appearance helps sell the 80s NYC that's on screen and this is far from a bad transfer. My guess is that whatever source was used wasn't an original negative as it appears soft and has some generational wear and tear on it. I can't imagine this looking much better than it does though and I don't think any fans would find reason to complain. Audio is DTS-HD 2.0 and it's a solid track which balances the dialogue, musical scenes and effects well.
The only extra on the disc is a nearly twenty minute interview with Larry Revene, which is a treat in itself. Revene talks about working with Chuck Vincent and Ken and goes through some of the troubles of the shoot and seems confused as to why he's even talking about Delivery Boys three decades later, which makes sense.
It's probably not for everyone, but I think it's about time that Delivery Boys gets some sort of cult status on disc and this is the release that's going to do it.