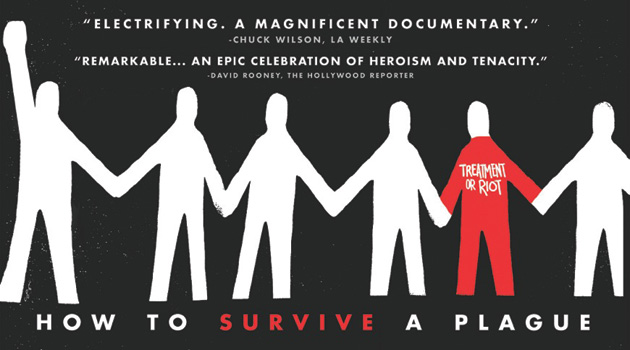 This is REKT, the column where each month one Cinepunx staffer recommends films to the rest of the fam. We may be stoked, or we may be wrecked. This month, it's Adrianna Gober's turn to do the damage. Here are Nick Spacek's thoughts on How to Survive a Plague.
I considered starting this with "I don't want to get all political, but …", but figured that no, I do, in fact want to get political when discussing David France's 2012 documentary, How to Survive a Plague. Starting in 1987, France's film documents the creation and rise of ACT UP (AIDS Coalition to Unleash Power), the AIDS action group formed in response to the general inaction of the medical profession and the United States government.
Best summed up by the famous "SILENCE=DEATH" signs and shirts of the era, ACT UP took the fight seeking a cure for AIDS directly to the people they felt most responsible for the hold-up: Wall Street, the Catholic Church, and even to the President himself. Their story here is told through contemporaneous footage shot by ACT UP themselves, as well as modern-day interviews with those who were there.
It's powerful. It's extraordinarily put together, choosing to use the stories of three men as a way of grounding the tale of a much-larger, varied group. The story of Bob Rafsky, especially, and the way he bravely heckled Bill Clinton during the 1992 presidential campaign, is absolutely inspiring.
The hard part of talking about How to Survive a Plague is that so many of the individuals who were there at the time have said or written pieces which have so much emotional impact, me talking about crying off and on for nearly an hour and a half straight just comes across as looking for attention.
Garance Franke-Uta, who was a teenager when volunteering as a member of the Treatment & Data Committee, wrote a piece for The Atlantic in 2013 entitled "The Plague Years, in Film and Memory: What it's like when the worst years of your life get rolled up into an Oscar-nominated documentary," and it's as emotionally devastating as the film itself:
"ACT UP made me and then ACT UP unmade me; it taught me to write and argue and speak and know that the world is full of exceptions and you just have to decide you are going to be one of them. But life on the other side of the knowledge of life and death meant also that by the time I was 21 I had seen and felt and experienced so much I became convinced that if I had to process one more thing —one more awful thing—I would just keel over and die. I had reached my limit, which might have been lower than that of some of the group's other members, because I had no well of fortitude built up over time to fall back on, because, again, I'd barely had any "before" years."
What I can say is this: France's How to Survive a Plague is more than just a historical document. Watching a slew of people walk from the National Mall in Washington D.C. to the White House, and then climb the fence in front of it, in order to throw the ashes of their partners and loved ones — dead from the inaction of the government — is heartbreaking. It's the sort of image which will indelibly mark anyone who sees it.
Contrast that with footage of North Carolina senator Jesse Helms, whose anti-gay rhetoric was so vitriolic in its disdain for the people it referenced: "I wish they'd shut their mouths, and get their mentality out of their crotches." These were people who had people dying all around them, if not dying themselves, and to have a homophobic racist decry their actions and words as being motivated purely by some sort of sexual freak would be shocking if it weren't for the fact that this is still happening today.
Alabama senate candidate Roy Moore said just last year, " Who are they? The liberals. They don't want conservative values. They are the lesbian, gay, bisexual, transgender … who want to change our culture," and he was a viable fucking contender endorsed by the President. If nothing else, watching How to Survive a Plague will show that for as far as we've come from the AIDS crisis with medicine and treatment, the root causes of the epidemic — homophobia, intolerance — are still alive and well.
It's a hard pill to swallow, but if nothing else, David France's How to Survive a Plague should get you sad, then it should make you mad, and then it should make you active.
Interesting fact for the punks out there — the sample at the beginning of the title track to Choking Victim offshoot Morning Glory's The Whole World is Watching is taken from an ACT UP demonstration and protest at New York's City Hall in 1989.