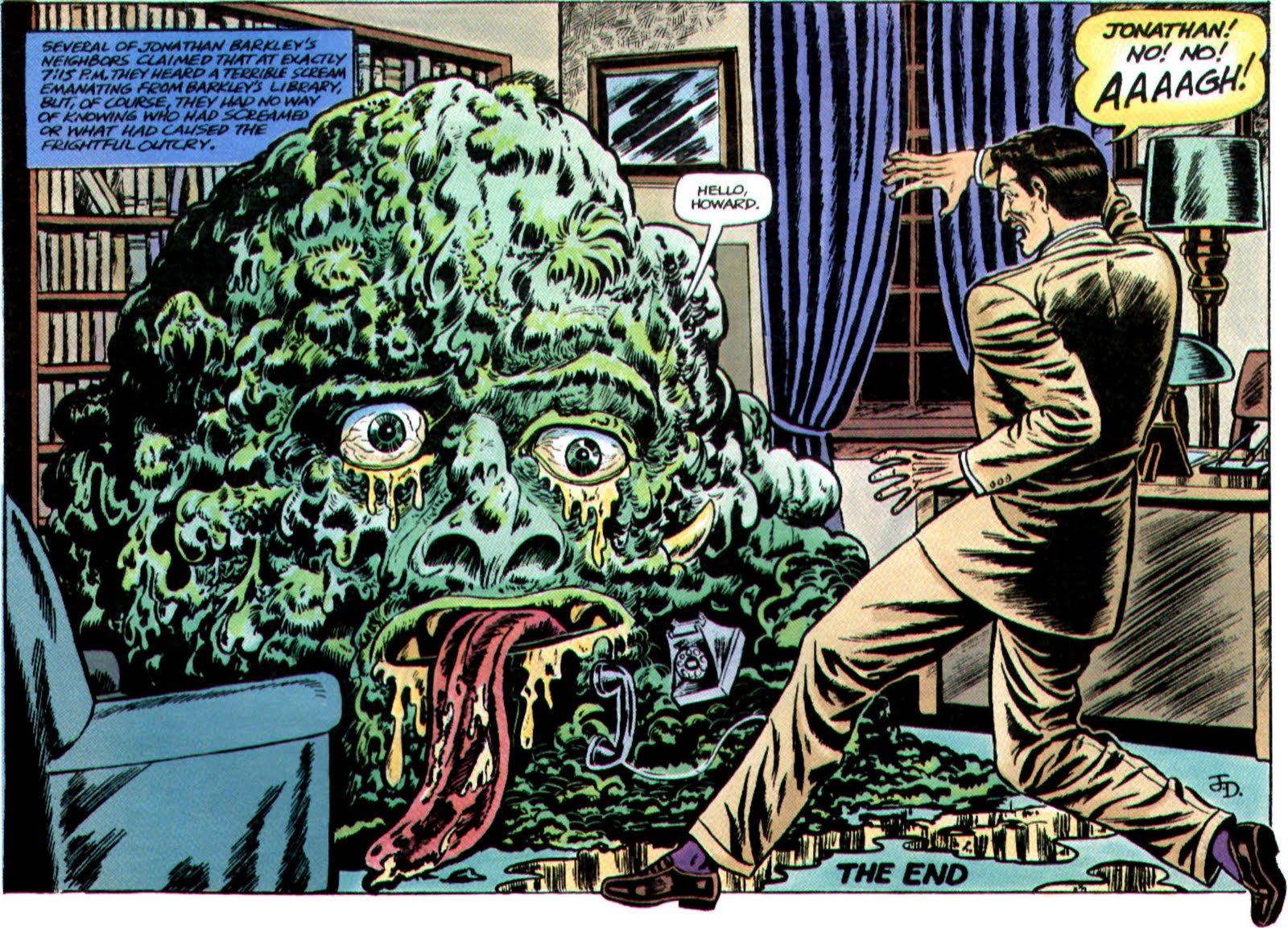 Hello boils and ghouls, it's yer 'ol pal Johnny here, and boy do I have quite a treat for you! Every day of this frightful month, I will be posting and spooking — I mean speaking — about deviant "Pre-Code" horror comic covers. Pre-Code refers to anything published before 1955, when the Comic Code Authority was created in 1954 to censor comics from publishing "lurid and unsavory" stories and art, meaning things such things as vampires, werewolves, ghouls, zombies, ect could no longer be portrayed in comic books. As a result, good must ALWAYS triumph over evil and villains can never be sympathetic. Words such as "horror" and "terror" could not be used on comic covers. Dark times indeed. My selection for the month isn't focused on those that are the most shocking (though a few are) but rather on the best of horror and terror (physical and psychological) and those which display a variety of classic horror images and settings. Over 20 different artists from over 10 different publishers will be featured. I hope you all enjoy!
Haunt of Fear #15 (1952) EC Comics, Graham Ingels
This cover is by EC Horror great Graham Ingels, and honestly, it is pretty tame for the guy who will eventually (next issue, actually) start signing his work with just one word: "Ghastly." But, I chose this cover for it's classic "dead rising from a coffin" motif and for the shear fantastic artistry of this piece. When Graham Ingels first came to draw for EC Comics he was assigned Westerns and Romance titles and did an OK job. It wasn't until those titles were either canceled or converted into Science-Fiction and Horror comics that Graham Ingels finally started to turn in really inspired work and truly joined the pantheon of EC Comic greats. In this cover, Ghastly doesn't rely on gore or extreme rotting corpses to unsettle us. Ghastly demonstrates his immense ability to create extraordinary atmospheric images: look at the rising corpse's strikingly grotesque face, that disturbing intense look of mindless hunger and inherent evil really permeates throughout the whole page affecting everyone, including you the viewer as the perspective puts you right in the funeral parlor with the rest of the terror struck guests! Ghastly's vast attention to detail in the settings, the folds of the rose petals, the ruffles of the scarlet curtains, the silky interior of the coffin, the gleam of the candles casting light and shadows across the room and upon the panicked fearful faces of the funeral attendees all perfectly framing the rising corpse in the dead center of the page. So powerful is this image I can actually hear in my head the corpse's hiss over the gasps and shrieks of the frightened witnesses. Another talented comic book artist majorly affected by the Comic Code Authority's censorship of comics – when horror stories stopped being made, Ghastly found little work in comic books.