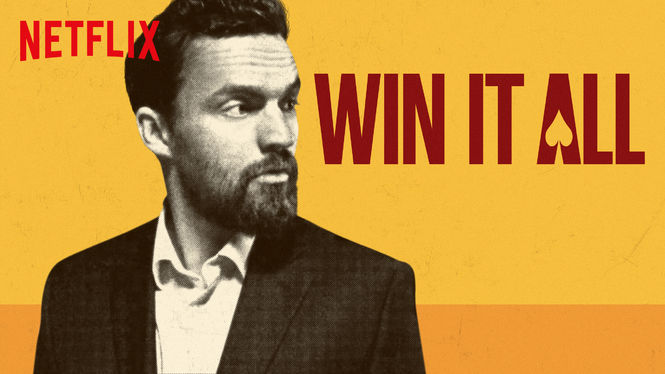 (EDITOR'S NOTE: Welcome to the our new column here at Cinepunx, NETFLIX WEEKLY! Each week let Jaime Burchardt be your guide through the highs and lows of Netflix exploding original film content!)
Before watching Win it All, the phrase I kept hearing and seeing online that described co-writer/director Joe Swanberg's film went to the tune of "the most mainstreamed film he's done yet" more or less. And you know what? That phrase isn't wrong. If you look at Swanberg's filmography, he's etched out a sturdy career that thrives in indie filmmaking. Win it All is indeed his most "mainstreamed" effort, but it's also his most filling.
Swanberg's got a ton of titles under his directorial belt (along with writing, producing and editing many of them). He's become a face of indie films; one of their most reliable ones. I admit I got a bit giddy seeing his newest effort come from the production offices of Netflix. The overall touch on the movies he makes is one of passion for character development, perhaps to a fault. He's a good man to count on to give us an exploration of characters and their overall process. Films like Happy Christmas and Drinking Buddies are fine showcases of this. These two, and seemingly countless others, are also showcases of raw skill. Up until now, I was very eager to see the talent he possesses finely tuned to reach that next level, sharpened to the point of ultimate impact. Well folks, my waiting has come to an end.
Win it All is truly nothing new with its story. The losing gambler sub-genre is not without its fair share of hits and misses, and the motives of the luckless chump have been explored all over. But with this film, it's almost as if Swanberg and star/co-writer Jake Johnson knew the odds and just went 'fuck it, we've got something here'. And if it had gone that way, they couldn't have been more right. This is their third collaboration, and the trust in each other shows on the screen. The approach the duo come at Win it All is one that I admittedly admire…the approach of tackling a familiar (sub)genre as if they're the first ones to do so.
In having Win it All show the lows, then highs and then the absolute heart-clenching bottom of the barrel was a vigorous move, and with the combination of Swanberg's filmmaking and Johnson's brilliant performance, we're given a movie that's simply superb. Swanberg's perfectly paced editing & personal direction molds beautifully with the absolute punch of Johnson's range. This is a high mark for both of them.
Going back to the first part of this with the mainstream phrase, look I get it. One of the titans of indie made a film that's more pointed than the works we're accustomed to seeing. But how is this a bad thing? I'll dare say that Win it All is the finest film Swanberg has given us, and I hope he makes more with his talents tuned. And if he wants to go back to raw indie power, it's still a win because it'll be interesting to see what he takes back with him.