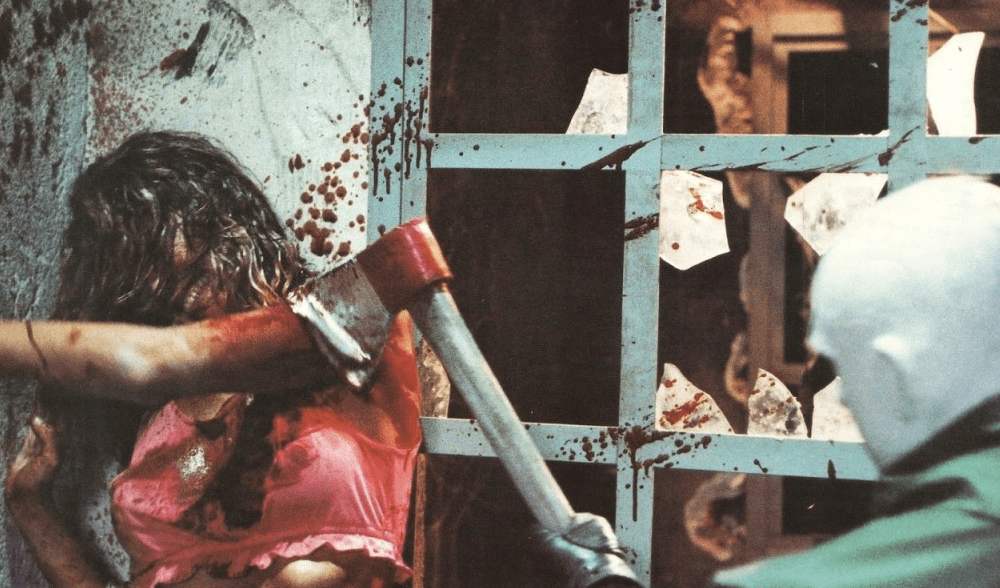 Back in the spring of 2019, Arrow released Blood Hunger: The Films of José Larraz to unfortunately little fanfare. It was a cause for celebration to me and, seemingly, merely a handful of others. Larraz is far from a household name, even in the more niche horror and genre circles, but seeing Arrow bestow such a nicely designed box set on the filmmaker made me think that 2019 would mark the year that Larraz earned the credit he has deserved for so long, yet continuously evaded. But even nearly a year later, the limited edition box is still available new through Amazon and other retailers (and at a much lower price than when it was initially released) and the second box that Arrow was reportedly planning to follow it has been axed (heh) in favor of standard releases of a couple of other Larraz films, including this one here, Edge of the Axe.
One has to wonder if the Blood Hunger set may have sold better if it did contain Edge of the Axe, a fairly well-known slasher from the VHS era, as opposed to films most haven't heard of in the states like The Coming of Sin or Whirlpool – both of which are fantastic and arguably better than the film under review here. Hailing from Spain, and spending years making films in England – like Vampyres and Black Candles – Larraz would shoot his first film in America with Edge of the Axe, even if a lot of it was also shot in Madrid. And even as a US co-production, it feels distinctly American compared to the films that precede it in his career; it follows a fairly typical 80s slasher formula, has a cast of young white people that are mostly victims and champions burgeoning computer technology in a way that would predict tech-heavy horror of the following decade.
An international co-production disguised as a regional slasher, Edge of the Axe takes place in the Pacific Northwest in a remote town with lush vistas and a scant population. A slasher film that narratively unfolds like a detective yarn, with two central characters trying to figure out just who is going around dicing up folks in the county, and old school text-messaging each other with their computers. The kills are the highlight, with the best one actually opening the film inside a car wash. Not going to ruin the surprise of the gore, but it's plentiful and pretty goofy, with some fun uses of blood in the frame as well. It's clear that Larraz is having a good time making this one and it feels much less serious than the majority of the films he made prior.
Edge of the Axe comes to blu-ray for the first time from Arrow. As with the Blood Hunger set, the results here are great. The original negative was scanned in 2K and is in great shape. There is no noticeable damage present and it maintains an organic film look throughout. The colors are especially vibrant with the forest greens and blood reds really popping. Audio comes in both English and Spanish mono options, with both sounding similarly clean and balanced – making the choice just a matter of preference, but it was originally performed in English, if that makes a difference.
Extras start with a new commentary featuring Barton Faulks and Matt Rosenblatt which is packed with information, especially regarding shooting in both the US and Spain, and is a very entertaining listen. We get a second commentary track with The Hysteria Continues which is energetic and more casual in nature and speaks more to the slasher genre and its appeal on home video. We also get an 11 minute interview with Faulks, which is mostly covered in his commentary but includes more bits about his career in general; another 11 minute interview with Page Moseley which covers his career more so than the film; and the last interview is 7 minutes with Colin Arthur which discusses the various gore effects. The package is rounded out with an image gallery and both English and Spanish trailers.
Edge of the Axe will likely appeal to more home video buyers than the great Blood Hunger set did last year from Arrow, which is both good and bad. It's a fun film and Arrow have given it a robust supplements package and solid A/V presentation, but it's bittersweet when it could have been included in another Larraz box or had been in the first one which could have helped to drive sales more. Either way, that we have both that set plus this film now on blu-ray is a great thing, and with Deadly Manor coming up soon it's a great time to be a Larraz fan.