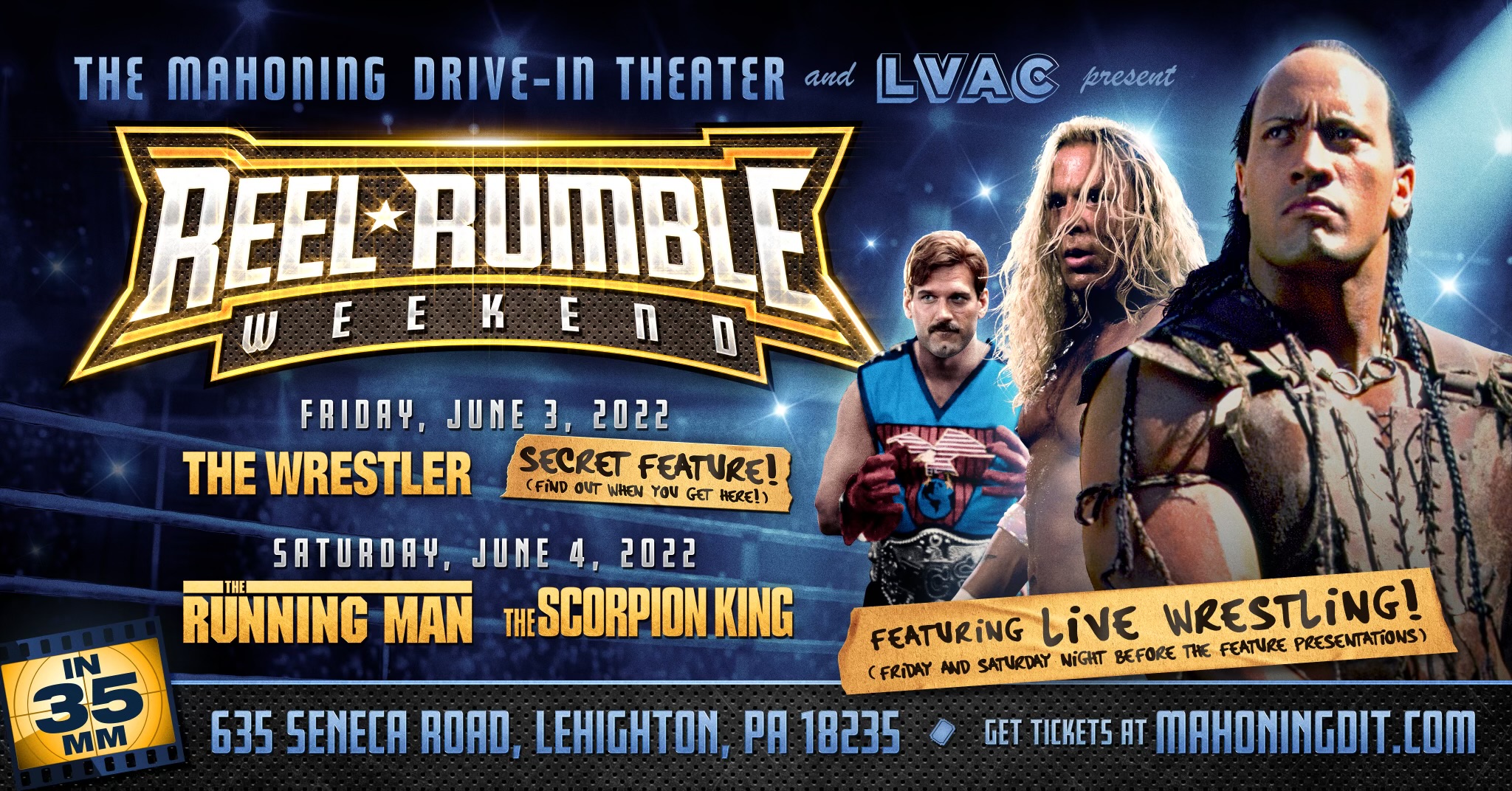 Podcast (horrorbusiness): Play in new window | Download
Subscribe: RSS
Greetings, and welcome back to Horror Business. We have one awesome episode in store for you guys because we're talking about Doom and Girl On The Third Floor with (unspecial) guest Chris Reject of Lehigh Valley Apparel Creations, here to promote the upcoming third annual Reel Rumble event at Mahoning Drive In on June 3rd and 4th!
First off thank you to the fine folks over at Lehigh Valley Apparel Creations, the premiere screen-printing company of the Lehigh Valley. Chris Reject and his merry band of miscreants are ready to work with you to bring to life your vision of a t-shirt for your business, band, project, or whatever else it is you need represented by a shirt, sweater, pin, or coozy. Head on over to www.xlvacx.com to check them out. Thank you also to Essex Coffee Roasters, our newest sponsor. Head to www.essexcoffeeroasters.com to check out their fine assortment of coffee and enter CINEPUNX in the promo code for ten percent off your order! And as always thank you to our Patreon subscribers. Your support means the world to us and we are eternally thankful. If you would like to become a Patron, head to patreon.com/cinepunx. Thanks in advance!
We start by talking about some of the stuff involving horror recently. Chris talks about watching Nia D'Costa's Candyman and how it felt much more impactful upon rewatch. Liam talks about attempting to watch the new Firestarters as well as the recent film Master. Justin talks about Doctor Strange In The Multiverse Of Madness and the  films Monstrous and Broadcast Signal Intrusion.
We start with Doom. We talk about our experiences with the Doom franchise as kids. Justin talks about how he should by all rights enjoy this movie but doesn't, and Chris talks about enjoying when he first saw it but didn't enjoy it the second time around. Liam talks about while Dwayne Johnson's performance in this film isn't good per se it's certainly less sanitized than some of his more recent films.
We go off on a brief tangent on director Uwe Boll and his lunatic tendencies. Justin goes off on an unhinged and ill-advised rant about Martian civilizations and how this film doesn't make good use of such an idea.
Justin also talks about the implications of a character who is apparently inherently evil displaying enough of a conscience to commit an act of self-sacrifice, so they hurt anyone else.
We briefly touch upon the problematic concept of revealing that characters are shitty by having them say sketchy things. Justin talks about how the film leans lazily into using archetypical characters from war films and how films like Predator, Aliens, and Overlord are quite successful at using them. Justin talks about how it's a small step forward in that the film didn't reduce Rosemond Pike's character to just another romantic interest.
Up next is Girl On The Third Floor. Liam talks about his mixed history with this film, in that he thinks it should be good, but he doesn't enjoy it at all, including the performances, the way the film half-heartedly explores complex themes, the pacing, etc.
Chris talks about how he was unexpectedly frightened by the film and it engaged him, although he agrees with Liam that it doesn't fully engage with some of the themes in it, as well as being disappointed with CM Punk's performance given the fact that Punk is quite capable of playing somewhat shitty characters.
We talk about how there were parts of the film that were quite effective, but the film failed to tie up all the loose threads in the end. Justin talks about how the film attempts to utilize the Stephen King "Bad Place" technique where locations become characters in and of themselves.
First and foremost, thanks to Chris for every amazing thing he has done for this podcast and the other podcasts on this network. Head to www.xlvacx.com and check out his IG at @the_lvac to follow everything he does. Also, thank you for listening and to everyone and anyone who donated on Patreon, checked this episode out, or shared a tweet/shared a post on FB/gave us love by recommending us to someone. We love you forever for listening and donating. Any questions, comments, suggestions for movies and guests, or if you yourself want to join us for a movie viewing or even an episode, can be sent to [email protected]. We would love to hear from you! Thanks always to Justin Miller, Jacob Roberts, Paul Sharkey, and Doug Tilley for their technical contributions and fliers, Mike Smaczylo for the shirts and fliers (you can check more of his work out at here), and also thanks to Josh Alvarez for the theme song, Chris, Brad, and LVAC for the support and buttons (check them out at www.xlvacx.com and on Twitter), Essex Coffee Roasters (www.essexcoffeeroasters.com) and a HUGE thank you to anyone who retweeted us or shared something on Facebook that we posted. Follow us on Twitter and Instagram at @thehorrorbiz666, like us on Facebook at facebook.com/thehorrorbiz66, check out our Spotify account at Cinepunx, and remember to rate, review, and subscribe to us on ITunes. In fact, if you write us a review, email us with your mailing address and we'll send you some free pins and stickers!  Check out www.cinepunx.com for more info on some of our other podcasts, some ultra stylish Cinepunx related merchandise, and how you can donate to our Patreon! Until next time, thanks!