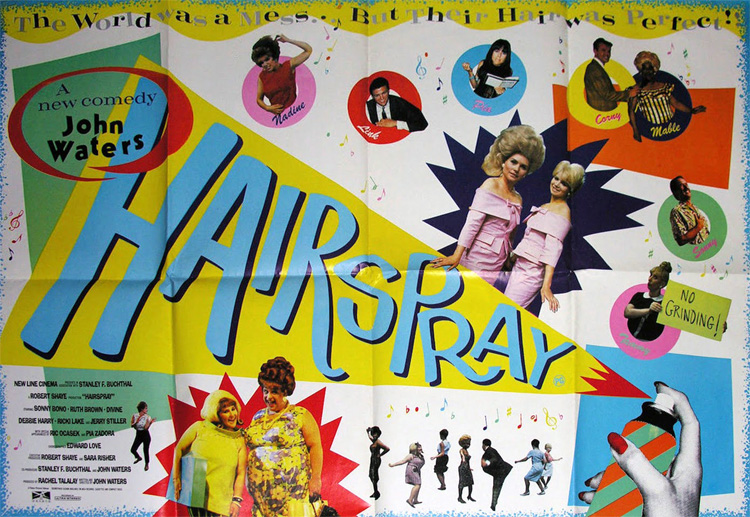 "Hairspray," by Rachel Sweet, from Hairspray
Despite its many iterations — musical, movie musical, live televised musical — John Waters' original version of Hairspray, released in 1988, remains the best. Now, I'm a fan of musicals, and I'll admit the Tony-winning Broadway version is pretty damned solid, with opening number, "Good Morning Baltimore," being the best of the bunch. I'll even cut some slack to "You Can't Stop the Beat," despite it being almost insipidly cloying.
That said, Waters' film is just so perfectly bizarre and fun and joyous, with a perfect selection of Cameo Parkway R&B sides soundtracking everything. The plot, if you've never seen any of the various iterations, revolves around Baltimore teenager Tracy Turnblad getting on The Corny Collins Show, dancing, then becoming more racially aware, dancing, fighting for integration, and more dancing.
The movie's loosely based on Waters' remembrances of a real Baltimore teen dance program, called The Buddy Deane Show. There's a great essay about the show in his 1986 book Crackpot, entitled "Ladies and Gentlemen … the Nicest Kids In Town!" You can definitely see the roots of Hairspray in Waters' enthusiastic essay, especially in a quote from Helen Crist, "the best little jitterbugger in Baltimore:
"'I'd hook and have to dance in the back so the teachers couldn't see me,' says Helen. 'I had to get up there on time. My heart would have broken in two if I couldn't have gone on.' Finally Helen quit Mergenthaler (Mervo) trade school, at the height of her fame. 'The school tried to throw me out before. I couldn't be bothered with education. I wanted to dance.'"
Remind you of anyone?
But the soundtrack is really what holds up the most. Waters' movies always have scads of great tunes, and Hairspray may be the absolute pinnacle. Hell, there's enough stuff from the film which never made the actual soundtrack for a second volume the equal of the first. For all the '50s and '60s cuts, there's also one original song, by Rachel Sweet, and it's the titular cut, "Hairspray," featuring Blondie's Deborah Harry, who plays Velma Von Tussle, mother of Tracy's nemesis, Amber.
The song is titular in both senses of the words — not only does Sweet's song have the same name as the film, but it plays under the opening credits, setting the scene as the movie gets rolling. It's absolutely catchy, and does a solid job of both homaging the era in which the film is set, as well as kicking in just a hint of '80s new wave. It's "Be My Baby" by way of Bananarama, which oughtn't surprise anyone who is familiar with either of Sweet's albums on acclaimed UK indie, Stiff Records.
There's a music video for it, which I literally had never seen or knew of until a couple of weeks back. It's not available in any sort of official capacity, and the VHS rip available on YouTube only adds to the charm. There's tons of dancing and clips from Hairspray itself — par for the movie music video course — but sadly, nobody from the film makes even the briefest of cameos in Sweet's video. Still, it's pretty cute — especially the costumes, and especially the guys dancing in the hairspray canisters  — and makes for a nice aspect to the film that I wasn't familiar with.
Rachel Sweet would go on to work with Waters again for his follow-up to Hairspray, the 1990 comedy musical, Cry-Baby. Sweet provided the singing voice for Amy Locane's female lead, Allison Vernon-Williams on covers of such '50s doo-wop classics as "Mr. Sandman" and "Please, Mr. Jailer." She also recorded the theme song for Nickelodeon's Clarissa Explains It All. She now works in television production.
Check out a clip of the Buddy Deaners dancing "The Madison" in this clip from Maryland Public Television.