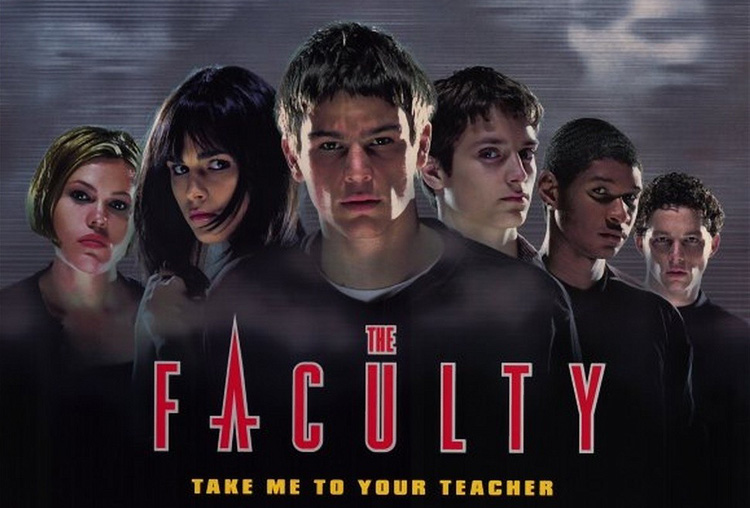 "Another Brick in the Wall (Part 2)" by Class of '99 from The Faculty
https://www.youtube.com/watch?v=oRpQxilL54I
When I re-watched The Faculty a few weeks back, I came to the conclusion that it's basically the epitome of the late '90s: an angsty film which focuses on the underdog kids, directed by Robert Rodriguez, and featuring an alt rock soundtrack. It's most similar to the likes of Disturbing Behavior, but could also fall in line with the likes of The Craft. 
It's weird to revisit a movie like this, which is essentially one of those things that brings up memories for those who saw it when it was a thing, but fall in a sort of gap, where it never really made it into the rotation of pay-cable repeats, and also ended up at the tag end of VHS, right before the advent of DVD.
Look at the cast: Elijah Wood, John Stewart, and Salma Hayek — in a smaller role than Robert Patrick, who's ostensibly the lead — are all kind of the big names, but there's also names that scream "1990s!" louder than anything, like Josh Hartnett, Clea DuVall, and Jordana Brewster. It's kind of the sort of movie that looks like it's a modern direct-to-video release, but actually managed to be a really solid minor hit.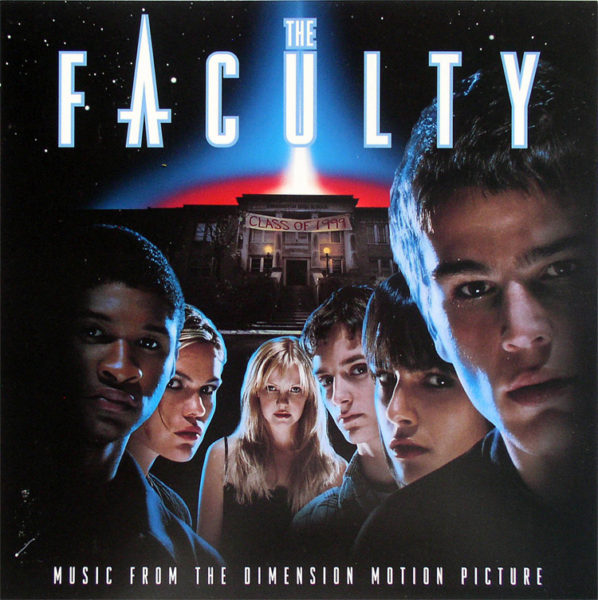 The soundtrack's a pretty decent collection of bands from that era, with the Offspring' "The Kids Aren't Alright" that opens the movie becoming a minor hit of its own, to the point where the band included it on their fifth album, Americana, when it came out the following year. There's also Soul Asylum covering Alice Cooper's "School's Out," and perpetual soundtrack stalwarts Stabbing Westward, but the real musicians of interest are the one-off (or, rather, two-off) band, Class of '99.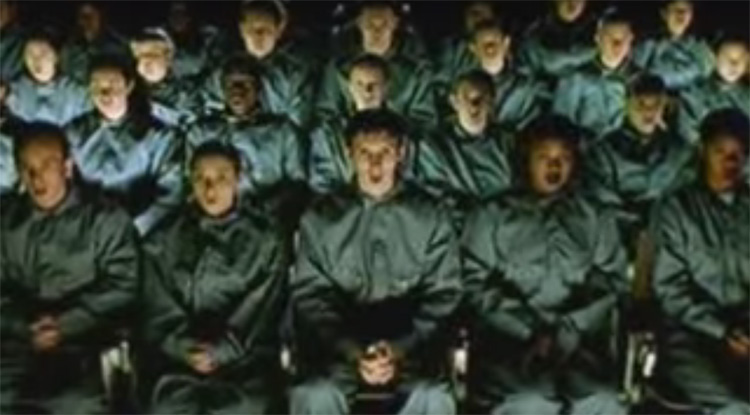 Class of '99 recorded two songs, both for this soundtrack, and they're both Pink Floyd covers. They're essentially just two parts of the same song, depending on whether you want to look at "Another Brick in the Wall" as three songs, or one suite broken into three parts. "Another Brick in the Wall (Part 2)" is the vocal portion of the song / suite, which is why it comes first on the soundtrack, even though chronologically, it doesn't quite work out that way in the film. Anyway: for about nine and a half minutes, Layne Staley from Alice In Chains sang in a band where Tom Morello from Rage Against the Machine played guitar with a dude from Jane's Addiction and another from Porno for Pyros on bass.
The band took its name from Class of 1999, a movie about teachers being replaced by simulacra who violently suppress any change, which is a killer allusion to make, especially in 1998. And, honestly, playing the Pink Floyd song which features the lines, "Hey! Teachers!/ Leave those kids alone," which probably better sums up the entirety of The Faculty better than anything else.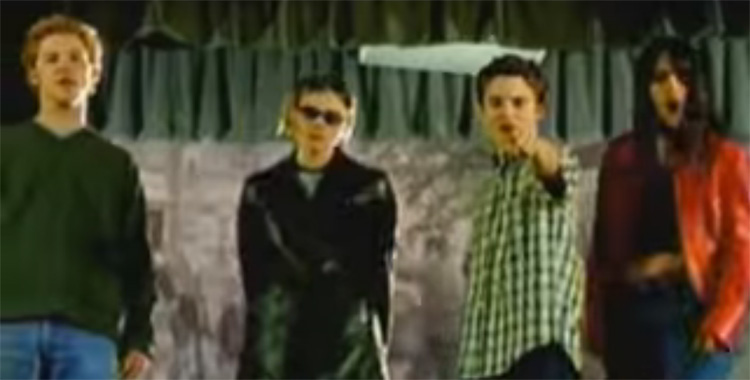 The video is … well, it's a thing. It ties the song and film together, mostly through the use of clips. You don't really see any of the cast actually in the video, which — upon closer inspection — resembles The Wall. It's basically a live-action version of The Wall. Not particularly subtle, but the students rioting against the teachers does tie in nicely. You also get four of the film's young leads — Wood, Brewster, DuVall, and Shawn Hotosy — showing up to shout the "Hey! Teachers!" lines at Robert Patrick as he stands at the front of an auditorium and looks creepy. However, that bit lasts for (and I timed this) 15 seconds. So, given that even those fifteen seconds are intercut with film clips, saying the actors are in the video for ten seconds is being rather generous. 
The song's not a bad cover, but ultimately unnecessary. Morello does a solid job of mucking about with the intro in Part 1, but this is basically just a bunch of dudes who popped into the studio, recorded this, and were out. However, given that there are three other covers on The Faculty's soundtrack — the aforementioned Soul Asylum version of "School's Out," as well as another Alice Cooper cover ("I'm Eighteen," as done by Creed), and Shawn "Lullaby" Mullins doing Bowie's "Changes" — this really isn't so bad. 
Interesting and creepy facts about this particular recording session: it was, in fact, the last thing Layne Staley ever recorded. It was recorded in 1998, and while the Alice in Chains singer didn't die until April of 2002, his drug abuse was so bad that the footage of him in this video is taken from a Mad Season concert three years prior.