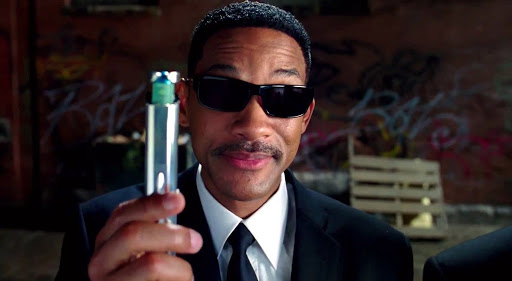 Will Smith's "Men in Black" from Men in Black
Thanks to the social distancing measures in effect across most of the country, there will likely be no public fireworks displays in your neck of the woods. So, unless you have jackass neighbors like mine who have been blowing shit up since the middle of June, the best hope for seeing explosions and bright shining lights will be to check out this music video double feature, with the one and only Will Smith.
Fuck. I hate myself for writing that.
Still, for the better part of the late '90s and early '00s, a Will Smith movie was a definite 4th of July box office draw. Starting with Independence Day in 1996, and continuing on with Men in Black in 1997, Wild Wild West in 1999, and through Men in Black II in 2002, Smith was the star for the weekend. Oddly enough, despite being fairly big summer hits, Bad Boys II and I, Robot actually came out in mid-July, after the big holiday weekend.
However, thanks to that early run, the actor quickly became attached to the holiday, likely due in no small part to the massive success of the aptly-titled Independence Day, which was the movie which took Smith from successful actor to full-fledged movie star. It wasn't until the following summer, however, that Smith would begin an equally successful solo music career, releasing a string of singles which would take over the Billboard charts.
I don't know if I need to explain this, but I suppose it's possible that there are folks reading this who might not be familiar with the fact that Will Smith was originally a well-known rapper, much in the same way that there is still the occasional person who's like, "DID YOU KNOW THE GUY FROM THE FOO FIGHTERS WAS IN NIRVANA?!?" So, anyhow – prior to The Fresh Prince of Bel-Air, Will Smith was just the Fresh Prince, one half of the hip-hop duo, DJ Jazzy Jeff & the Fresh Prince, who were known for catchy yet harmless pop rap.
Thanks to a singles like "Girls Ain't Nothing But Trouble," "Parents Just Don't Understand," "A Nightmare on My Street," "I Think I Can Beat Mike Tyson," and their attendant videos, the pair danced on the precipice of being a novelty act, but the late '80s and early '90s were some of the last years where such a thing could be a positive, not a negative. Then they released "Summertime" in 1991, The Fresh Prince of Bel-Air premiered in 1992, and aside from "Boom! Shake the Room" in '93, that was pretty much the end of the duo's chart run.
Back to the flicks.
When Men in Black came out in 1997, it was accompanied by Will Smith's debut single as a solo artist, the eponymous "Men in Black." Even though I remember the song being played incessantly that summer, it seemingly never broke into the Billboard Hot 100. However, it did reach #1 on the Radio Songs charts and #2 on the Mainstream Top 40, so it was certainly being spun for all its worth. The song, for better or worse, became innately tied with the series, down to the fact that an instrumental version of the song was played over the closing credits of Men in Black: The Series, an animated series on the Kids' WB that ran from October '97 through June '01.
The music video for "Men in Black" features Will Smith as Agent J, his character from the film, along with a bunch of other agents in a room where they're doing all kinds of weird experiments. The song is 100% the plot of the movie, which you would think makes this one of my favorite pieces of music ever, given my profound love of credits songs whose sole purpose is to recap the flick you just saw. Sadly, due to over-exposure at the age of 16, I'd completely blocked all of this out and didn't even realize that it was a plot summary song – and a rap plot summary song, no less – until I revisted these videos a week or so back.
There's a column the Ringer did about the time Men in Black: International came out, and they absolutely nailed the song:
"Summertime" (1991) was Will Smith's peak as a rapper; post-Fresh Prince, rap evolved and he didn't. But give credit where credit is due: The song "Men in Black" was the absolute perfect vehicle to promote the film. The premise of the entire movie is laid out in the verses and hook.
At one point, an alien gets out. It's Mikey, the alien Tommy Lee Jones' Agent K is forced to subdue at the beginning of the film itself, and displaying a singing voice which is much better than his grasp of the Spanish language, thanks to the fact that it's the voice of SWV's Coko, singing the hook. The CGI used to animate Mikey in the video is also way, way, way lower quality than that of Men in Black the movie, meaning that the dancing alien looks like something which might've been used as a partner for the Dancing Baby – which, it just so happens, was created the year prior.
This is crazy, because when the Hollywood Reporter did a story on the video for the Men in Black 20th anniversary in 2017, it was revealed that it cost a million dollars, and the process required to render Mikey for the short period of time he's in the video took weeks. The alien and Smith do the Electric Slide, which is probably the image which sticks in your mind if you're at all familiar with the now 23 year old video. It was so successful, Smith would go on to do it on a much bigger scale when in 2002, we'd get Men in Black II.
Before that, the song would earn Smith a Grammy for Best Solo Rap Performance, and Men in Black: The Album would go triple platinum. In addition to launching Smith's solo career, the soundtrack also features the debut tracks from Alicia Keys and Destiny's Child – "Dah Dee Dah (Sexy Thing)" and "Killing Time," respectively.
After Men in Black, Smith would also record a song for the end credits of 1999's Wild Wild West, which was also eponymously-titled. That song – featuring Kool Moe Dee and Dru Hill – will get its own column somewhere down the line, because the video really is something to behold.
"Men in Black" would find its way onto Smith's debut solo record, Big Willie Style, in 1998, which would spawn the even-bigger hit, "Gettin' Jiggy wit It." Then, much like it's predecessor, 2002's Men in Black II would go on to spawn a single and a video, with the less-succesful but still decently popular "Black Suits Comin' (Nod Ya Head)."
Will Smith's "Black Suits Comin' (Nod Ya Head)" from Men in Black II
While Men in Black II was a success, its larger budget and smaller box office meant that it wasn't quite the phenomenon the original was. The same can be said for Smith's tie-in single which, to me, seems in retrospect to be a knock-off of the Shot-Caller Remix for Sean Combs' "All About the Benjamins." Given that the then-Puff Daddy released his song in 1997, and "Weird Al" Yankovic would parody it in 1999, a rocked-up hip-hop song with a crooned hook came across as supremely-dated in 2002. Nearly two decades on, it feels nearly toothless, given that Puffy's rock remix for "The Benjamins" featured the Replacements' Tommy Stinson and a "Yeah!" roar from Rob Zombie.
The song is also really, really, really, really, really repetitive. I do this column for fun, not money, so ain't nobody paying me to count the number of times "nod ya head!" comes through in the lyrics, but it sounds like it's more than 50% of them (for the record, according the official lyrics, it's 18 times). It's earwormy, but not catchy. It's insidious. Frankly, I'd rather listen to "Miami" a dozen times than this song once.
That said, the video is way better than that for "Men in Black." The dance is fairly lame, but by this point, Smith was in his mid 30s, so maybe doing an elaborately-choreographed sequence was outside his wheelhouse. There's also a lot more closeups and crazy special effects, making this more of a grandiose spectacle as a whole than an intimate video.
The break toward the latter third, where the young woman jumps onstage and turns into an alien whose tail smacks Smith's sunglasses into the crowd, which are then handed back to him by an adorable little girl (played by Willow Smith) is pretty entertaining, and a nice inversion of the "scary, but actually nice" Mikey from the first video. Props for not doing the same thing twice, even when you're doing the same thing twice, Will.
It's weird, because I was researching for this piece and I had assumed that Will Smith's movie soundtrack catalog was way bigger than it actually was. Aside from the the soundtracks for Men in Black, Wild Wild West, Men in Black II, and the theme song for The Fresh Prince of Bel-Air, the rest of Smith's soundtrack contribution is as a guest on Mary J. Blige's "Got to Be Real" from A Shark's Tale. Crazy, right? I guess that the three hits were so omnipresent during their respective summers, I just assumed that it was every year for the better part of a decade.
"Black Suits Comin'" would, like "Men in Black," go on to be featured as part of Smith's next solo album, entitled Born to Reign, released a week before Men in Black II. Given that the album only went gold – as opposed to the multi-platinum status of its predecessors – as did Smith's 2005 LP, Lost and Found, it is perhaps unsurprising that the rapper-turned-actor hasn't done much other than guest on other people's songs. That said, his turn on the remix for Joyner Lucas' "Will" earlier was pretty solid.
I've still never seen Men in Black 3.