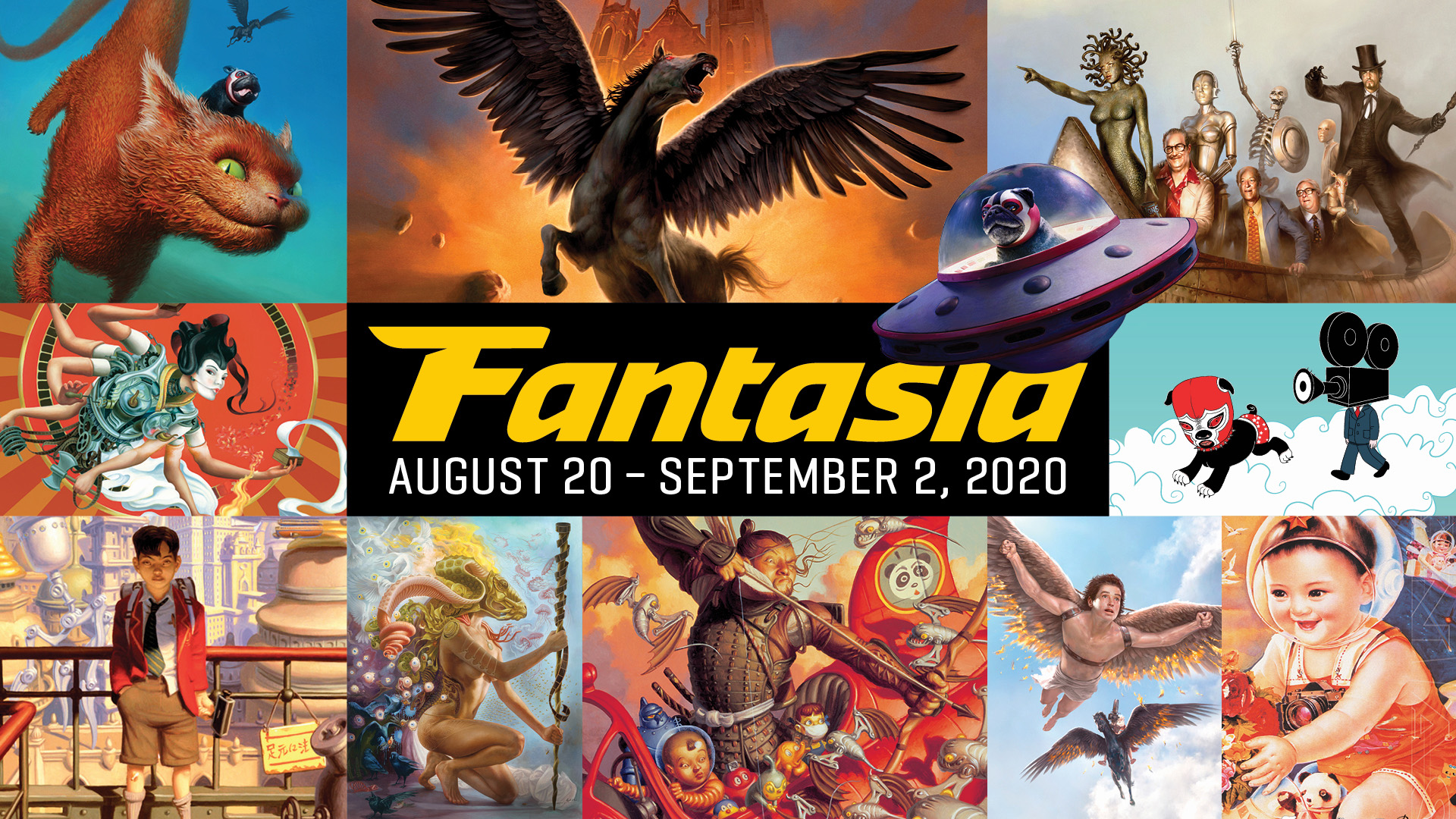 August 20 through September 2 marks the 24th annual Fantasia International Film Festival! Of course, due to the ongoing concerns about the COVID-19 pandemic, the programmers have decided to forego an in-person event this year. But not to worry! They've lined up an exciting virtual edition of the festival, with a wide array of funky genre films from all over the world, and Cinepunx is thrilled to come at you with some great festival coverage. Join me (Bryan Christopher) and Nick Spacek as we take our first foray into the realm of Fantasia. Nick, there's a lot of interesting stuff in the line up this year, isn't there?
There is! I'm kind of astonished by the sheer array of possibilities. While Fantasia's always been known for its genre titles and other films which really push boundaries, this year has me being intrigued by almost every title the festival has announced. Going through and picking five titles was a really difficult process. It's entirely possible to compile a list of the standouts in multiple categories, be it horror, documentary, action, sci-fi, and more — and each of those lists would make for a top notch top five.
Indeed, but alas we are but two humble writers, so let's keep things manageable shall we? Let's give our list of the five movies we're most anticipating from Fantasia this year, and see if we can turn folks on to some of the coolest stuff we've got our eyes on? I'll kick us off, in no particular order:
Bryan's Picks:
Nick's Picks:
12 Hour Shift

: Brea Grant's sophomore feature,

12 Hours

— which she wrote and directed — is both a black comedy and a heist movie, and it's set in late '90s Arkansas. Add in that Nurse Mandy (Angela Bettis) is a drug addict in an organ-harvesting scheme, and I'm in. Single-setting films in a tight timespan are ripe for maximizing tension, and an overnight shift in a Southern hospital has the potential to burst open.
Kriya:

You had me at "strange and wondrous nightmare odyssey of ritual magic," but the recent spate of films dealing with sitting by the body of the recently passed, and the possibilities therein have only heightened my desire to see Sidharth Srinivasan's tale of a familial curse. I'm intrigued by the fact that boutique label Mondo Macabro has a hand in

Kriya

, as well, given their unique abilities to bring worldwide genre films out of obscurity and rarity to the masses.
The Oak Room:

Nesting stories within stories, and applying flashbacks and digressions, it's readily apparent that director Cody Calahan's screen version of Peter Genoway's script was adapted from a play. It's billed as starting with a "riveting spoken pas de deux" between  Paul (Peter Outerbridge) and Steve (RJ Mitte) at a Canadian small town bar, after all, but as films like

True Romance

and

Inglorious Bastards

have revealed, two people talking can build tension just as effectively as a roomful of guns or a world filled with monsters.
The Columnist:

Columnist Femke Boot's (Katja Herbers) "desire to shut her critics up – permanently" might seem a little too on-the-nose a "must-see" viewing recommendation from a pop culture journalist, but so be it. Director Ivo van Aart and writer Daan Windhorst seem to have crafted a film which takes the final moments of

Jay & Silent Bob Strike Back

and stretches them out to feature-length by way of

Serial Mom

, but I am 100% on board with the idea of this kind of wish fulfillment.
Survival Skills:

When done right, fake VHS videos drop the viewer into the past and create a new world from familiar materials. Writer-director Quinn Armstrong's feature debut looks to do that and then some with this unravelling police training video. A "delicate situation careening hopelessly out of control" is perfectly timely, and hosting duties from the one and only Stacy Keach only make me want to see this even more.
Of course, there are far more films than just the 10 we've highlighted here — Shin'ichirô Ueda's follow-up to One Cut of the Dead, Special Actors; director Natasha Kermani's Lucky, which stars and was scripted by Brea Grant; Troma's take on Shakespeares' The Tempest, #SHAKESPEARESSHITSTORM; the murderous pants horror of Slaxx; and Bao Tran's kung-fu revenge picture mixed with Mystery Team, The Paper Tigers, to name but a handful.
There are also live events, and to summarize those would take forever, but do keep an eye out for Severin Films Presents: Narratives Of Resistance In Folk Horror, the John Carpenter masterclass, and Score Salvations: The Art Of Saving Soundtracks, to name but a few of the very intriguing panels on offer. The vast majority of these are free events, meaning they'll be available to the general public. If you had an opportunity to catch anything which went down during San Diego Comic-Con@Home, you know that these live-streamed events can end up being a really satisfying way to spend an afternoon or an evening.
Check back throughout Fantasia for our reviews of films and events!