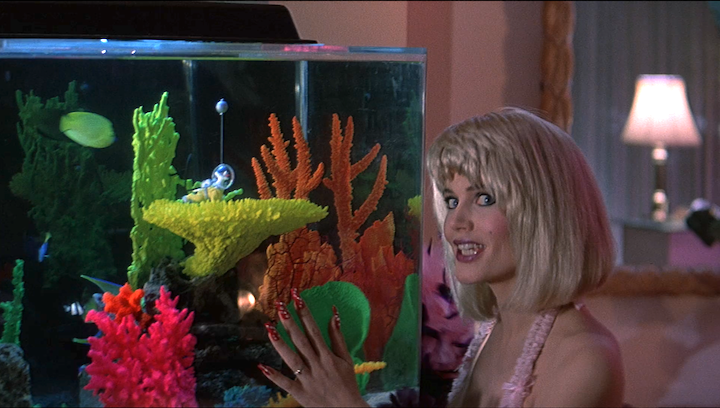 Contemporary reviews to the 1989 Cult Classic EARTH GIRLS ARE EASY are, politely, not terribly kind. Cult Classics are, as a rule, not appreciated when they're released. Some reviewers, like Roger Ebert, sort of got it off the bat calling the film "lighthearted and goofy"; others miss the proverbial pool float entirely, harping on the vapidity of Geena Davis's Valerie and her air-headed boss, Candy, played by the film's co-writer Julie Brown.

That Valerie is, frankly, an idiot is the film's entire point. Davis herself is so smart– literally, she's in MENSA– that she plays the affable dimwit with the earnestness of your childhood golden retriever. Her house is filled with toys– every landline telephone notably a novelty, from big, red kissy lips to a mallard; there's a martini-shaped table in the hallway– and she shows up to work late every day, drying her nails with a portable hair dryer in her electric blue convertible Mustang. With singular focus, she's so hot and heavy for her doctor fiancé, Ted, whom she's marrying in a month, that she can't tell the obvious– that his late nights are spent not in the E.R. but "examining" at least one nurse.
By the time we get to the scenes of Valerie trussed up in 80s lingerie and a spectacularly bad wig, we're in love with her ourselves. She's positive that surprising her future hubby while cosplaying as a sultry blonde will jumpstart his interest, but instead, she just catches him playing "Doctor Love" in his boxers with the aforementioned co-worker. Valerie is justifiably crushed, confronted with a reality her last remaining brain cells could never imagine– that her carefully manicured life is coming apart.
For all its SoCal ditziness and bodies-on-display nakedness, EARTH GIRLS ARE EASY honestly posits something uncanny in a film released in the "Greed is good", second-wave feminist 80s, around the same time as Melanie Griffith's classic WORKING GIRL and Diane Keaton's BABY BOOM– that the dumb slut in the bikini is just as worthy of healthy, respectful relationships as the smart, hard-working woman in a suit.

Valerie and her friends' welcoming horniness is their defining characteristic. Hanging out with her boss Candy, Valerie declares that she hasn't gotten down with Ted in two weeks, lamenting, "at the rate we've been having sex, we might as well be married already!" Candy is aghast. Later in the film when fellow Valley Girl partiers ask why Valerie is so uptight, Candy whispers into their ears, and they declare, "Two weeks!", equally as appalled at Valerie's mood-altering dry spell.
And it's not as if Valerie isn't a product of her time– she does work, and is committed to her job, even if she is "just" a manicurist, preparing herself for a weekend at a "cuticle convention" to learn more about her craft. Sensing even a whiff of sex, she pops her birth control pills like Pez. She may not be a business lady in an Armani skirt suit, but she is an adult woman in the reign of Reagan.
But for someone like Valerie, all sincerity and smiles, not just any man will do. Though she greets her alien visitors with lunch and the use of her facilities, once they're de-fuzzed and total babes, she rebuffs the idea of taking them out on the town. Wiploc, the red alien, and Zeebo, the yellow, are played by the extremely young and surprisingly handsome Jim Carrey and Damon Wayans, but their lack of suavity leaves Valerie cold. It's not until blue-furred Mac– the alien ship captain who saved her from drowning– emerges from his tanning chamber in Candy's salon, all smooth and gorgeous played by bedroom-eyed Jeff Goldblum, is Valerie questioning her commitment to making it work with Ted.

Candy takes her new friends to a club, and while Wiploc and Zeebo are ready to eat at the buffet of babes before them, Valerie finds a secluded terrace prompting Mac to come and find her, wooing her with jazz piano and concern for her feelings. She explains her situation, and then in dejected earnestness about how all she wants is a "Mr. Right– Mr. Right is like the guy you dream of meeting ever since you're a little girl. You'd go anyplace or do anything to be together. He feels the same way because you're right for each other." Mac, despite his lack of English skills, seems to understand perfectly.
Valerie returns home with her trio and has a confrontation with Ted, ending with the Doctor being hauled off in handcuffs. Valerie's feelings are being teased like sky-high bangs. She goes to her room to sulk, and Mac follows up:
MAC: Is Ted coming back?
VALERIE: No. Ted doesn't want to come back. I don't know what Ted wants, but it's not me.
MAC: What does Valerie want?
VALERIE: I don't know. I just want to be happy.
MAC: Mac could make Valerie happy.
VALERIE: Thanks, but I don't think anybody could make me feel very good right now.
MAC: Mac could make Valerie feel very, very good.
This is, of course, music to Valerie's ears and she and Mac delve into a very weird 1980s love scene, aided by Mac's supernatural love-touch that turns any Earth being into a puddle of goo. But like any 80s Alpha Male, Ted can't stand to lose first prize, even though he's already collected a second- and third-place trophy on the side. He tries to win back Valerie, and she gives her fiancé the world's greatest fingernail-focused relationship metaphor:
VALERIE: A relationship is like a porcelain nail… You can break it, you can glue it back together, but it won't be as strong as before unless the person's committed and not bringing home nurses!
Through a slapstick comedy of errors that includes a cameo from Angelyne– Los Angeles's walking, never-talking icon of sexiness– Wiploc and Zeebo are delivered to the Emergency Room of Doctor Ted, who discovers their big secret. Worried that her cutthroat beau is going to slice and dice her new friends, Valerie and Mac save the pair by convincing Ted he's imagining the extra-terrestrial nature of his two patients, and head back to the yard to make a getaway. There, Ted finds the spaceship and Valerie reveals the truth– that they are actually from outer space.
Ted begins to freak out about "contamination", insinuating that his loving and open future-wife might be sullied from contact with another, albeit extra-terrestrial, man and Mac zaps the Earthlings with his "love" powers, hoping to remind Ted of his feelings for his intended. But as Ted falls to the ground in rapture, Valerie stands on her own two feet, watching him make a scene.

The love-shock just won't work when her heart belongs to someone else– the formerly blue, furry monster from outer space who offers her his hand, asking sincerely and hopefully, "I am Mr. Right?" to which he gets a resounding, "Yes!"