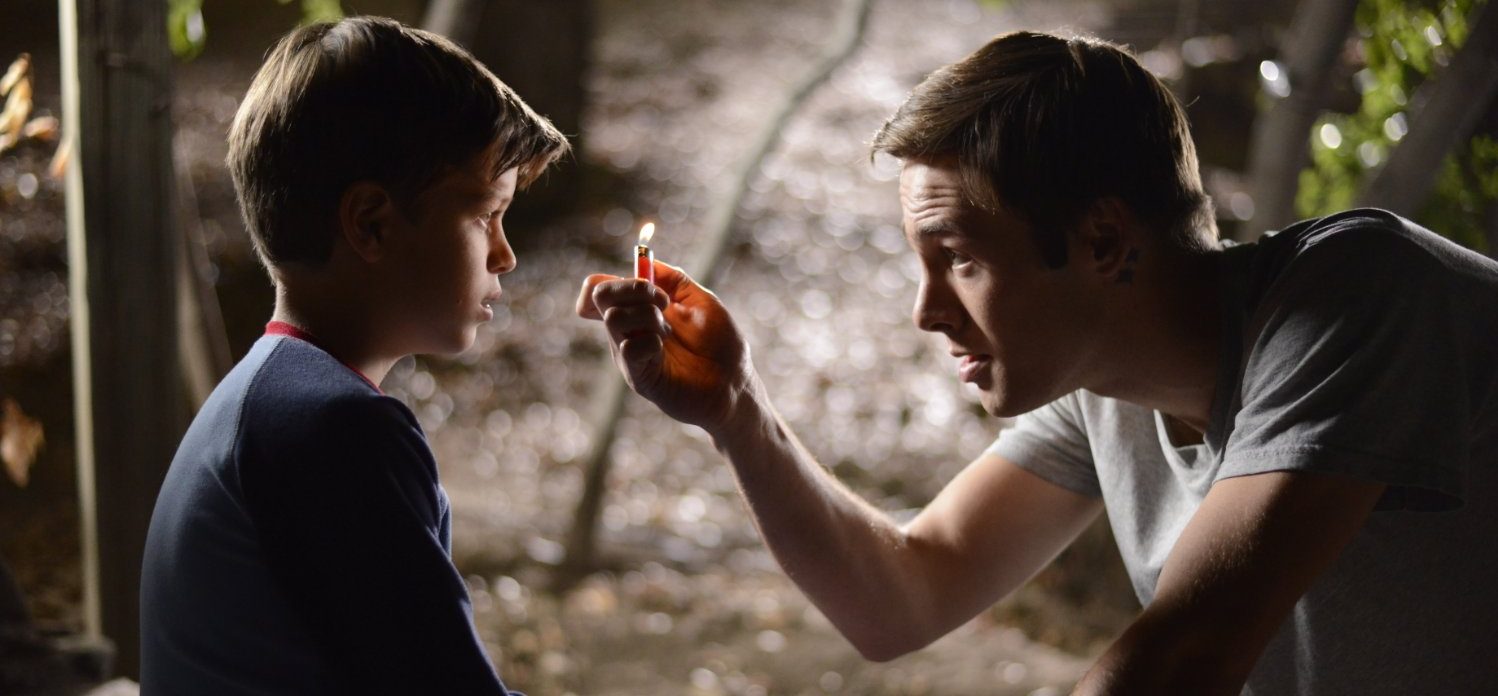 The 2017 Atlanta Film Festival kicks-off Friday and I figured – what better what to initiate coverage than with the first in a series of special ATLFF "Chewin' the Fat" conversations. www.atlantafilmfestival.com
My favorite aspect of film festivals is being introduced to talented folks I'd never heard of before. Such was the case with actor Matt Fahey, and his performance in Tamlin Hall's Holden On (world premiering at ATLFF) made me stop and say, "I gotta chew the fat with him." He grew up in rural Connecticut, shot this film in rural Georgia, and took the time to talk with Cinepunx about those correlations, building forts in the woods, and just how much he loves Stand By Me.
Your role in Holden On is a complex one, right? Not only are you required to convey the many behavioral changes Holden undergoes, but also do so over a signifcant span of time. Basically, you're going from A to Z in about 90-minutes. How do you prepare for something like that?
From the beginning, I started by saying 'yes.' Yes to the story, yes to the character, and accepting all the history, relationships, and influences that came with it. Tamlin really was the biggest guide through the whole process. We worked for six months beforehand, breaking down the script scene by scene, finding the humanity beneath the illness, and bringing the human qualities to life – a lot of research into mental health and trying to understand what victims have to deal with on a daily basis. Trying to pinpoint certain transitions in their lives.
I know a lot of actors who love having that much time to really get inside a character's head, but I also know others who want more spontaneity and less preparation. Are you one particular type versus another?
I'm all about doing the homework and then letting it go to be in the present moment. There's definitely a lot of spontaneity in Holden that I found by knowing the circumstances and, then, just being present; living with other actors or myself in my surroundings. So it's a mixture of the two.
How did this role come to you?

Last time I answered a question similar to this, it went on forever… so let's not do that again. Holden, to me, is truly a story every actor dreams of sinking their teeth into. I couldn't get my mind off it. I sent an email to Tamlin after I hadn't heard back. Tamlin responded and we sat down a couple times over lunch to discuss the film.  I helped put a table read together through the acting studio I was in during that time and the rest is history!
Rural Georgia is not commonly represented on screen, especially in ways that aren't cliché or offensive to the communities portrayed. Here, it's just another place, with the same people and problems as anywhere else. What was it like shooting in such a specific community, and what kind of work did you do to make yourself fit in to it so seamlessly?

I grew up in a very small town in Connecticut, similar to LaGrange. It reminded me of home and the people in the town were so supportive and accepting. THEY made the transition seamless.
I grew up in a small town in Alabama called Pisgah – also similar to LaGrange in a lot of ways. People in rural Southern towns always seem so surprised that anyone would want to tell their stories on film. This might be less a question for you and more for the director, but did the production utilize a lot of local folks for the cast and crew?

Oh man, this is the best part. The entire town of LaGrange came together to make this film happen. From members of the crew, to meals being donated, to some cast being from LaGrange or studying at the college, to the hundreds of extras on set, to the chamber of commerce helping. We made this film in LaGrange WITH the entire TOWN of LaGrange.
Growing up in rural Connecticut – how did movies factor into your life? Were you a cinephile from a young age or did you come into it as you got older?

I grew up wanting to do everything my older brothers were doing. I played a lot of sports and ran around making forts in the woods. My parents and my brothers had excellent taste in film, so it transferred to what I viewed. When my brother booked a role on Broadway, that was a significant moment where I decided I wanted to be an actor. That's when my study of film began.
Did you follow your brother's footsteps into the theatre? If so, what was that scene like in small-town Connecticut?
I stepped into his place when he went and did Broadway in a production of Joseph and the Amazing Technicolor Dreamcoat at the Thomaston Opera House. Theater is definitely something I want to do more of in the near future. Just not musicals. I wish; I just can't sing so the windows may not be intact after all said done!
What were the films that really made an impression on you at a young age?

Oh man… my friends always laugh because I fall asleep at the movies. The first film I saw that influenced me was Stand By Me. As a kid, it took me on a journey away from the couch straight into the characters' world. Saving Private Ryan, Brick, and any Coen Brothers film are also a very small few, of many, I admire.
Holden On is one of the rare films that really attempts to portray the realities of mental illness, head-on. Was that a subject matter you could relate to on a personal level?
We wanted to make a film that wasn't just about the psychosis. We wanted to focus on the qualities behind the illness – the generosity, compassion, and acceptance that Holden shared. I feel those things are forgotten, at times, as an outsider looking in. I have had a few people in my life that I saw similarities to in the film. Those people definitely contributed to my passion for the film.
Though on a smaller scale, the film (particularly your performance) brought back memories of Richard Linklater's Boyhood. And that film, like Holden On, is all about 'change', for better or for worse. Actors undergo change fairly frequently also. How have you changed as an actor since you started working? For better or worse?

Hopefully for the better! I think all human beings are constantly in a form of change. Physically and mentally. I feel, as a species, we get wrapped up in our own lives and forget that there are people all around us going through changes, good and bad. I think as I've been able to grow up and really understand that – if you take away everything from someone, the one thing they will always have is their story, their path to the given moment they are in. To get to know that path and the circumstances, the choices, the consequences – to get them to where they are now – is a beautiful thing in it own. I have always been in awe of autobiographical stories and it was truly a blessing I was handed Holden to study.
Lightning Round…
Let's say someone walks up to you in a bar, notices you, and is all like – "Hey, it's that guy from Holden On!" And they want to buy you a drink. What kind of drink do they buy you?

Old Fashioned with Bulleit Rye.
Name a sport you enjoying watching and a sport that makes your brain shut off.

Basketball and football. Celtics and Patriots Nation! I'm a sports guy. I can watch any sport and enjoy it.
So then – what are the first things that come to your mind when I say – "ROLL TIDE!"?
A lot of people in the South are going to hate me for saying this, especially Bear Badeaux (LSU fan), but college football Dynasty! Saban's one of the greatest college coaches. I wouldn't be surprised if they could beat an NFL team like the Browns.
Describe your worst audition, in two sentences or less – more bang for the buck.

Cussing in a Disney audition was pretty bad…
What's next down the pipeline? Any upcoming projects you're excited about?

I just finished a film in Florida co-starring John Schneider, called The Favorite. Also gearing up for another feature, The Last Weekend in the coming months!
Finally: what is the one takeaway you want for folks when they see Holden On? If they leave the theater with nothing else, what do you want that one thing to be?

Compassion, generosity, and acceptance.
Holden On screens Saturday March 25th at 11:45am. The screening is SOLD OUT but you can catch my review of the film later that day and additional coverage from ATLFF17.
And, with that, the fat was chewed and there was nothing left to say. Big thanks to Matt Fahey for taking the time to chew it up with me, and extra thanks to Holden On publicist, Jeff Hare, for helping to facilitate. You can discover more about the film at www.iamholdenon.org. #ChewTheFat