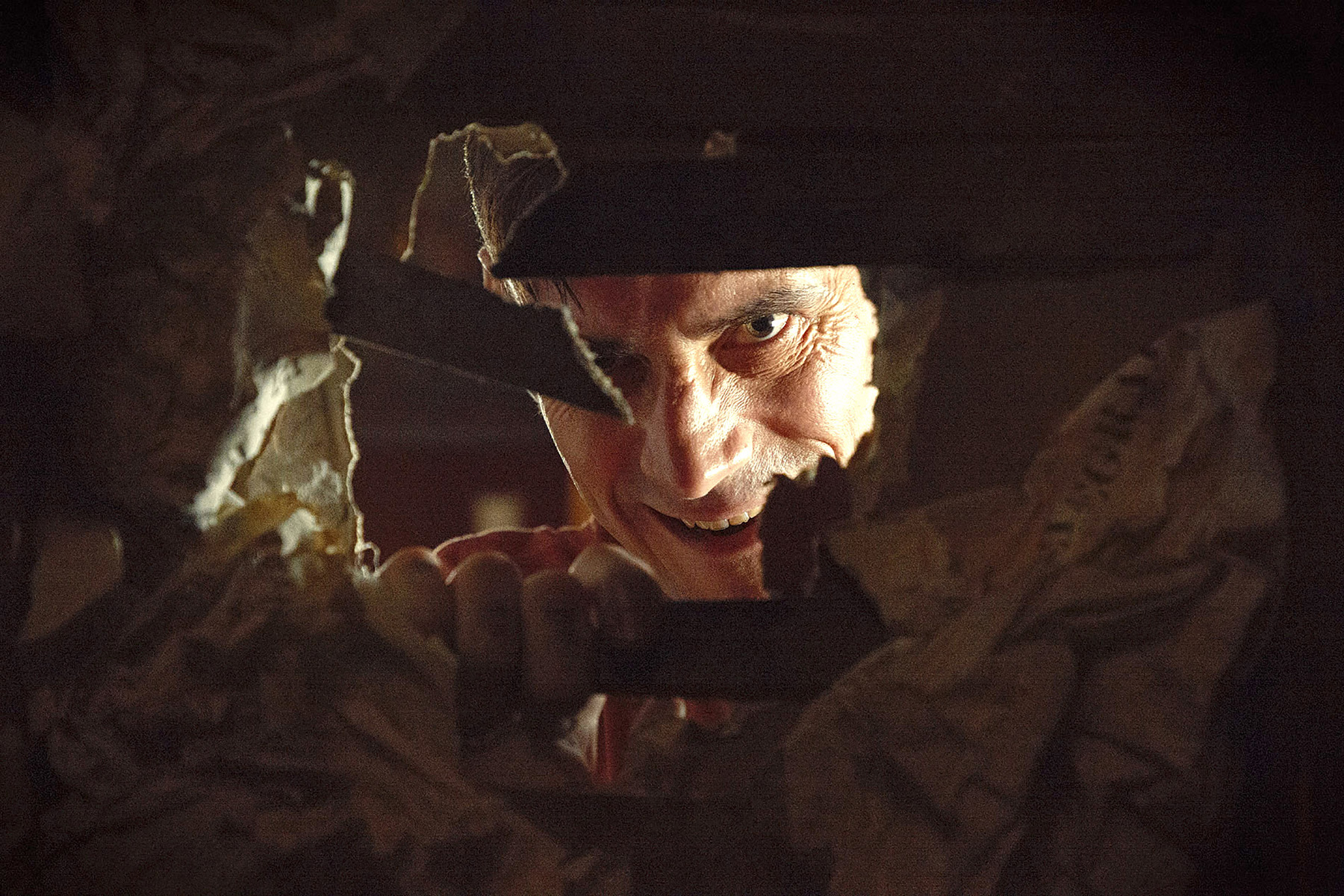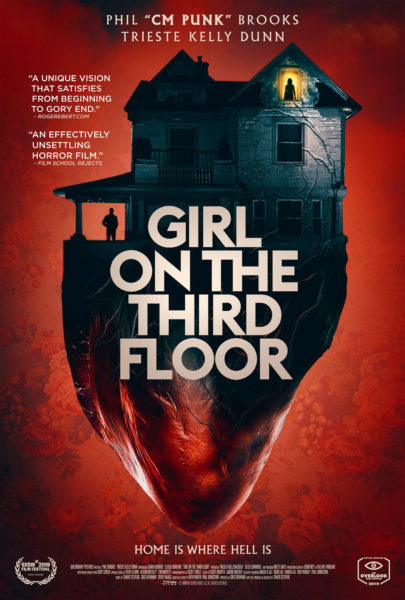 Phil "CM Punk" Brooks is no stranger to acting, having been a professional wrestler for a decade and a half. He worked his way from indie Ring of Honor to the WWE minor leagues of Ohio Valley Wrestling, and ultimately became the WWE Champion. Anyone who ever watched him cut a promo knows that Brooks could create a character which effectively wrung emotions from the viewing public.
What Brooks hasn't done is play a character created by someone else, however. That changes with the release of Travis Stevens' Girl on the Third Floor. It's fitting that the athlete's feature-length debut comes in Stevens' directorial debut, after a long history of producing some of the horror genre's finest films of the last decade, such as Starry Eyes, We Are Still Here, and Mohawk.
Girl on the Third Floor is a gooey, psychotronic mind-warp of a film, with Brooks playing Don Koch, a former lawyer renovating a house in the Chicago suburbs. As the movie begins, the viewer gets the feeling that the sins of Don's past are about to collide with the secrets of the house, and Stevens' script doesn't disappoint. Things get very uncomfortable very quickly, and as the film progresses, the renovations take a back seat to some startling revelations and terrifying set-pieces.
I was lucky enough to speak with Brooks by phone about Girl on the Third Floor, ahead of the film's screening on Wednesday, October 23, at Brooklyn Horror Fest. We discussed his familiarity with Stevens' previous work, taking on the role, and the film's Chicago ties – including Steve Albini's work on the score.
For your first movie, you've teamed up with Travis Stevens, who's produced all of these amazing horror movies. Were you familiar with his work?
Yes, I was. Not off the top of my head, but I Googled him, and realized that the things that I had seen were Jodorowsky's Dune, Starry Eyes, and We Are Still Here. So, based on those – actually, just based on Jodorowsky's Dune. I think I annoy Travis when I talk about my affinity for Jodorowsky's Dune. But, yeah: he had me at Jodorowsky's Dune, and since then, I've gone back and watched the rest of his catalog. I did not make a mistake doing the work with Travis.
What I found really interesting about Girl on the Third Floor is that it was written specifically for the house in which you filmed it. How does it work for you as an actor, when the film is that specific?
I just think it's an interesting way to approach things. Everything starts with an idea, right? The idea being a house, this central location. I thought it was fascinating. We got to not necessarily leave the set the way that we found it. We got to wreck things.
It didn't affect the way I approached the character or anything like that, because I separate the character from the house, but as the story unfolds, the house reacts to the character's decisions and reveals as much of the character as the character is revealing of the inside of the house.
Speaking of getting wrecked, you get covered in everything.
Yep. Ectoplasm, Travis told me it was.
Coming out of the walls, coming out of the faucets, coming out of the light sockets – that's some nasty stuff.
Yeah, but it was fun. I think a lot of people are drawing up Bruce Campbell parallels, because Sam Raimi abused Bruce in the Evil Dead movies – Army of Darkness and stuff like that – and I'm clean-shaven and I got a little bit of a chin on me, so I think I resemble Bruce a little bit, but I'm flattered at the comparisons and the parallels.
Comparisons and parallels are something else I wanted to discuss, because you – as a straight-edge individual – playing a guy who's falling right off the wagon, I like that the fact that it gives you an opportunity to really play against type in your first feature role.
Absolutely. I really got to stretch my legs out – especially as an individual who a lot of people will look at as a pro wrestler jumping into the horror genre. I felt really free. The drinking and the smoking and all that stuff – I really got to play against who I am, as a human being, and oddly enough, it made me feel more comfortable.
Because you got to play a role, as opposed to someone who's just one step removed from you?
Yeah, I really felt like I was immersed in this character. Like – for lack of a better description – dressing up as someone for Halloween.
In terms of parallels to your actual life: as a Chicago punk rocker, did the idea of Steve Albini working on the score appeal to you? Were you a Big Black person, or were you more of a Naked Raygun / Pegboy sort of person?
All of the above, because Steve Albini just resonates Chicago. Along with Travis' name and MPI / Dark Sky and all those folks being involved, when they were like, "Oh, by the way: Steve Albini," I was like … "How did you get Steve Albini? That's so wild." I think he's a big hook and a big, big reason of why this movie is so good when you see it. He sets the tone and the mood with everything.
It's so creepy, and such a slow burn, which I absolutely love – it seems to be such a hallmark of Travis Stevens' work.
It is such a slow burn, and I think that's how I like my horror, you know?
What horror movies do you gravitate toward?
All of them? [laughs] The only thing that I don't get into is paranormal stuff. I think they've beat it over the head, and it's a little played out. If I had to rate it, it would be at the bottom. Obviously, there's some good ones, but usually, they go over the top, and it's just not my style. I'd rather watch horror that makes you think, or suspense – I'm big into slashers, too. Friday the 13th, obviously.
In terms of making you think, several of the pieces on Girl on the Third Floor dig into the fact that the film really tackles toxic masculinity. Was that something that really appealed to you?
Yeah, but I don't think we beat you over the head with it, either. I think it's subtle enough that if that's not really your thing, you won't be annoyed by it, but if you are annoyed by it, I probably don't want you watching the movie, anyway. [laughs] It is very much "actions have consequences," and Don gets what he deserves.
Girl on the Third Floor screens as part of the Brooklyn Horror Film Festival at 6:45 p.m. this Wednesday, October 23, at the Nitehawk Cinema Prospect Park, with director Travis Stevens and actor Phil "CM Punk" Brooks in attendance. Details on that screening here.
The film is in theaters and on digital platforms this Friday, October 25.