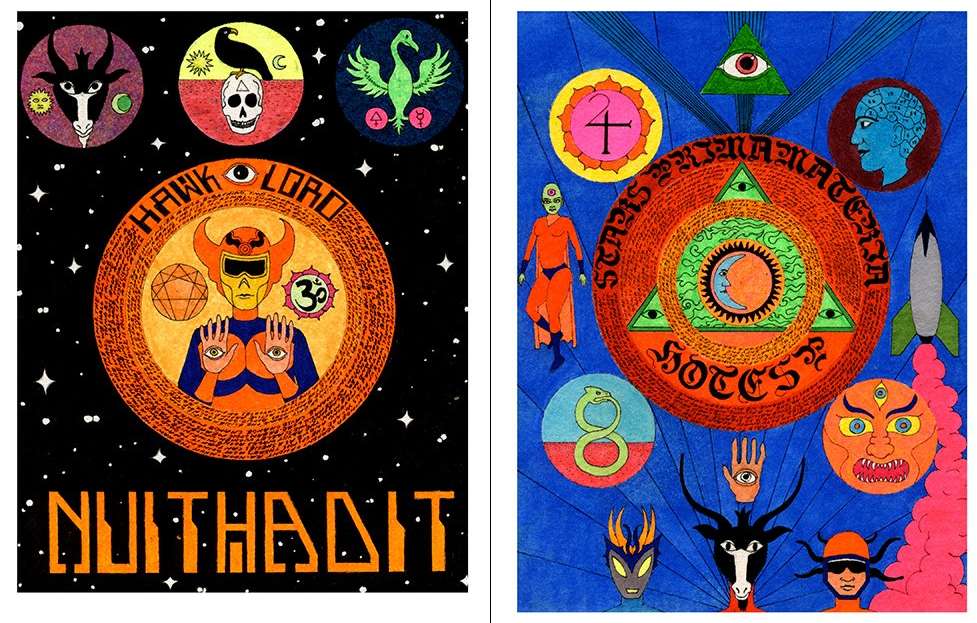 This month, Chicago-based publisher First to Knock marked their debut into the world of comics with How Did We Get Here? by Sterling Bartlett, "a hilarious rant session that mixes postmodern theory, science fiction, and cultural critique in the form of comic book." Not only is it the company's first comic, but it's also the debut comic from veteran illustrator and painter Sterling Bartlett, a man Juxtapoz described as having "an authoritative understanding of fringe cultural mythologies."
Out next month is Kevin Barry's Brainfazer, "a show stopping, psychedelic art trip that stretches the eyeball to dimensions never-before-traveled." Johnny Ryan, author of Angry Youth Comix describes it as "a psychedelic outer space puppet show of crazy blinding colors."
"While How Did We Get Here? casts aN hyper-critical, intellectual lens on society, Brainfazer is a joyously ecstatic reprocessing of the world and media. Indeed, Barry's neon color work leads to compositions of such mind-boggling visual density that the initial breathtaking shock of first sight is usually followed by hours of meditation on the page. This is a debut art book from one of the most exciting new American visual artists to emerge in recent times."
Both of these comics showed up at the house in the midst of a prolonged, intensely cold period here in the Midwest and brought some much-needed joy. Granted, Bartlett's comic is relentlessly dour, but not without humor. A guided tour "to suss out where thing went awry," thus "preventing Earth's graduation from galactic kindergarten," courtesy of an alien robot called VOID, How Did We Get Here? looks at everything from "disruptors" to bootlickers to the Strokes.
If nothing else, the subject matter is varied, while the approach is laser-focused on dismantling preconceived notions as to why these things we've all come to accept keep taking up so much headspace. It's just as much a guided tour of the artist and author's own frustrations as it is an actual global overview – although to be quite honest, I too am tired of incessant punk rock docs which all follow the same format – but How Did We Get Here? is funniest when it's at its most cutting.
"The Abolition of Boredom" is one of those things that seems on its surface like a standard "we stare at our phones too much" kind of rant, but the illustrations push home what you might be missing, and it ends up being kind of heartbreaking. That's kind of the key to what Bartlett is doing, in that he lures you in with something you're already pumped and primed to argue with, then uses astute observations and brutal punchlines to leave you shaking your head and turning the page to see what next he's going to smack your assumptions regarding.
Brainfazer, on the other hand, is an eye-popping, brain-melting collection of drawings made using Winsor & Newton neon markers. Syd Barrett, Sun Ra, Daniel Johnston, and others are all listed as musical inspirations for Barry's artwork, but the number of visual influences from which the artist draws are so vast, I'd really suggest any kind of aural accompaniment while jamming your nose into the comic's pages.
I mean that literally, by the way: put some nose prints on the pages as you get up close and look at the marker lines and insane detail work of which Barry is capable. My initial response to seeing the cover was to equate this with back-of-the-notebook high school craziness from your friend who maybe sniffed his Sharpies a bit too often and epic '70s van art, but there's also some Japanese robot and Italo disco album artwork here, as well.
There are a couple of mandalas which I'd kill to have poster-size prints in order to read the teeny tiny writing contained within. I kept spinning Brainfazer in circles and wishing there was a magnifying glass somewhere in the house, so that I could read everything, although putting your face half an inch from a piece of paper and reading "Wake up folks you are the cosmos" is probably far more mentally freeing than staring at it on a poster.
Over the course of the week or so since it showed up, I've put on everything from thrash metal from Haunt, the re-orchestrated score for the '90s PC game Space Quest V, some live Dead Meadow videos, and A Tribe Called Quest's Midnight Marauders. It all worked to expand my brain and let me really fall into what I was looking at. The second half of Brainfazer, Bitchdrip, is especially suited to putting some Black Angels in your headphones and looking at images such as one of a baby in a COINTELPRO t-shirt with egg on its face.
How Did We Get Here? and Brainfazer are available from First to Knock.