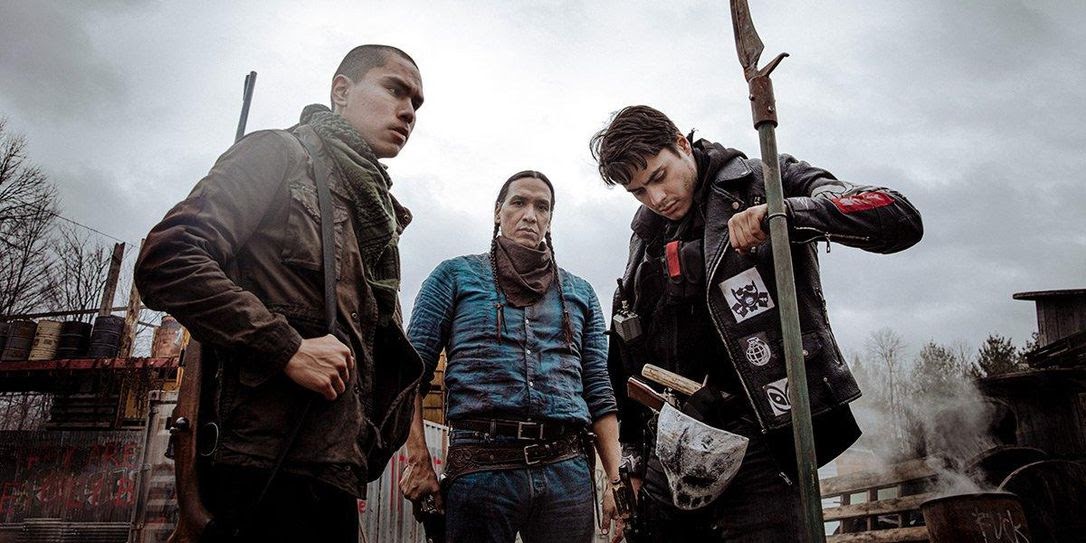 Every day, the various titans of streaming release new original content — some to theaters, some to live solely on the information super highway. STREAM WARRIORS is the Cinepunx family's ongoing journey to help you navigate the tumultuous and snake-ridden waters of the streaming world.
Blood Quantum, director Jeff Barnaby's follow-up to Rhymes for Young Ghouls, takes the zombie movie and injects it with political relevance of which the genre's original innovator, George Romero, would be proud. By turns emotionally resonant and viscerally bloody, there's no more perfect film to watch right now, which is why it's absolutely wonderful that horror streaming service, Shudder, chose to surprise drop it at midnight for an unsuspecting public.
"It's 1981 and a virus infects earth and turns its inhabitants into undead hordes with only one community spared and left to fight in this distinctive and relevant spin on the zombie siege horror. The dead are coming back to life outside the isolated Mi'gmaq reserve of Red Crow, except for its Indigenous inhabitants who are immune to the zombie plague. Traylor, the tribal sheriff, must protect his son's pregnant girlfriend, apocalyptic refugees, and reserve riffraff from the hordes of walking white corpses."
Maybe it's just too perfect that Barnaby made a film about a world wherein some of the people most affected by our current pandemic are the ones immune from an outbreak ravaging the world, and also the ones most prepared to deal with it. In Blood Quantum, the Mi'gmaq are able to wall themselves off and create a world wherein they're the ones in charge.
For some folks, the blood of Blood Quantum is going to be the appeal, and the director is absolutely hardcore in what he depicts: gouts of vomited blood, eating babies, decapitating a child, and a scene of a body part being devoured by a zed that I never thought I'd see outside a Troma film. However, Barnaby is just as hardcore in his message, which is that these First Nations people have been at the bottom of the heap, and now they've the upper hand.
Thankfully, the writer/director eschews explicit scenes of degradation, choosing instead in the pre-outbreak scenes to focus on the micro-aggressions which make things all the worse. When Sheriff Taylor (Michael Greyeyes) goes to pick up his son from lockup, the town cop working the desk doesn't greet him as a fellow officer, but instead, ignores him for a bit, making him sweat. When we flash forward six months, Taylor is definitively in charge of the place he and the rest of the Mi'gmaq have created.
A refugee attempts to carry in the blood-soaked blanket with which he'd wrapped the body of his dying daughter, and James (Devery Jacobs) throws it into a burning barrel with a look of disgust which conveys the weight of disdain at yet another white man trying to bring plague-laden blankets to a Native population. It's one of those on-the-nose points at which Barnaby excels: he's making a movie that has as much subtext as it does gore, and if you know what's up, the movie's so much the richer for it.
Blood Quantum isn't perfect, of course. Some characters are defined almost solely by their physical attributes, and it's a very dude-centric film. As nurse Joss – who's also Taylor's ex-wife – Elle-Máijá Tailfeathers is underutilized, as is Devery Jacobs as James. As Charlie, the young white woman with whom Taylor's son, Joseph (Forrest Goodluck) is having a child, Olivia Scriven is basically just a fount of expositional questions. All the guys – especially elder Gisigu (Stonehorse Lone Goeman), who wastes zeds with nothing but a katana – get to do all the cool stuff, such as attacking the undead with a chainsaw or shotgun, or by driving into them in a cop car, blasting Waylon Jenning's "Only Daddy That'll Walk the Line" through its PA system. It's all pretty fucking cool, though.
The underlying themes which come through, such as family and doing what needs to be done, regardless of the situation, still manage to be effective. The use of 1981 as a setting also does a fine job of echoing the American Indian Movement's occupation of Alcatraz just a decade prior, as well as Barnaby's own memories of what happened at Restigouche when the Quebec government raided the reserve in 1981. Blending fact with fiction makes for a striking film, and while Barnaby's film doesn't quite hit all the notes, the resulting mix of fantastic gore and emotional underpinnings makes Blood Qunatum a stellar watch.
Blood Quantum is now streaming on Shudder.