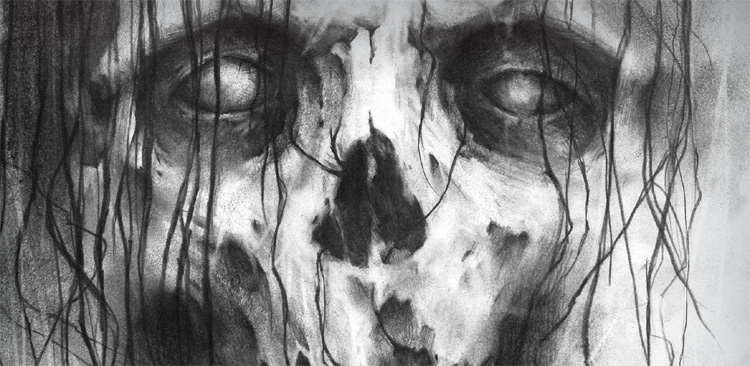 Cemetery Gates Media is launching a Kickstarter campaign on September 30th to fund a fully-illustrated book of spooky stories inspired by '80s and '90s horror books like Scary Stories to Tell in the Dark. The book, Corpse Cold: New American Folklore, features 17 stories, written by John Brhel and Joe Sullivan and illustrated by artist Chad Wehrle. We found out about the upcoming release via the Cemetery Gates Instagram — which is excellent — so we reached out, and spoke via email with the company's John Brhel.
What brought you to the publishing business?
When we were finished writing our first book, Tales From Valleyview Cemetery, we decided, "You know what, let's just publish this ourselves." It takes a lot of work — we handle all of the editing, hire cover designers, send out press releases, run social media accounts, etc. — but it's fun and worth the effort. Doing this ourselves allows us the ability to publish multiple books a year, something that other authors don't have the luxury of doing when they're waiting 18-24 months for one book to come out.
For your books, do you and Joe Sullivan write together or separately?
It depends on the story and what's going on in our lives. Sometimes we'll be in the same room together, writing a story line by line, but Joe and I have kids and jobs, so that isn't very often. Most of the time, we write through shared Google documents. Joe might write a page or two, and I'll come in and add another couple pages. Sometimes I write the bulk of a story, sometimes it's Joe. Any story we put out, however, has both of our input.
When did you come across Chad Wehrle? His art is so reminiscent of Stephen Gammell's.
I found Chad on Instagram. We wanted to hire an illustrator who could create a cover in the style of the Scary Stories to Tell in the Dark books, and I literally just searched for #scarystoriestotellinthedark. Luckily, and wisely, Chad had tagged all of his art with that hashtag, so I reached out to him and he was on board.
As you've mentioned, you all at Cemetery Gates are big fans of Alvin Schwartz's Scary Stories books, but I know you take inspiration from other areas as well. What are some of the movies and TV shows which have inspired this latest collection?
We're both big fans of shows like Are You Afraid of the Dark?, The Twilight Zone, Tales From the Crypt — basically, movies and shows that feature fun, spooky stories with cool twists. Stuff that's more grounded in fantasy and urban legends as opposed to hardcore, adult "horror." That's what we like to watch and what we like to create ourselves.
How does Corpse Cold differ from your previous anthologies — or does it?
Corpse Cold isn't a complete departure from our other books. We've told campfire-style stories in books like Tales From Valleyview Cemetery and At The Cemetery Gates: Year One. But for Corpse Cold, we put more focus on the urban legend and folklore aspect. We went for a tone both in subject matter and writing style that was more focused on urban legend-type stories, the types of stories you'd find in Scary Stories to Tell in the Dark. Also, this one has creepypastas!
You've a very lively social media presence, especially on Instagram. What does that bring to the company?
I manage social media accounts for a public university for my day job, so this is second-nature to me. It helps us connect with other horror fans and get more eyes on our books. We get to engage with the "spooky story community," if there is such a thing.
You can pledge to the Kickstarter for Corpse Cold: New American Folklore starting today.