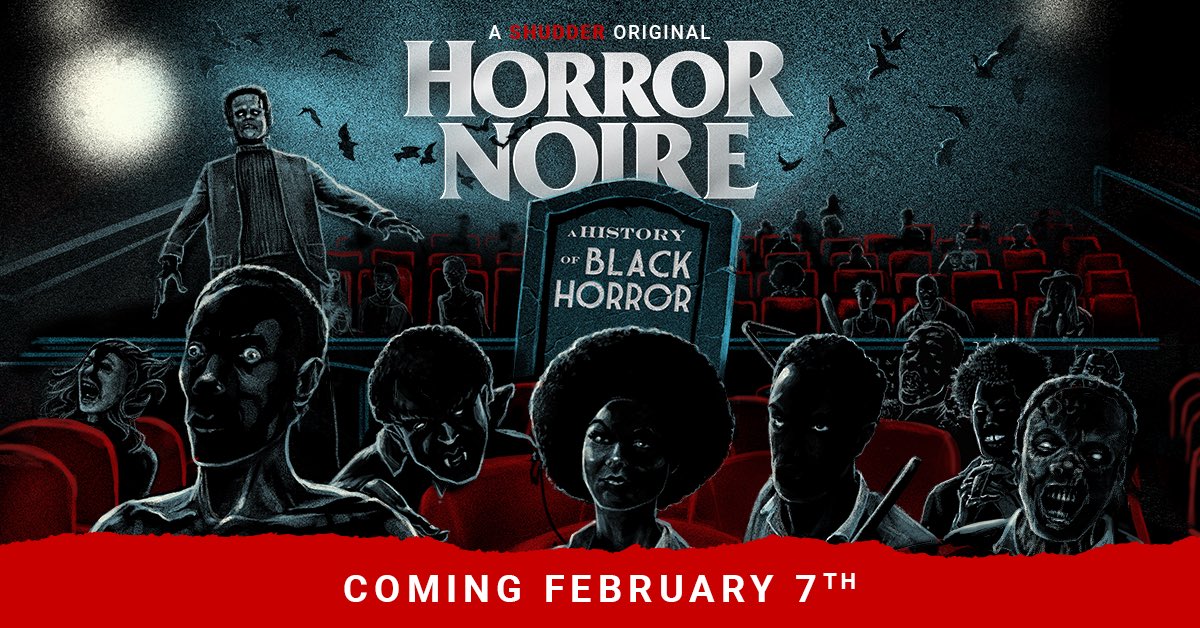 Documentaries about movies can be a tricky subgenre. Ideally, the doc should strike a balance between entertaining anecdotes and scenes from key films and the need to dig deep into the social, industrial, and cultural importance of the films. In other words, the best horror documentaries are more than just glorified clip shows with talking heads interspersed, instead actually bringing something new to how we understand the genre. With that in mind, Horror Noire: A History of Black Horror (dir. Xavier Burgin, 2019) is one of the best horror documentaries I've seen in a long time.
As author/educator Tananarive Due states early in the documentary, "Black history is black horror." And so, with that in mind, Horror Noire takes a fairly broad look at how black cinematic representation has been filtered at least in part through the stereotyping and fear of white filmmakers and audiences. Yet the film also honors the genre achievements of filmmakers like Spencer Williams, possibly the first black monster movie screenwriter. Despite its relatively short 83-minute running time, Horror Noire impressively covers black representation in horror from the silent era to the present day. This discussion and analysis is accomplished through an impressive range of critics, academics, actors, writers, and directors. Perhaps the most effective element of these talking head segments is that many of them are paired. By letting these experts talk to each other, the interactions feel simultaneously more genuine and more insightful (as an aside, there's a bit over the end credits featuring Keith David and Ken Foree that I would love to see in its entirety).
The diversity of backgrounds among the various interview subjects also makes for an impressively nuanced analysis of the genre. An example of this is the discussion of Candyman (dir. Bernard Rose, 1992), which is simultaneously cited by some (including Jordan Peele) as incredibly important and influential and as justifiably problematic by some of the other critics interviewed. To its credit, Horror Noire doesn't try to convince us that one position or the other is correct. Instead, it seems that this is the very nature of black representation in horror throughout most of cinematic history: increasingly inclusive in terms of screen time, but often regressive or questionable in terms of characterization.
Of course, there are less problematic examples of the genre that Horror Noire spends a great deal of time on: films like Tales from the Hood (dir. Rusty Cundieff, 1995) and its new sequel, which gets a brief promo, suggest something like the redemptive power of the horror genre. Meanwhile Demon Knight and Attack the Block demonstrate the viability of black leads within more conventional horror formulas. And, of course, a substantial amount of time is rightfully spent on Get Out (dir. Jordan Peele, 2017) which more or less bookends the documentary. In so many ways, Get Out acts as both a response to the contemporary political moment but also, as Peele suggests, an answer to the feelings of marginalization felt by black audiences over decades of horror movies. If there is a thesis to the movie, it is that meaningful representation — rather than tokenism or stereotyping — matters. As a character in Blacula (dir. William Crain, 1972) puts it, "A man has got to see his face!"
Horror Noire is a smart, fun, and incredibly rewarding documentary. Director Xavier Burgin and co-writers Ashlee Blackwell and Danielle Burrows have put together a film that doesn't just pay tribute to classic films of the genre, but also considers the intersections of cinematic history with the politics of race and racism in the United States. Horror Noire celebrates black voices in horror while also turning a critical eye toward the genre, and that nuance makes it a vital contribution to horror studies.
Horror Noire: A History of Black Horror has its LA premiere at the Egyptian Theater on Feb. 1, its NYC premiere (double feature with Tales from the Hood) on Feb. 4 at BAM, and its Philadelphia premiere (double feature with Candyman) on Feb. 5 at the Lightbox Film Center. It debuts exclusively via Shudder on Feb. 7.