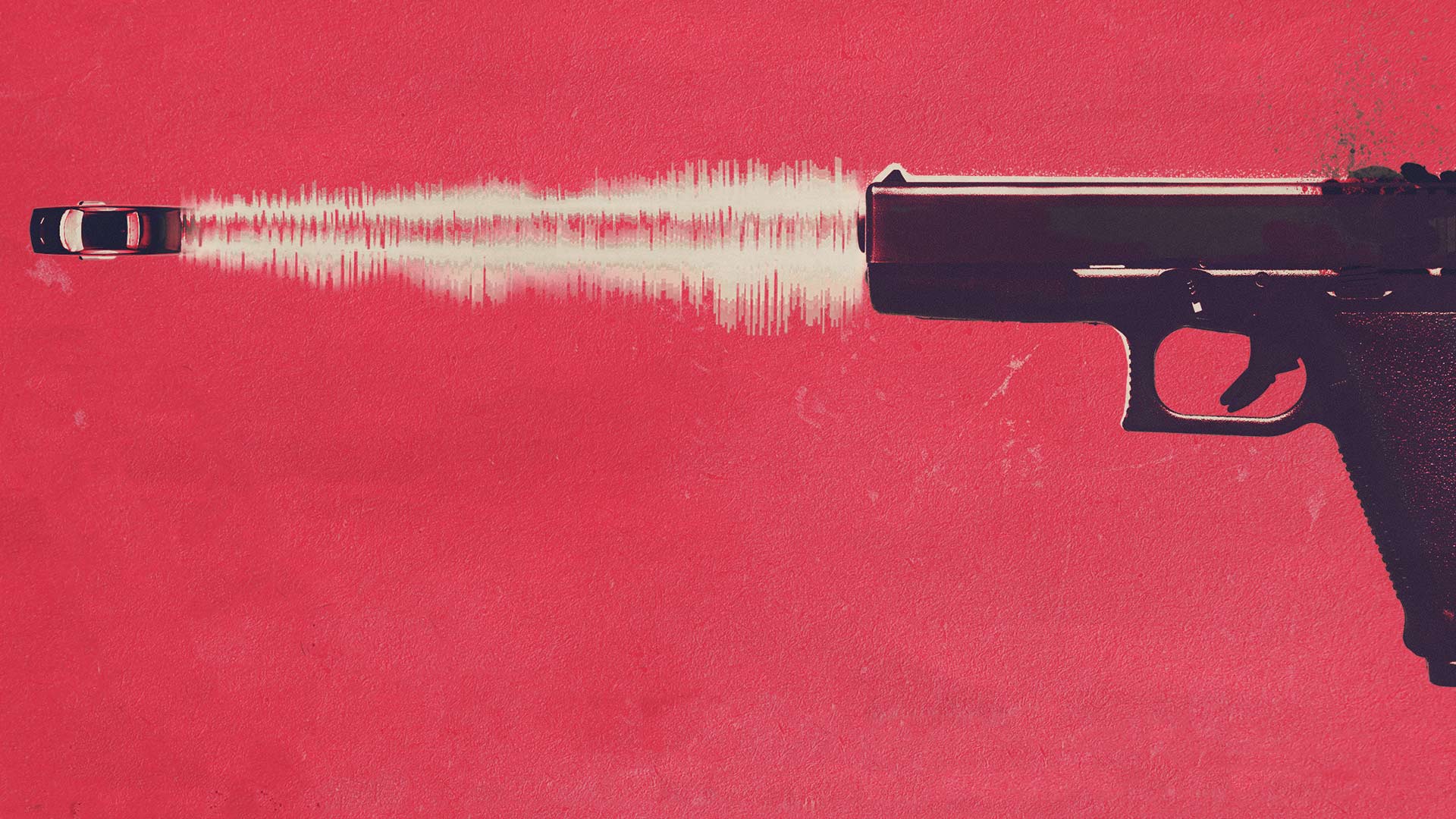 Caution: This article contains mild spoilers.
After completing his much-beloved "Cornetto Trilogy" and venturing into the Marvel Cinematic Universe with ­­Ant-Man, writer/director Edgar Wright turned his attention to the Great Cinematic Car Chase. The result, Baby Driver, races into theaters this Wednesday, June 28. In many ways, this is Wright at the top of his game, bringing us his tightest, most cohesive and technically impressive film. It's jam-packed with explosive action sequences, ambitious stunts and at just under two hours, doesn't feel a second too long. And like many of his films, it introduces an unconventional protagonist we can't help but love and embrace.
What makes Baby Driver really interesting, though, is how it functions as a love letter to the potent associative power of music. Specifically, the way hearing a song can transport us back to a specific time and place, and to people who are no longer in our lives. For some, music is merely a hobby or a pleasant diversion, but for others, it's a powerful vehicle for catharsis and a unifying force. Wright understands this implicitly, and it's this understanding that fuels the technical finesse and emotional backbone of Baby Driver, making it a unique and memorable entry into the crime/car chase film canon.
The story goes something like this: Baby (Ansel Elgort) is a weird-kid musical savant. At a young age, he lost his mother in a car accident and gained an acute case of tinnitus; he listens to music to drown out the ringing. Baby juggles caring for his elderly, hearing-impaired foster father (CJ Jones) with less savory pursuits, namely bank heists. He works under enigmatic career criminal Doc (Kevin Spacey) as a getaway driver, hoping to pay off a debt. Doc heads a rotating gang of reprobates: there's Baby, of course, and Buddy and Darling (Jon Hamm and Eiza González), a "Bonnie and Clyde" duo who love their PDA. The others come and go, as each job requires, but these are Doc's most capable miscreants. Things cruise along, business as usual, until Baby meets Debora (Lily James), a young waitress at a diner he frequents and a fellow music obsessive, and they quickly fall in love. Baby devises a plan to give up his criminal life, "to head west … in a car I can't afford with a plan I don't have," into the sunset with Deborah in tow, never looking back.
This is easier said than done, and before Baby can have his freedom, he's got one final job he'll have to drive, and it's a big one. Unfortunately, it's complicated by the addition of new team member Bats (Jamie Foxx), a loose cannon with a hair-trigger temper. Bats has a knack for pushing people's buttons, and he just might be the spark that sets off an already volatile powder keg, as each member of Doc's team is unpredictable in their own way, widening the possibility for disaster. Even the slightest hiccup during a heist could be utterly devastating for all involved, leading to a series of precariously stacked circumstances that play out like a really tense game of Jenga, or one of the zanier Tarantino plots.
Baby comes across as aloof and inaccessible in most social situations, which heightens tensions between Bats and the rest of the team. Behind the wheel of a car, however, Baby comes alive, deftly maneuvering his getaway ride out of the tightest spots and unlikeliest situations. His driving facilitates several expertly choreographed, jaw-droppingly bold car chase sequences that are downright exhilarating to watch. Each chase ups the stakes just a little bit more, channeling much of the same "edge of your seat" thrill as the glory days of car chase drive-in cinema. The film's more intense moments are balanced out by plenty of razor-sharp humor, with Hamm, González, and Foxx making amusing foils for Baby's eccentricity both on and off the road. We're also given no shortage of narrative twists and turns, making for a deeply engrossing experience from start to finish, augmented by an eclectic, expertly curated playlist.
The real key to the film's success, however, is the emotional through-line Wright develops through Baby's key relationships. There's his foster father, who longs for Baby to find legitimate work and who cannot hear music but can feel it through vibration, reading Baby like a book through his song selections. Then, of course, we have Baby's blossoming romance with Debora, in its impossible-not-to-root-for sweetness and earnestness, and finally, his complicated connection to Doc, whose influence takes on a kind of father figure dimension as the film progresses. The most interesting component of Baby's complex, emotional interior, however, is his relationship with his deceased mother (Sky Ferreira), a singer who died in the same car crash that caused his tinnitus. In life, Baby's mother encouraged his passion for music, and now she serves as a kind of spiritual guide/guardian angel through Baby's journey, conjured through the "play" button on his iPod. In times of uncertainty and doubt, Baby retreats into his memories, letting the music pull him back into his past, to his mother, and her face returns him to a state of calm. This is the power and the beauty of music, and why Baby prefers it as his primary mode of expression. It is often capable of achieving and conveying more than mere words ever could.
Baby's obsession and even physical dependence on music works to Doc's advantage. It's the secret to Baby's success as his driver, and ultimately the reason their schemes go off without a hitch. Baby uses music to orchestrate—figuratively and literally—his getaway driving. More than that, though, the music literally holds the movie together! The entire film is constructed around Baby's music selections, and it's a remarkably effective (not to mention fun) device. Everything moves to the cadence of the music— gun shots, door slams, camera pans and cuts. This could have been revoltingly corny, but it aids the kinetic flow of the film incredibly well, a refreshing and inventive way to bring each scene together. Directors typically select a soundtrack that complements the action on screen, but here, Wright takes it a step further; his unconventional hero is DJing his own fate, and wherever he takes the soundtrack next, the movie follows.
It all adds up to…well, one hell of a ride. Baby Driver has laughs, high-stakes action, emotional heft, and a killer soundtrack. It's guaranteed to resonate with a broad, diverse audience, and will do so without aiming for lowest common denominator entertainment. It's a smart film that isn't afraid to bring the spectacle and thrills of a summer blockbuster. Baby Driver is the complete package. Don't miss it.